Blog
Digital transformation
Software Development

Arkadiusz Krysik
Jun 6, 2022
Benefits of Digital Transformation for Your Business
It has been a while since companies stopped using manual typewriters, dial up modems, paper sheets and floppy disks.
Businesses have innovated and moved towards new technologies that enable them to use their resources more effectively.
There is one thing that all entrepreneurs need to keep in mind. Introducing innovative solutions and technologies in a business environment is not a one-off event. It is a continuous process that has to keep up with current market trends.
This idea boils down to the concept of modern digital transformation. This would not be an exaggeration if we said that currently it is one of the main factors that influences the success of a business in today's highly competitive market.
What are the real benefits of digital transformation?
What is digital transformation?
When covering this topic, many would think that digital transformation is just one of these fancy business buzzwords such as Industry 4.0, agile or synergy that pop up in articles.
In reality, it is a much larger and more complex concept.
Digital transformation is a bit of an umbrella term for the wide range of automation digital technology as well as automation efforts within an organization. It mostly reflects a company's mindset towards utilizing innovations to improve its everyday operations, increasing margins, and expanding business.
According to Salesforce – one of the most prominent global experts in this field – digital transformation is a process of using modern digital technologies to create new or improve existing business processes, culture, and customer experiences.
This process is extremely complex, and it requires the infusion of modern internet-based tools as well as machine learning and artificial intelligence solutions into a company's day-to-day activities.
All of this is done solely to meet changing business requirements in an increasingly competitive market.
At Stratoflow we help businesses and organizations with the digital tranformation process. Read: IT support for NGOs: how Stratoflow supports digitization of the processes in the non-governmental organization Otwarte Klatki
The role of digital technology in business
First and foremost, we should start with a question – what does digital technology really mean?
This term refers to a wide variety of electronic tools, systems, devices, and resources that generate, store or process data. In a modern business, this group may include advanced CRM systems and cloud data storage systems.
Currently, especially once the pandemic set up new rules in the business world – a digital technology is crucial for business operations in almost all fields.
The days that it offered a unique competitive advantage are long gone and nowadays it is a must in order not to fall behind the competition.
It is estimated that up to 90% of companies are using cloud services in order for their data to be stored online. As companies develop their businesses, much of what is being done is to replicate existing services using digital platforms.
What is more, according to IDG's 2018 Digital Business research, up to 44% of organizations have moved towards a digital-first business strategy.
These statistics underscore digital technology's impact in today's business landscape.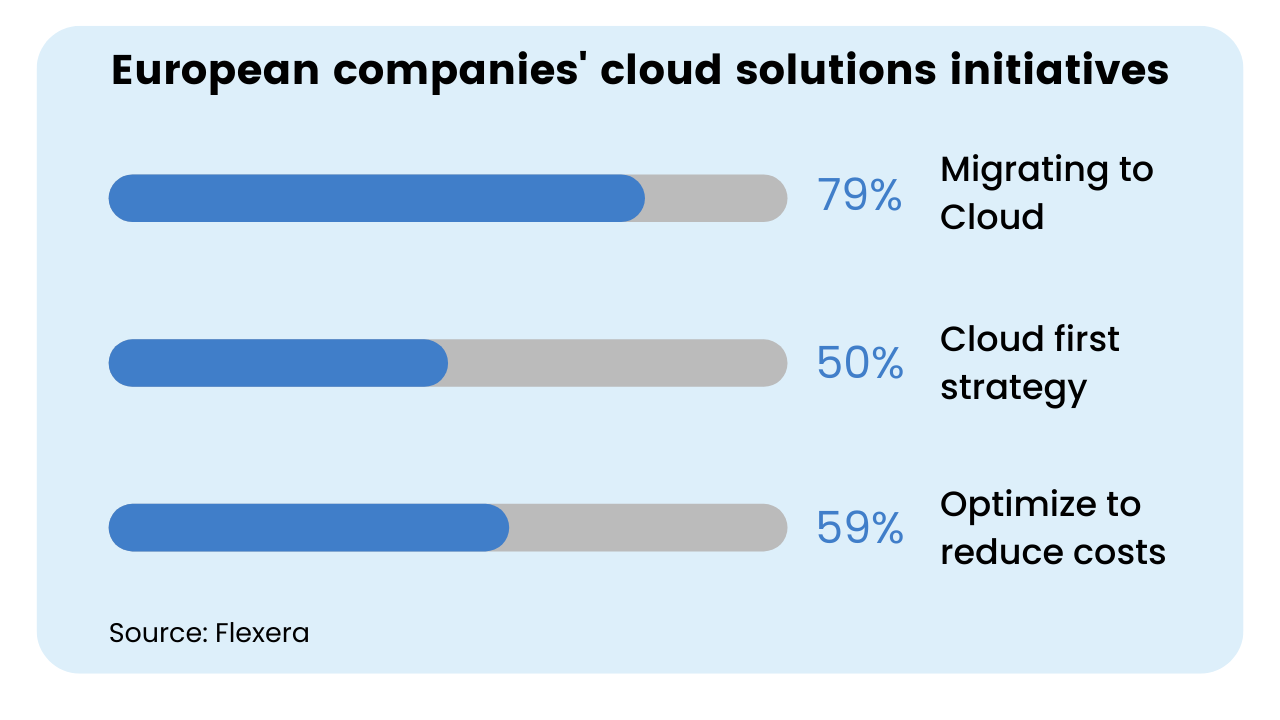 Source: Flexera
Why digital transformation strategy is important?
There are many reasons why companies embark on the journey towards digital transformation. In reality, though, it all comes down to the concept of the survival of the fittest.
As the COVID-19 pandemic ravaged global economies, an organization's agile approach and adaptability to a rapidly changing business environment have become critical.
When various restrictions closed numerous businesses and enforced remote working, the demand for digital transformation solutions skyrocketed. If companies wanted to stay competitive amid occasional  lockdowns and social distancing rules, they had to develop new, digital-oriented strategies.
Interestingly enough, as vaccines entered widespread use and pandemic restrictions loosened, companies did not ditch their digital solutions and improvements, but rather expanded them further as managers and CEO's saw the immense benefits of digital transformation.
According to Statista, in 2022 alone, spending on digital transformation is projected to reach a staggering $1.8 trillion and by 2025, global digital transformation spending is forecast to reach $2.8 trillion. This represents an over twofold increase over pandemic heights. The role of low-code is also growing in digital transformation, making the whole process more accessible and cheaper.
[Follow-up reading: What's the Future of Digital Transformation and Its Trends? An Expert's Point of View]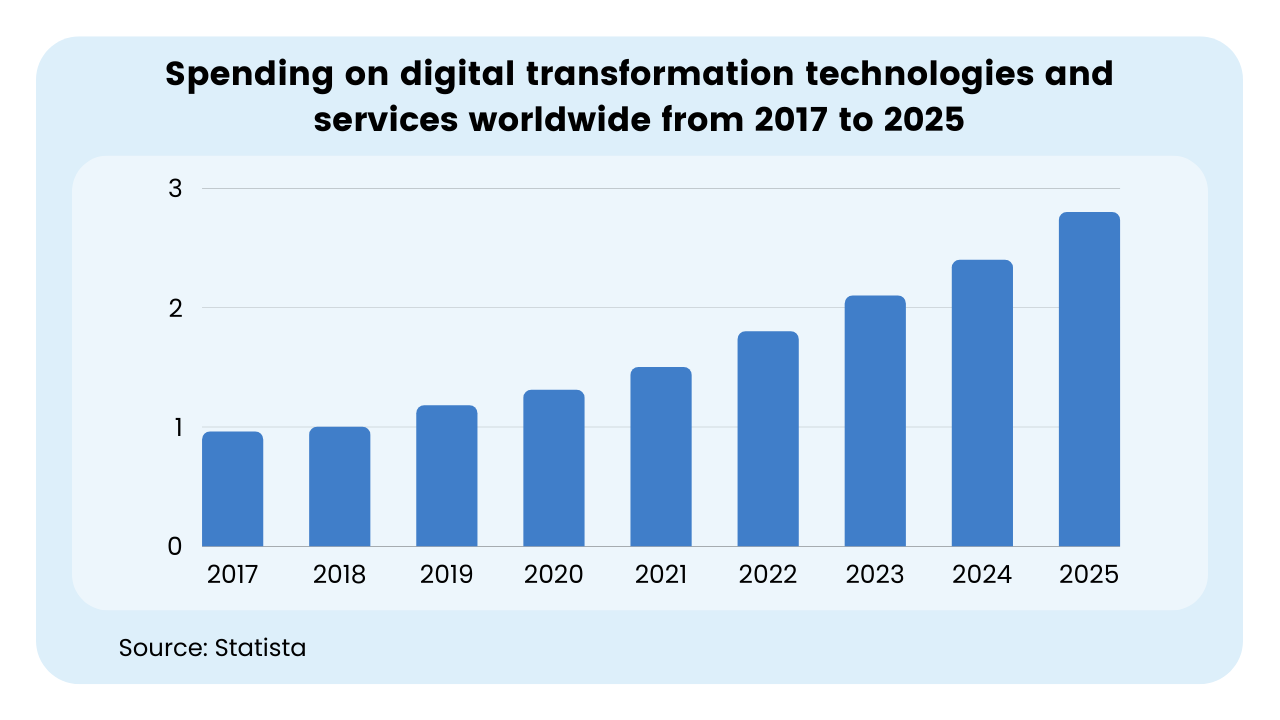 Source: Statista
What are the advantages and disadvantages of digital transformation?
In recent years, modern technology has solidified its presence in nearly every aspect of business activity. This has happened for a reason. It brings a lot of great advantages possible only during the digital age.
Read also: How to Choose a Software Development Company [CHECKLIST]
Digital transformation – main advantages
Improved business competitiveness – digital technology allows your business to be more efficient, productive, and flexible. All of this increases profitability, as well as improves the strategic position in the market.
When considering the pros & cons of digital transformation, this is one of the main arguments for making technology adoption a priority.
Improved productivity – the main goal of implementing digital technology is to optimize business processes. From comprehensive CRM platforms to simple online communicators, all of these tools can significantly improve business performance by enabling seamless and easy access to vital information.
According to a McKinsey study, incorporating digital technology can improve productivity by almost 25%.
Improved customer experience – one of the key factors influencing business success in a highly competitive and personalized market is the ability to deliver an exceptional customer experience (CX).
Modern companies strive to incorporate digital technology and modern applications in their strategy in order to cater their product offerings to the clients' specific needs.
Improving the level of personalization, whether through a recommendation engine, customer-centric mobile app, or the incorporation of various smart technologies is the key to CX success. It eventually leads to substantial cost savings and increased profitability.
Read also: Digital transformation in tourism industry
Digital transformation – Main Disadvantages
Constant development – due to the nature of technological progress, this is an unavoidable downside of digital transformation. As new solutions are being developed and adapted by the business environment, your company must continuously adapt as well.
Difficulties with the integration process – it does not take a lot of computer know-how to know how to send e-mails or use mobile devices. On the other hand, adopting new enterprise management solutions like, for example, a comprehensive CRM system, takes much more time and effort both on the part of sysadmins, as well as regular workers.
In a lot of cases, the burden of adapting to new technologies lies on employees' shoulders, especially those who are not very tech-savvy.
According to Clutch data, even though 87% of workers say that they are open to gaining new digital skills, every person has a different pace of learning as well as different tolerance to stressful situations.
6 benefits of digital transformation
1. Enhanced data collection
In today's digital world, the most valuable asset of a company is undoubtedly data.
One thing that many organizations forget about is that it has to be properly processed to bring true value to the company. And that is exactly where modern big data solutions come into play. They analyze and process large data files in order to gain valuable insights into the inner workings of business processes.
One of the main goals of the digital transformation process is to enable gathering customer data in a fully automated way to push business intelligence to a higher level.
When designing a new data storage software architecture for Saas applications, it is worth looking into multi-tenancy architecture as it allows developers and Sysadmins to leverage available computing resources more effectively.
Moreover, when companies are upgrading their digital solutions, they will have to ensure that sensitive data flowing through their customer relationship management (CRM) software is protected with a dedicated layer of safe data encryption.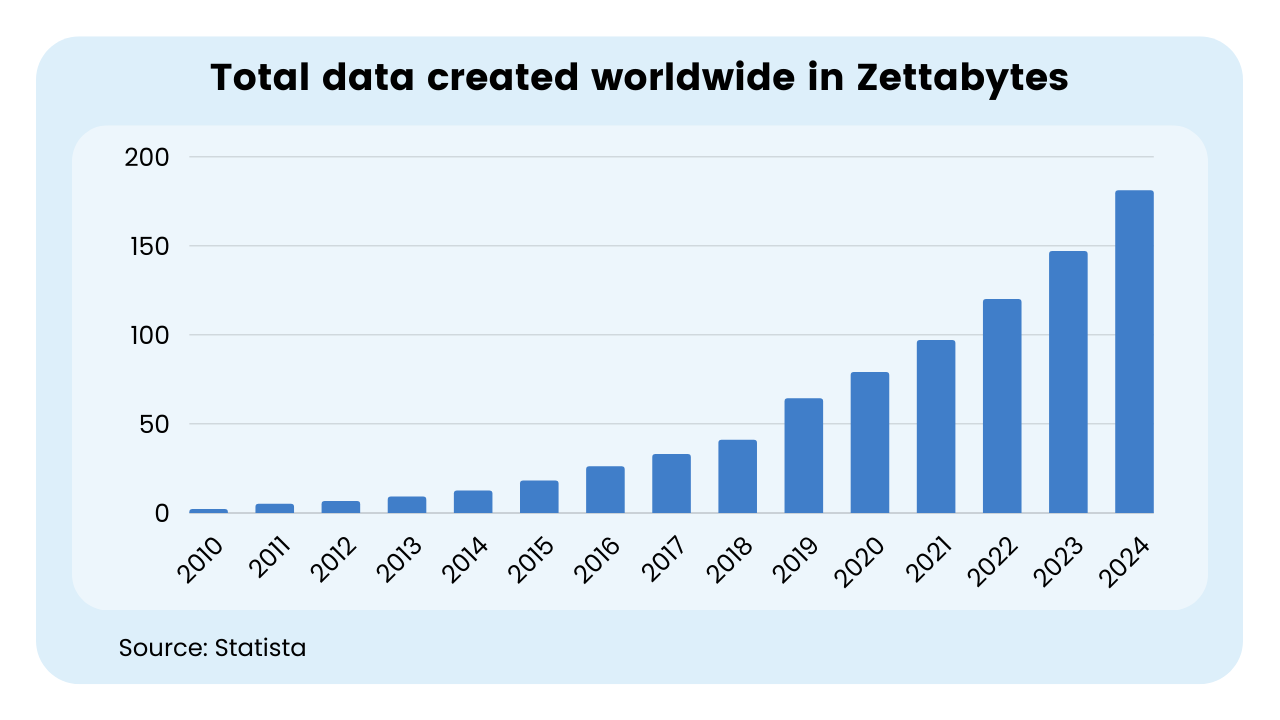 Source: Statista
2. Data-driven customer insights
Data gathered by CRM systems and personalization solutions can be used for making improvements to the company's product portfolio.
Regardless of whether you want to add a new product to your online store's offering or enable your customers to seamlessly buy matching accessories, customer data is crucial in all business decisions in companies operating in the digital sphere.
3. Increased operational efficiency and resource management
Similar to the other great revolutions in human history, the current digital one aims to further improve business efficiency.
Automation of manual and repetitive tasks can greatly decrease business expenses as well as enable greater scope of future scalability.
According to McKinsey's research, the digital transformation processes and automatization of business activities in some cases, allows companies to cut some of their spendings by up to 90%.
Read also: Travel Technology Trends Emerging in the Tourism Industry
4. Improved customer experience
Today customers have big expectations for highly optimized digital experiences.
A survey conducted by Salesforce on a group of 6000 online store customers has shown that as many as 76% of them say that an online store should understand their needs and requirements well.
Since competition around solely economic factors like the price and offered features have slightly stalled in recent years, customer experience has become a new battleground for organizations around the world.
Digital technology leverages invaluable customer data in order to personalize their experience when interacting with all elements of the company's presence on the web.
5. Scaling out business
When discussing digital transformation many people can fall under the impression that this concept only applies to enterprise-size companies and is not feasible for smaller businesses.
This is just a plain misconception because funding modern digital technologies and incorporating them into the company, regardless of its size, can save a lot of time and money down the line as your business grows.
By sticking to the old legacy systems companies can lose numerous opportunities and suffer pricey re-platforming, losing competitive advantage along the way.
[Read also: Enterprise software: What It Is and Best Application Examples]
6. Increased profits
Last but certainly not least, digital transformation thanks to better resource management and a data-driven decision-making process can lead to increased profitability.
According to the SAP Research Center, up to 80% of organizations that have completed a digital transformation process increased their overall profitability. On top of that, according to Deloitte, around 43% of companies that are considered to have reached a high level of digital maturity, report much higher margins than the industry average.
At Stratoflow we help businesses and organizations with the digital tranformation process. Read: 5 Most Popular Healthcare Software Solutions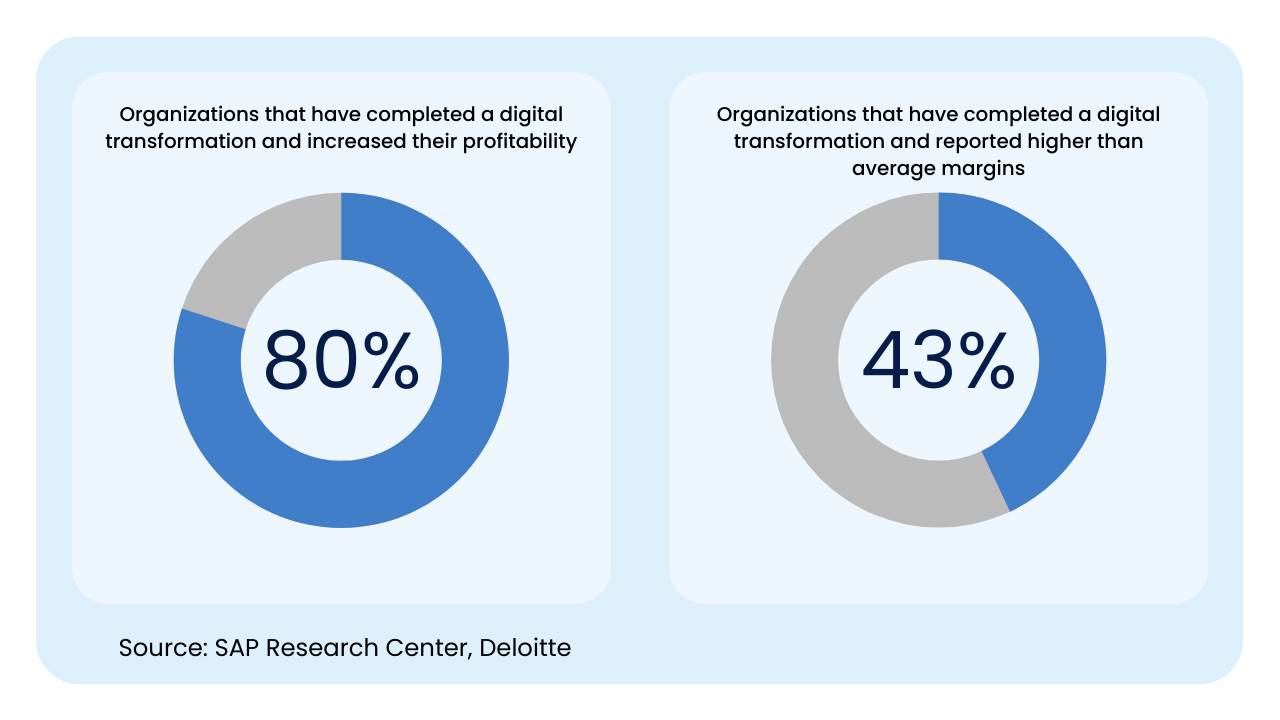 Source: SAP Research Center and Deloitte
Benefits of digital technology – summary
Digital transformation is a critical aspect influencing the future success of a company.
Leveraging digital technologies can bring unprecedented improvements to almost all aspects of business regardless of the field, starting from cost savings, all the way to better customer experience and improved product portfolio.
We are Stratoflow, a custom software development company. We firmly believe that software craftsmanship, collaboration and effective communication is key in delivering complex software projects. This allows us to build advanced high-performance Java applications capable of processing vast amounts of data in a short time. We also provide our clients with an option to outsource and hire Java developers to extend their teams with experienced professionals. As a result, the solutions designed for our customers contribute to their business development. We specialize in travel software, ecommerce software, and fintech software development. In addition, we are taking low-code to a new level with our Open-Source Low-Code Platform.