01. Problem
The need for a faster development process for powerful and scalable enterprise applications is evident. Many common low-code solutions come with vendor lock-ins, offer limited customization and development options, lack flexibility, and do not allow admins to access the source code. Traditional custom software development is time-consuming and costly. There's a pressing need for a solution that combines the advantages of both low-code platforms and custom solutions.
02. Solution
We've built Openkoda, a fast development platform that empowers developers to efficiently build scalable, extensible, and secure enterprise solutions and SaaS applications. Based on the open-source model, the platform offers a comprehensive set of out-of-the-box features, including organization management, user management, dashboard builder, personalization, third-party integrations, authentication management, and multi-tenant deployment. Openkoda's rapid application development process involves selecting from a range of ready-to-use building blocks, each offering varying levels of configurability, process automation, and flexibility. While coding knowledge is essential for building an application in Openkoda, Java developers can seamlessly extend their applications using their existing Java/JS development skills. Additionally, we've integrated AI features to allow the creation of new functionalities even faster.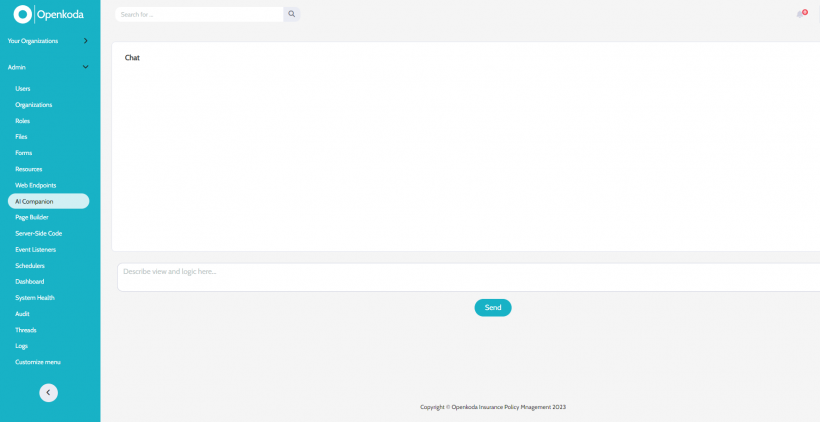 03. Result
With Openkoda, developers can achieve a development speed that's three times faster for ready-to-use enterprise applications. The platform is versatile, making it suitable for a wide array of applications ranging from SaaS solutions, business and enterprise applications, intranet systems, and internal tools to specialized applications like HR, insurance, real estate, project management, e-commerce, marketing, and collaboration tools. One of the standout features of Openkoda is that application owners retain full ownership of their code, ensuring they aren't bound by proprietary cloud or language constraints. Moreover, security and scalability are at the forefront, ensuring that applications built with Openkoda meet the highest industry standards.