Blog
Outsourcing
Software Development

Arkadiusz Krysik
Feb 11, 2023
How to Choose a Software Development Company in 2023 [CHECKLIST]
When entering a software development outsourcing market, you might be overwhelmed with the abundance of possible choices.
Such a wide variety is a blessing, but also a curse at the same time.
Choosing an outsourcing company which does not understand the specifics of its clients' operations can lead to serious delays, waste of funds, or even a failure of the entire project.
Then, how to choose a software development company?
When entering a custom software development outsourcing market, you might be overwhelmed with the abundance of possible choices.
Such a wide variety is a blessing, but also a curse at the same time.
Choosing an outsourcing company which does not understand the specifics of its clients' operations can lead to serious delays, waste of funds, or even a failure of the entire software development project.
Then, how to choose a software development company?
In this article, we are going to walk you through the whole process of researching and choosing the best software development company that best suits your needs to save you from common pitfalls.
Choosing the right software development company – initial steps
First and foremost, your goal.
The process of choosing the right software development company should begin with investing some time in listing out all the desired functionalities and specifications defining your desired application. It means that before you engage with any software house or software development company, you should already have a clear idea of what you are trying to accomplish.
Such brainstorming sessions will allow you to better understand software development industry and what necessary characteristics your future partner should possess when entering a vast IT outsourcing market.
[Read also: What's the Future of Digital Transformation and Its Trends? An Expert's Point of View]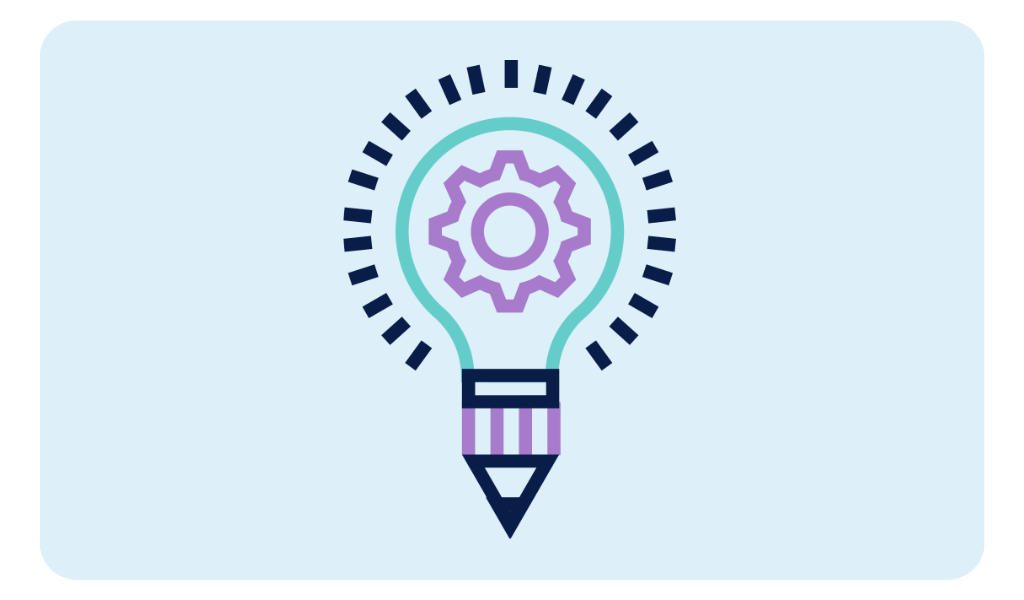 Secondly, you should begin doing some thorough research.
Surprisingly enough, a pretty effective way to find custom software development companies is through Google Search results.
By poking around the websites of software houses or software development companies, you can obtain basic information on the software development services provided by each IT company, their experience, software development tools, as well as previous clients, and the area that they specialize in.
You can also use popular review aggregators such as Clutch.
Using this platform you can filter the results by average hourly rates, project sizes, tech stack, and location.

Clutch company's portfolio also includes reviews of previous clients, as well as awards won by a given software house, software development company or software development agency. This would also be a good place to decide whether you want to outsource your software development services nearshore or offshore. Each of these approaches has its pros and cons, which we've already covered in the previous posts on how to prepare for outsourcing software development?
The third option when researching custom software development services is to reach out to your clients, partners, colleagues, and friends for recommendations.
In this case, you can get valuable recommendations directly from the people you trust. It is worth mentioning, though, that their business requirements and enterprise software development project goals may differ from yours.
If you've already selected a group of potential partners, it is now the time to perform more thorough research and take a closer look at their offer in order to choose a software development company that best suits your business needs.
[Read also: Introduction to IT staff augmentation]
CHECKLIST: How to choose the best software development company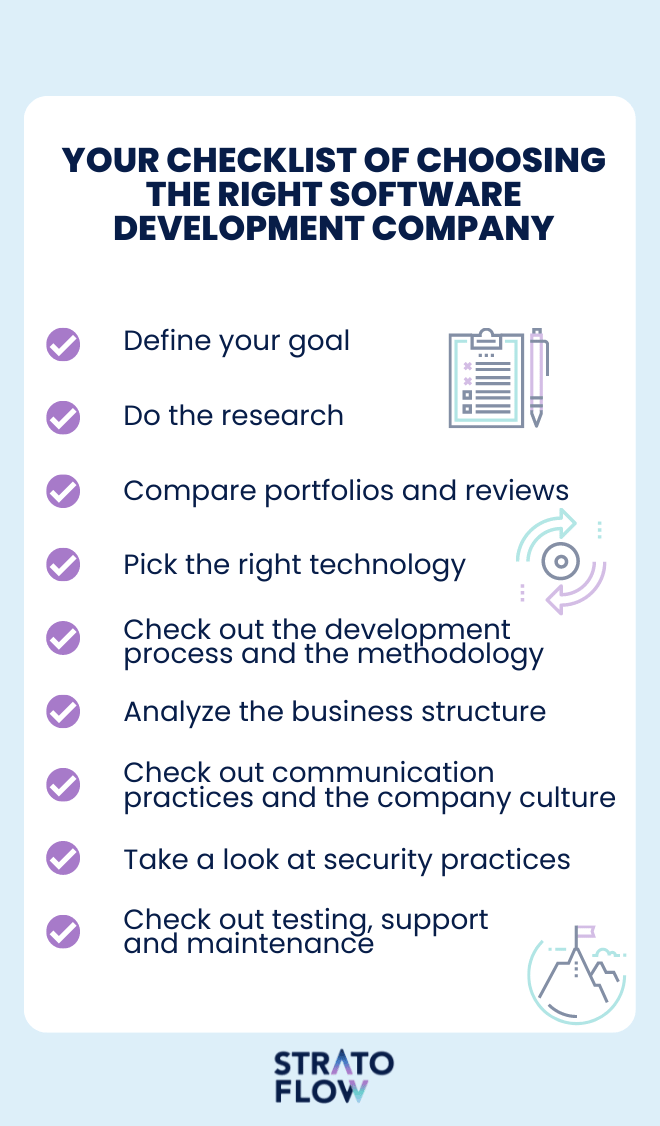 1. Compare software development companies' portfolio, reviews, and experience
First, you should begin by going through software houses' or software development companies' case studies, articles, and e-books.
Poke around their website and a blog to check whether they have the necessary experience in your area.
A trustworthy software development company's portfolio will include at least a couple of reliable reviews, as well as an extensive description of specific technologies used in the latest software development projects.
Outsourcing companies may not always be able to share specific details of their work with other clients due to non-disclosure agreements.
Nevertheless, they should at least be able to provide you with a basic outline of their previous projects, development methodology, and certain technologies that were used in the software development project.
You can then compare achievements like this one with other available companies to make the best and most informed choice. If a certain software house, software development company or software development agency had carried out a similar project to your idea in the past, that might indicate that they would be the most suitable choice for your organization as well.
[Read also: Benefits of Digital Transformation for Your Busines]
As an example of good and reliable feedback, we can share with you the one we received from one of our UK customers:
This large codebase is in excellent shape and has very good metrics. This codebase has excellent complexity metrics, which is a positive sign for long-term maintainability. The code scan is one of the cleanest we have seen.
To learn more about our project, read our case studies: High-performance, horizontally scalable cloud platform for financial applications.
2. Pick the right technology for your project
There've been countless programming languages created since the first personal computers hit the market. But similarly to spoken languages, a great number of them have since faded away, and only a few have remained in use.
According to the PYPL popularity of programming languages index, the top 10 most popular programming architectures account for over 85% of projects across the world.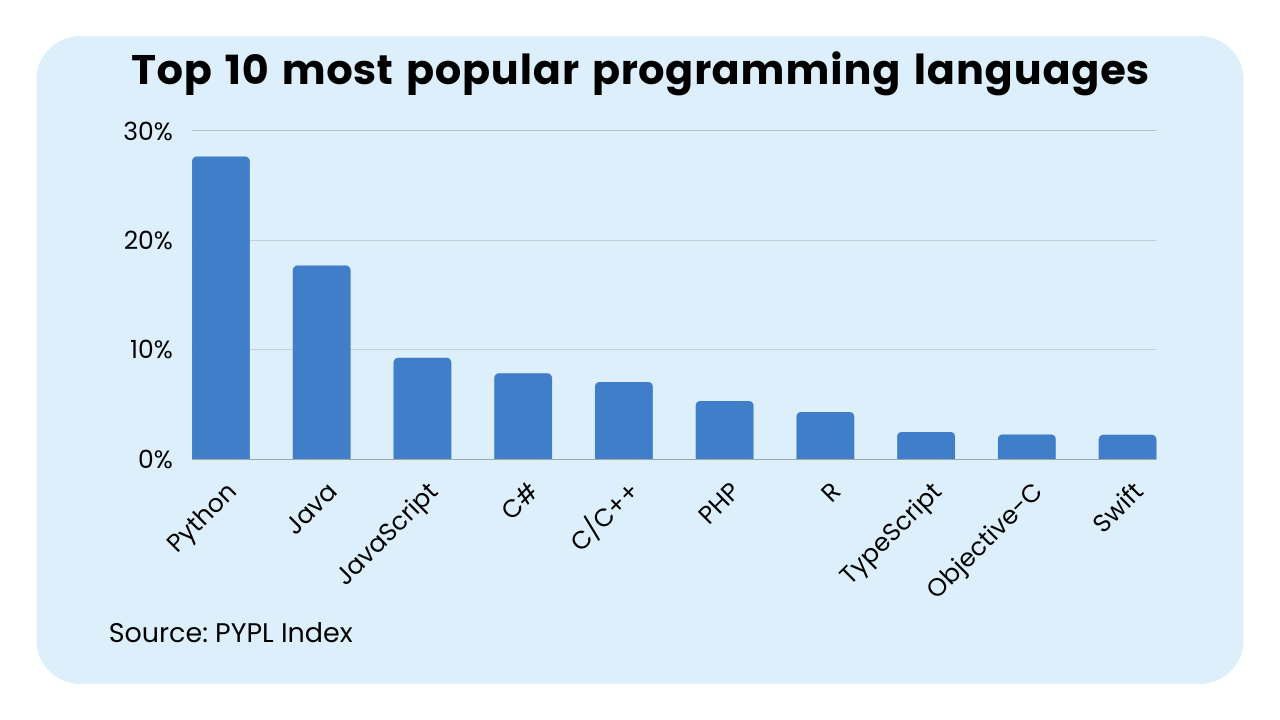 Source
Each of these languages has its unique characteristics and is suitable for different software development projects.
When looking for an outsourcing partner, it is crucial to choose a software development company that specializes in the field that will fulfill your project needs.
If your company requires processing large volumes of data in real-time, look no further than the Java programming language ecosystem.
Java is an object-oriented language in a big demand that is characterized by its impressive scalability, software customization, as well as the ability to reuse certain parts of the code. Java programs are also more stable and safer compared to programs built in other languages, thanks to reduced security threats by minimizing the use of explicit pointers. Binding the data and functions into a single unit also substantially decreases the risk of a data breach.
Java has unique advantages when it comes to Java performance.
It is a multithreaded language, which allows for better utilization of the CPU in larger projects since even now some industrial-grade processing units support up to 128 threads.
Java programming language also allows for simpler and faster software maintenance, as programs based on it are dependent on specific hardware to run.
[Read also: How is Java used in software development]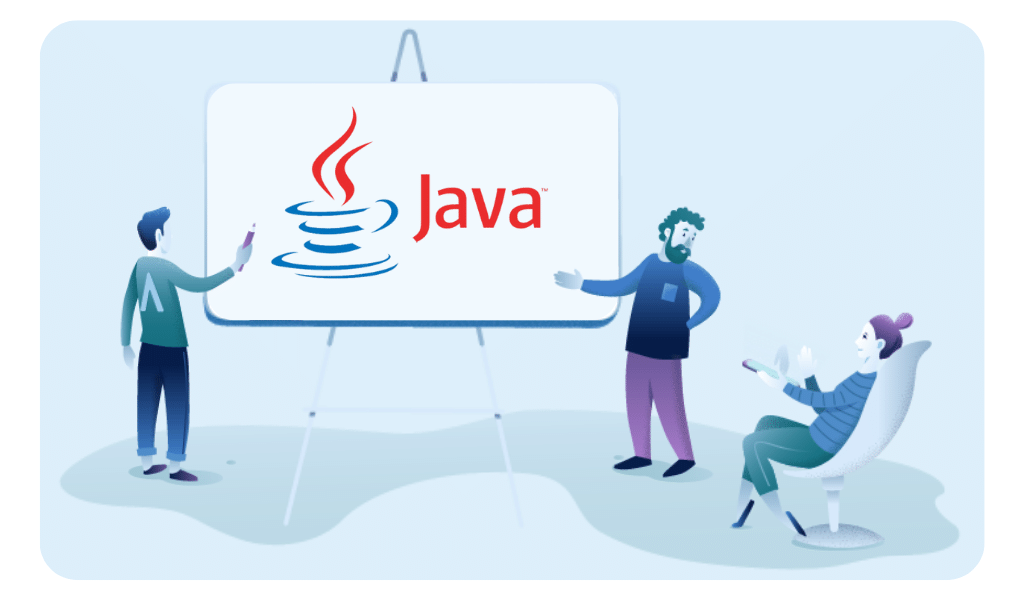 By choosing Java programming language as a core of your technology stack, you will gain access to a large pool of talented developers, as well as enable your business to develop modern, high-performance applications.
[Read also: How to Find Software Developers? Experts Tips]
3. Check the company's development process and development methodology
There's a general rule of thumb that better process leads to better products. This also applies to the software development field.
When searching for a potential partner in software development that you will feel confident working with, it is crucial to take into consideration its development methodology for project development and its company culture.
In today's rapidly changing economy, lightning-fast product releases are a necessity. In order to achieve that, agile has become the most popular development methodology  in the past years among most software development companies. Using this practice, companies are able to significantly speed up the software development process.
According to Accenture research, up to 80% of software houses facilitate management tools like sprints, daily standups, and scrums. In conclusion, it is generally recommended to look for a company that uses an agile development methodology, with iterative cycles, for a better approach to the software development life cycle.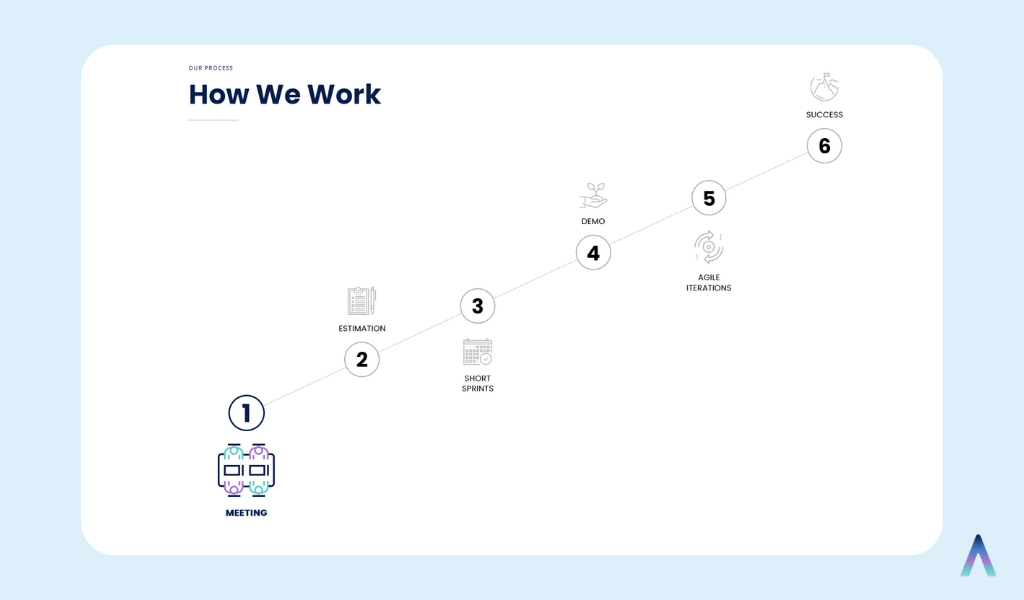 Many software development companies perform weekly meetings which serve the purpose of a review of the product under the supervision of a dedicated project manager. Thanks to those meetings, teams are better organized and managed. Clients, in turn, are up-to-date with the progress of the project.
4. Analyze their business structure, development team, and communication practices
A key point influencing the success of an outsourcing operation is the chemistry between the client and a software development partner.
The core part of communication is the language itself.
Even though we saw an emergence of eastern markets in the past years, English is still a must in almost all business scenarios. Before you start cooperation with a given software vendor, do a quick check of their language skills.
Do they have grammatical and spelling mistakes in their blog posts? Does the person responsible for business relations speak broken English? If so, such a language barrier may not boat well for the prospects of good and productive cooperation.
It is worth bearing in mind that Poland is one of the European countries with the best command of English.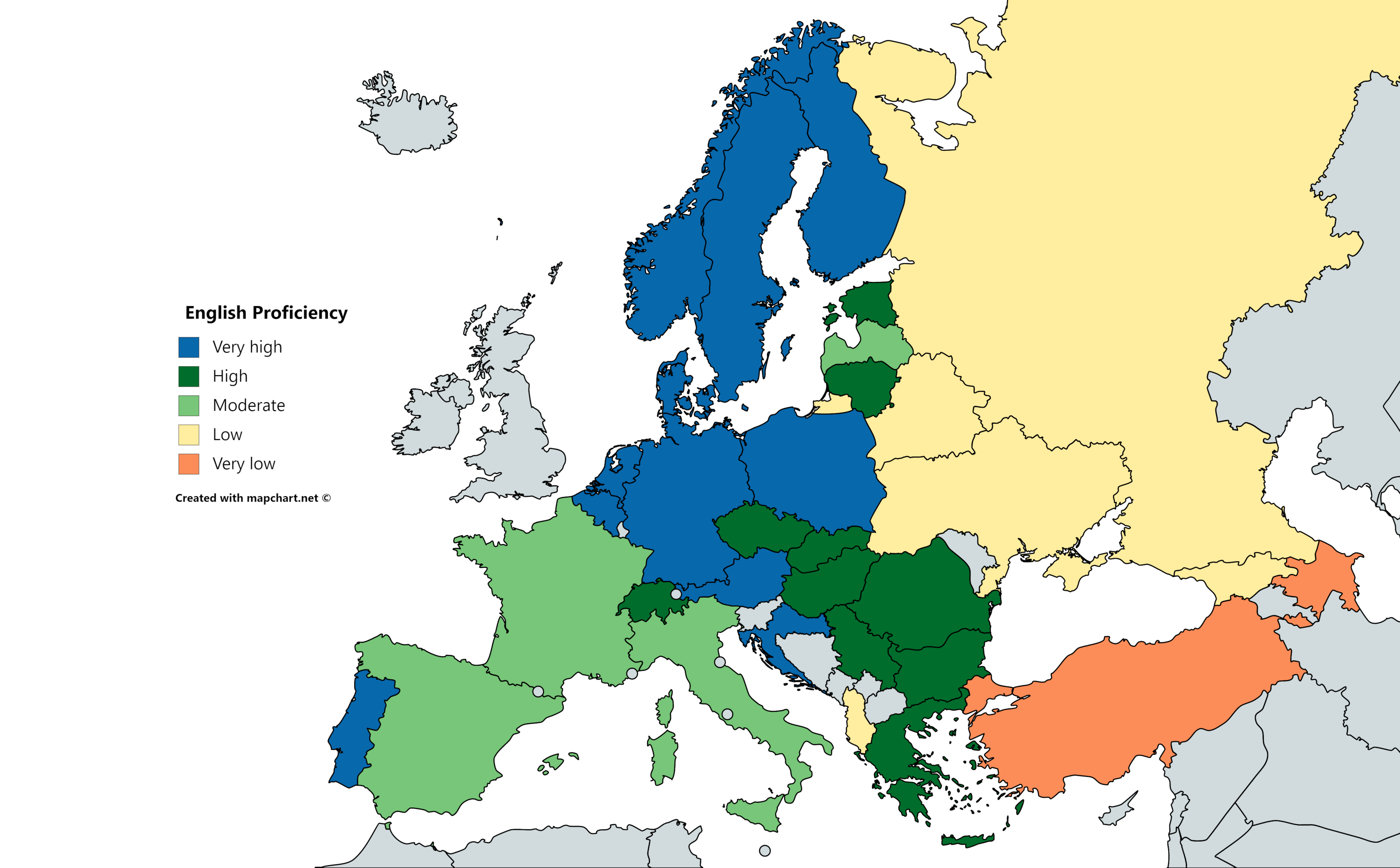 By establishing extensive and transparent communication links, you can avoid numerous headaches both from the side of the client and the outsourcing company. Whether an optimal synergy can be swiftly achieved can decide on the speed of project development and boost morale among developers.
Having a dedicated business analyst on the team is also a must. Such a person would enable better understanding of the strategic needs of each client. As well we getting on the same page when it comes to the project characteristics as soon as possible.
We've covered the story of our business analyst in one of the previous blog posts.
There is also the aspect of size. You might think that the bigger the company, the better and the more professional would be their approach towards their clients, and that's not necessarily true.
The best approach is to look for a software development company that is similar in size in terms of employees to your organization.
In a lot of cases, working in small businesses enable more direct and swift communication. What's more, you will be treated as a priority customer and will be given sufficient attention as a bigger chunk of the company's resources and programmers will be focused on your project.
[Follow up reading: How to estimate the cost of softwrae development]
5. Take a look at security practices
If the software development company wants to be taken seriously as a potential IT partner, its security measures will be a top priority.
Also from an enterprise standpoint that is investing a substantial budget into software development, security practices should be a vital part of a potential partner's checklist.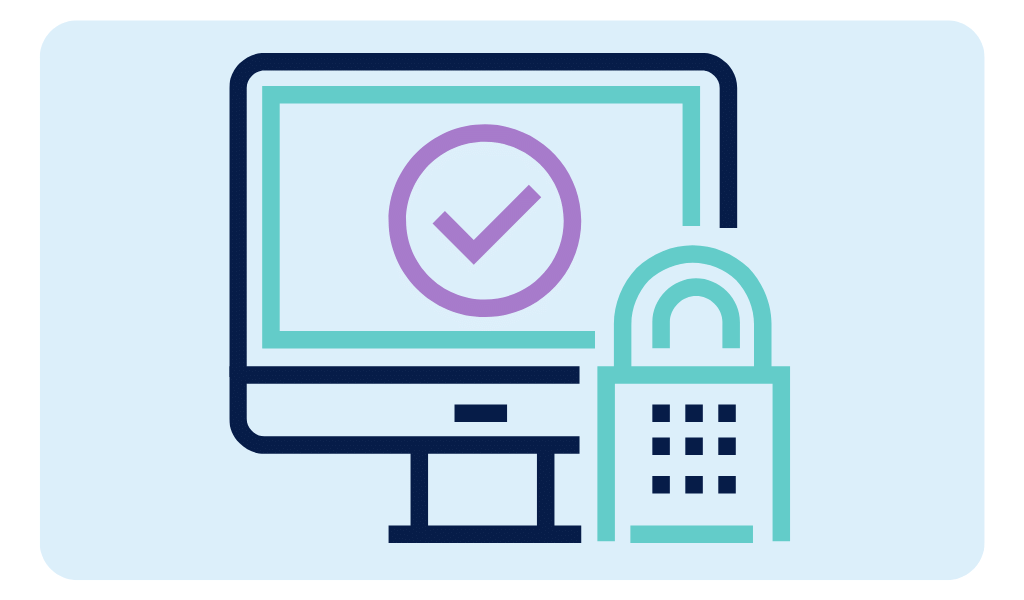 When researching available software houses you should look into the kind of security measures that will be used during both the communication, as well as the development itself.
Will the access to the programming environment be sufficiently protected? Will they be using proper software backup services? Is their development approach GDPR-compliant?
6. Check out testing, support, and maintenance
Work on the project doesn't end with the last deployment.
Even though a custom software development company might have a great experience in certain technology and the development process is clearly defined, some mistakes and pitfalls are bound to happen sooner or later.
That's why testing is also a vital part of the whole software development process. It allows developers to detect errors and eliminate them before they cause any problems in production.
What's more, a software development partner that strives to deliver an exceptional service will include extensive post-development support such as regular maintenance and backups.
Learn more about Java: Java Best Practices That Every Java Developer Should Know in 2023.
Next step: establishment of the meeting and partnership
Have you finally found the perfect software development company that understands your business needs and shares your values?
Great!
Now comes the part of establishing the basis of a flourishing business partnership.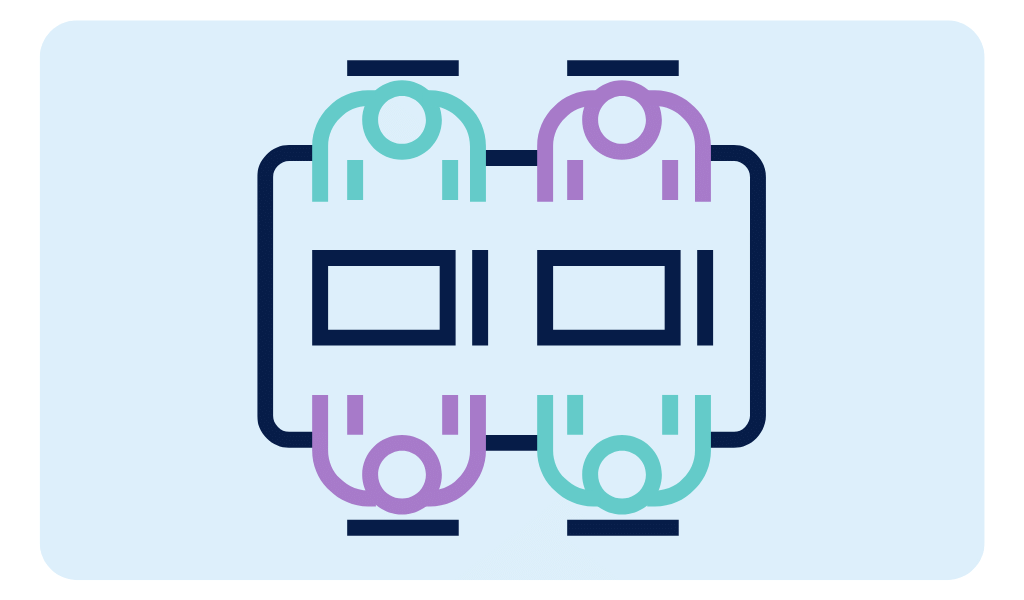 Set up the communication channels with your IT partner
If you are working with an offshore team of developers, proper communication tools are a necessity. The channels you choose have a serious impact both on the software developers, as well as your ability to properly follow the progression of the project.
It's best to establish a multi-channel approach to communication and to use the best channel for specific situations. For each type of message you want to share with your team, there will be better and worse choices when it comes to the means of delivery:
Company's communicator – there are a lot of different options for your business on the market like Slack or Microsoft Teams, each with its unique features. They play a role of a chatroom for the whole development team. They enable organizations to communicate both as a group and in personal one-on-one discussions in a more casual manner.
Email – it is a tried-and-tested method of talking to someone remotely. With modern corporate communicators on the rise, their importance may have faded a little but they are still useful in more formal business inquiries.
Face-to-face meetings – most experts agree that 70 to 93 percent of all communication is nonverbal. The ability to read body language and make eye contact are fundamentally important, especially when discussing key business directions. Even when communicating with an offshore development partner, solutions like Google Meets or Microsoft Teams enable organizations to perform face-to-face meetings remotely.
How to choose a custom software development company – summary
Finding the right custom software development company for your project takes a lot of time and effort. Taking into account the number of software development companies on the market, and the pace at which it increases each year – you have a lot to choose from.
In this post, we've covered all of the most crucial qualities of a potential software development partner which, we as Stratoflow strongly believe in.
We are Stratoflow, a custom software development company. We firmly believe that software craftsmanship, collaboration and effective communication is key in delivering complex software projects. This allows us to build advanced high-performance Java applications capable of processing vast amounts of data in a short time. We also provide our clients with an option to outsource and hire Java developers to extend their teams with experienced professionals. As a result, the solutions designed for our customers contribute to their business development. We specialize in travel software, ecommerce software, and fintech software development. In addition, we are taking low-code to a new level with our Open-Source Low-Code Platform.