Blog
Digital transformation
Low-code and no-code

Zuzanna Pajorska
Feb 20, 2023
The Role of Low-Code in Digital Transformation
Modern technology should encourage creativity and not be a barrier: no-code and low-code support such a trend, accelerating digital transformation. Citizen engineers are given access to user-friendly features such as drag-and-drop interfaces and editors, thus complementing developers' functions and allowing them to increase productivity. How do low-code and no-code platforms help companies go digital? What are the benefits of using them? First, let's check on specific data and examples presented later in the article.
Low-code platforms – how do they work?
Low-code platforms enable users (so-called citizen developers) to build, deploy, and manage applications without requiring extensive knowledge of programming languages. They are designed to be user-friendly and provide pre-built interfaces and intuitive drag-and-drop components that allow users to create applications by merging them, enriching and expanding the scope of pre-existing enterprise software.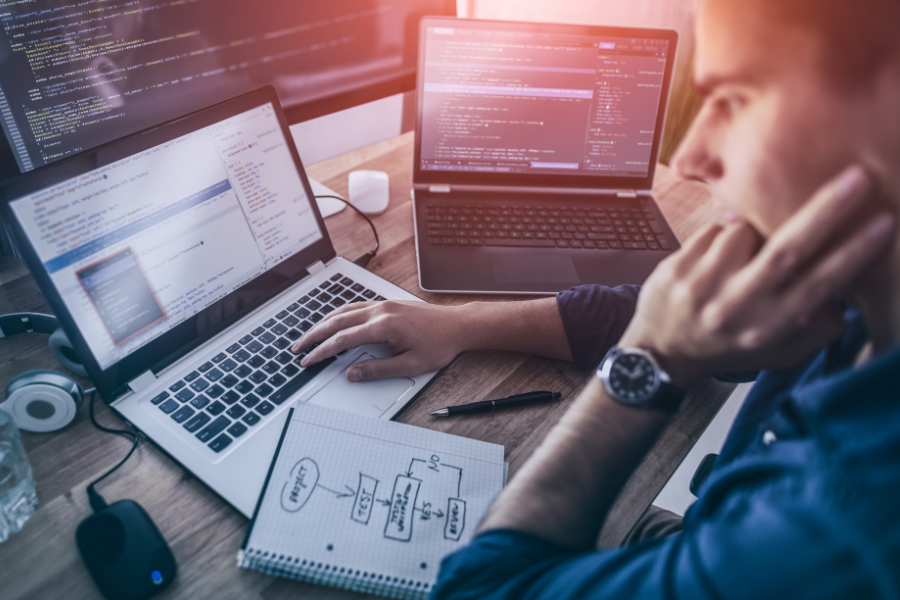 Low-code platforms typically offer a variety of features that make it easier to build and deploy applications, including:
A visual interface for creating and designing the user interface (UI) of the application,
A library of pre-built components that can be used to build various features and functionality,

Easy data integration and customization

tools for connecting to external data sources,
Workflow tools for automating business processes and creating approvals and other processes,
Deployment and management tools for publishing and updating the application.
Some low-code platforms may include other features such as analytics and reporting tools, integration with other systems and platforms, and collaboration and project management tools that streamline business users' daily work.
Businesses and organizations often use low-code platforms to build custom applications quickly and with minimal programming expertise. They can be handy for building applications that automate processes, manage data, and integrate with other systems and platforms. Low-code application development effectively supports business processes and digitization in small and medium-sized companies and start-ups.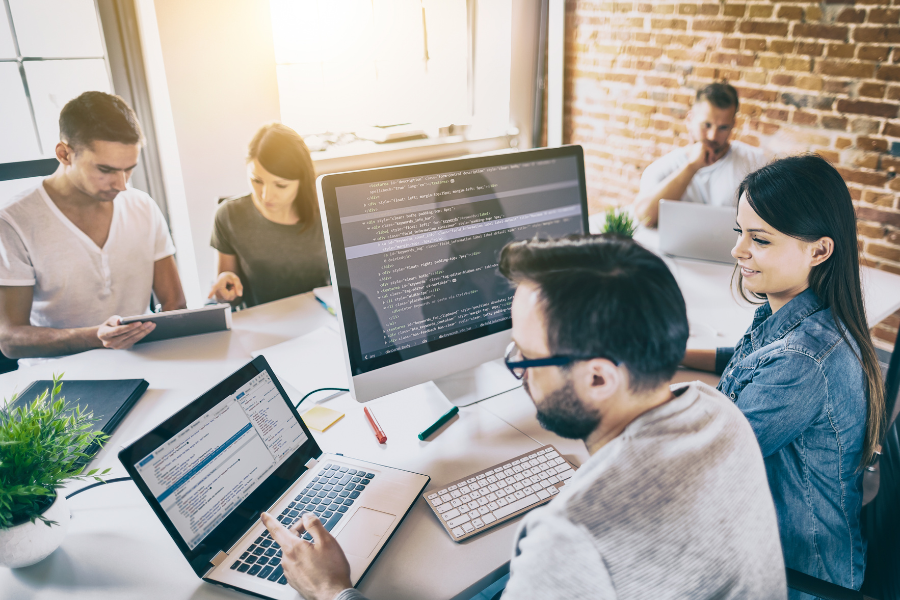 What is low-code in digital transformation?
The events of recent years, especially those related to the COVID-19 pandemic, clearly show that companies and organizations in various industries need new digital technologies. To thrive, digital transformation is essential. Its main goal for entrepreneurs is to develop applications and websites at a rapid pace, even by people with little technical knowledge.
Unfortunately, many in the business world, especially those of a smaller size, have trouble carving out the budget to create business applications or services. Fortunately, today there is already an alternative to custom software development in the form of low-code tools.
According to Gartner analysts, 41% of workers without IT majors were involved in creating and customizing applications last year. Significantly, it is predicted that by the end of 2025, up to half of all new customers for low-code development platforms will come from outside IT.
"While low-code application development is not new, a confluence of digital disruptions, hyper-automation, and the rise of composable business has led to an influx of tools and rising demand," – explained Fabrizio Biscotti, research vice president at Gartner.
Low-code platforms are also a response to the growing demand for digitization and limited resources – including those of specialists and programmers. Citizen developers with knowledge of the organization can streamline many processes themselves without the help of professional developers, who can quietly focus on more business-important projects.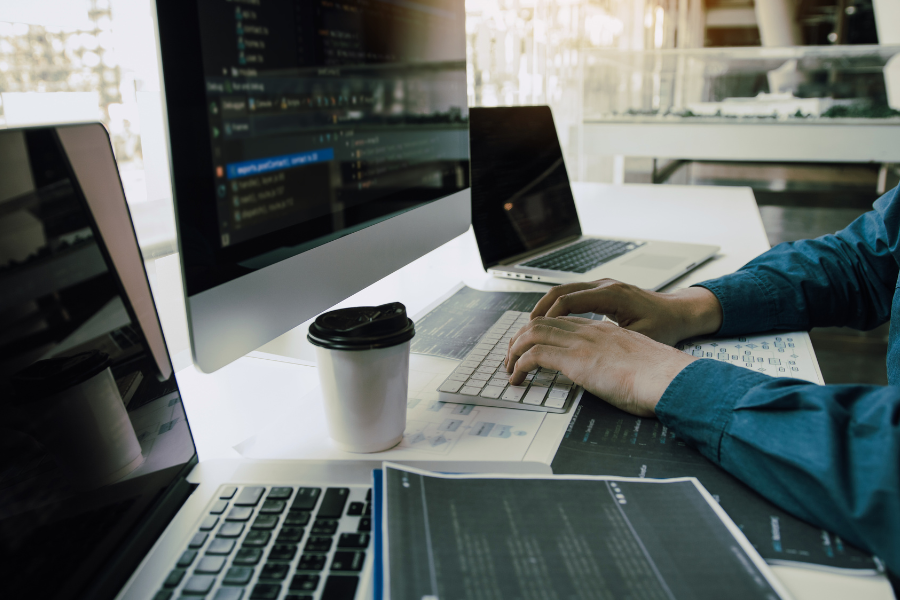 Does digital transformation require coding?
There are already companies on the market for which the use of low- and no-code platforms has already become standard.
The report "The state of low-code 2021: a look back, the light ahead", prepared by Mendix, is based on an analysis of the financial services, insurance, retail, public, and manufacturing sectors in France, Germany, the Netherlands, the UK, and the US. It shows that in 2021, as many as three out of four (77%) companies surveyed were using low-code platforms. Today, hardly any of these low- and no-code organizations are not using them – as many as 94% said they were doing so.
While such a high result does not apply to the entire market but to specific countries and industries, the high growth rate and the prevalence of no-code or low-code platforms mean that companies are beginning to consider them as the basis of their digital transformation.
Why is this happening? This is because organizations and companies need rapid digitization and automation, not only in the context of company growth but also in an increasingly demanding market environment. So does digitization require coding? Certainly yes, but many business apps or websites can quickly be delivered to the market using low-code development platforms.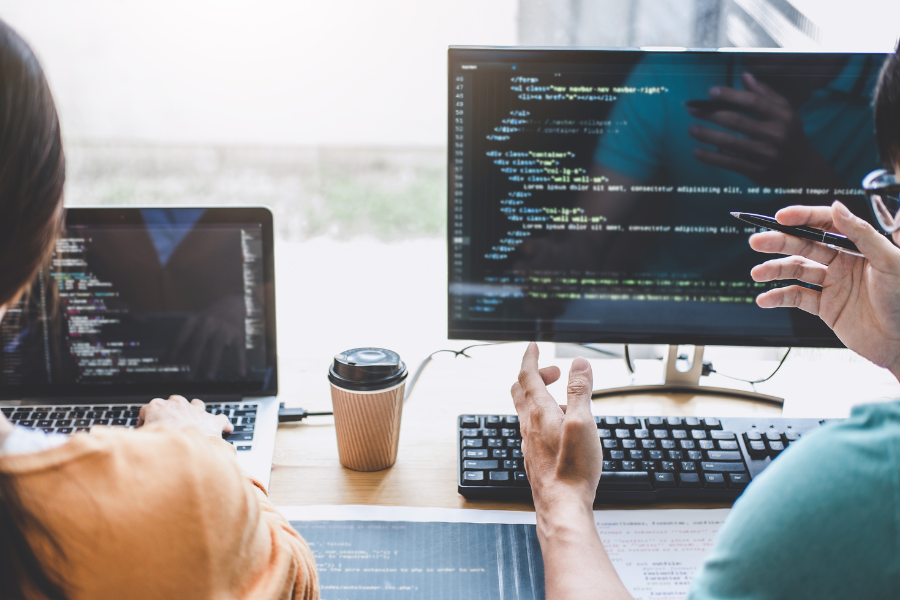 Why low-code solutions and no-code platforms are important?
Low-code programming means greater independence
Tools that simplify coding, like low-code platform, give an organization more autonomy and flexibility in creating customized solutions and later scaling applications. This new, pragmatic approach to digitization is cheaper, more effective, and works exceptionally well for schematic processes.
Low threshold for entry toward digitization
Low-code and no-code platforms are transforming application and software development, guaranteeing a relatively low entry threshold for those without digital product development and programming experience.
In addition, low-code and no-code technology offer an intuitive interface with drag-and-drop functionality and many ready-made components that help users create solutions to support rapid application development, growth, and business scaling without the involvement of the IT department.
Lower costs and a faster development process
The Mendix report mentioned above shows that 70% of those working on low-code development platforms learned to code in 1 month or less. A group as high as 73% of those surveyed confirmed that they had developed apps without coding in 3 months or less.
Undoubtedly, digital transformation using low or codeless tools takes much less time than traditional programming. This, in turn, translates into more significant savings and profits as finished products reach the market faster or can be used internally to streamline daily work, such as in human resources, marketing, logistics, or sales.
For example, our experience at Stratoflow working with the open-source low-code Java application platform shows that it can reduce up to 3 times the development effort required to create SaaS applications for businesses using low-code software. Low-code development platform definitely reduces the time to deliver digital solutions and is effortless.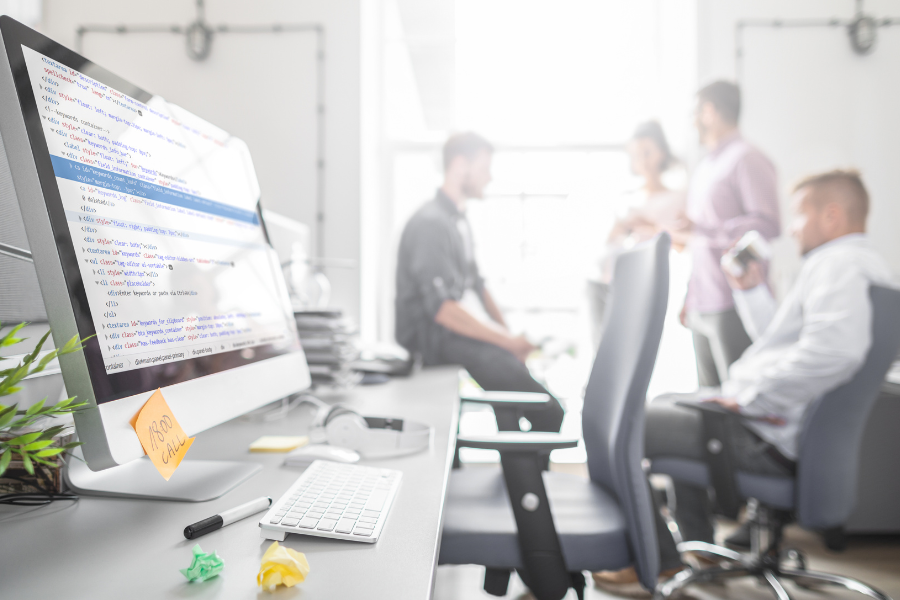 How does a low-code platform lessen your digital transformation risks?
1. Cost minimization
Low-code and no-code development platforms can help organizations reduce the risks associated with digital transformation by providing a more efficient and cost-effective way to build and deploy applications or websites.
2. Increased availability of personnel resources
One of the main benefits of low-code development is that it allows non-technical users to build digital products without the need for complex coding skills. In addition, this means that organizations can more easily involve a broader range of stakeholders in the development process, which can help to ensure that the final digital product meets the needs of all relevant parties.
3. Rapid testing and debugging
In addition, low-code technology typically comes with built-in tools for testing, debugging, and deploying applications, which can help to reduce the risk of errors. Also, it ensures that the new product will be launched on the market on time and within the budget.
4. Availability of ready-made features
Finally, transformation using low-code offers a wide range of pre-built components, templates, and integrations that can be easily assembled to build custom digital software. It can help organizations quickly and easily develop and deploy solutions that meet their specific needs without incurring high costs and hiring additional highly skilled software developers.
5. Accelerate digital transformation by adapting market trends
Overall, by providing a more efficient, cost-effective, and flexible way to build and deploy applications and other software, low-code platforms can help organizations to reduce the risks associated with digital transformation and more easily navigate the challenges of the modern business environment.
We are Stratoflow, a custom software development company. We firmly believe that software craftsmanship, collaboration and effective communication is key in delivering complex software projects. This allows us to build advanced high-performance Java applications capable of processing vast amounts of data in a short time. We also provide our clients with an option to outsource and hire Java developers to extend their teams with experienced professionals. As a result, the solutions designed for our customers contribute to their business development. We specialize in travel software, ecommerce software, and fintech software development. In addition, we are taking low-code to a new level with our Open-Source Low-Code Platform.