Blog
high-performance
Software Development

Arkadiusz Krysik
Dec 5, 2022
Application Development Guide: Types of Applications and Development Methodologies
Currently, there are 4.95 billion active internet users worldwide. That means that approximately 63% of the human population has access to the Internet – a percentage that is steadily rising year after year. It also means that an online presence is for companies of all kinds an absolute necessity. Regardless of whether we are talking about a well-established manufacturing company or an ecommerce business – a polished and optimized website or application can drive sales, attract new clients and grow business.
But the application development process is a much more complex task than you might think. There are hard as well as soft skills that come into play. It is not enough to have a team of software developers with years of experience. Project management is just as important. In this article, we are going to take a closer look at what is a software development life cycle, what are the main types of apps and in what business scenarios they work best. Keep reading!
What is application development?
Let's start from the basics and define the application development process.
In a nutshell, it is the process of designing, building, and implementing software applications. It is the broadest type of development process, as it includes applications of different kinds – from the web to native ones.
The application development process comes in all shapes and sizes.
The development team can include tens of experienced software architects or a single freelance developer who works on a small-scale application. A large IT company can be tasked with building a software app for an external client, or they can reach a boutique software house or custom software development company with a more personalized approach to the project.
It all depends on the scope of an application, the development budget, and the timeframes of the project.
Application development – buy or build?
The old question for CTOs, and development managers alike. Do we want to build a software application by ourselves, or outsource this process to a specialized company? What are the common problems and challenges in software development?
If a company is not experienced with developing software, outsourcing might be a tempting alternative.
Hiring some experienced developers might not seem like such a difficult task (check our article with tips on how to find software developers). Making sure that they will work well as a team is another, much more complex problem.
Outsourcing IT services and nearshore software development are therefore an increasingly popular method of carrying out a development project, as it can bring cash savings across the board.
Key benefits of software development outsourcing include:
quick access to specialized staff and know-how,
lack of necessity to create workplaces dedicated to the project,
cost-effectiveness – no need to increase the number of employees or purchase specialized software.
[Read also: How to Choose a Software Development Company – CHECKLIST]
What is a software development life cycle (SDLC)?
Software Development Life Cycle, or SDLC in short, is a well-structured process of building software that maximizes both efficiency and code quality. SDLC provides software development companies with flow phases that help them communicate with their customers and produce high-quality products faster.
Over time each company develops its own SDLC.
Based on 10 years of commercial experience, Stratoflow developers have carved out 6 fundamental parts of the application development life cycle. They have been a foundation for many high-performance development projects for international clients throughout the years.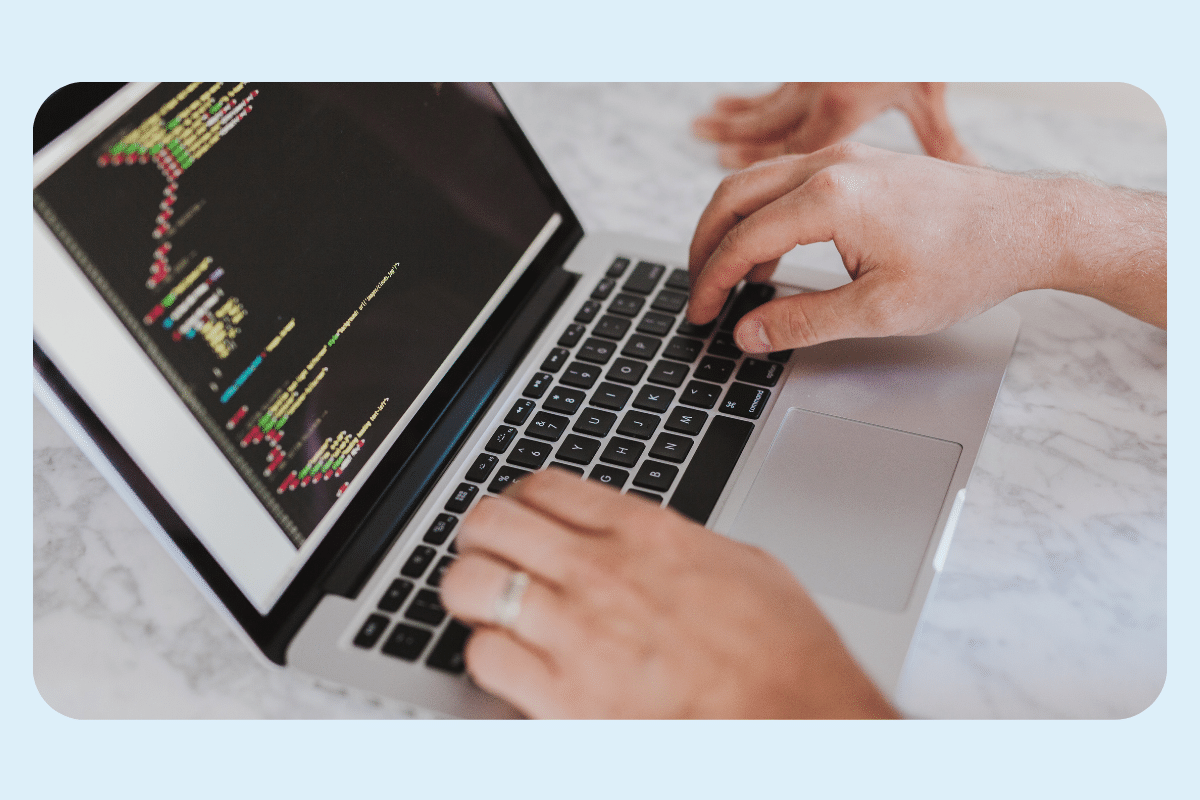 The Six Core elements of the successful SDLC
Planning and defining product vision
No development can be successfully carried through without a meticulous and thorough planning phase.
In this part of SDLC, product owners and managers work closely with the client to establish a clear vision of the entire development project. This includes gathering business requirements, calculating labor and material costs, creating a timetable with target goals, and setting up realistic but ambitious development sprint intervals.
Even if clients are located around the globe, it is always good to start with a planning visit to learn more about the company goals, plans, and preliminary project requirements.
Estimating, Designing, and Prototyping
In the second phase, we begin to morph the conceptualized idea into tangible and physical plans and mockups. Its main objective is to determine realistic timeframes for the project and to establish key milestones.
In cooperation with the client, we choose suitable methodology and tech stack. After that, the initial prototyping phase can commence. These early versions of software demonstrate a basic idea of how the application looks and works, and whether the chosen approach and path go on par with the client's initial vision.
[Read also: How to estimate the cost of software development]
Software Development in Short Sprints
In order not to get too carried away and stick to the original product vision we use short development sprints.
In Agile software development methodology, a sprint is a period of time during which a specific task or functionality has to be completed and made ready for review.
Each sprint begins with a planning meeting. During the meeting, the product owner (the person requesting the work) and the development team agree upon exactly what work will be accomplished during the sprint.
After the sprint begins, the product owner must step back and let the team do their work. During the sprint, the team holds daily stand-up meetings to discuss progress and brainstorm solutions to challenges.
At the end of the sprint, the team presents its completed work to the project owner, and the project owner uses the criteria established at the sprint planning meeting to either accept or reject the work.
Presenting a demo of the product
After that, we finally come to a phase when at least a good chunk of planned functionalities has been developed and a demo of the product can be presented to the client. Some software companies in their application development processes choose to create the minimum viable product (MVP). In a nutshell, it is a simple version of a product with enough features to test its true market value on early adopters.
At this stage, testing is also playing an integral part in the application development process. To be clear, a good practice among developers is to cover the application with tests in conjunction with developing succeeding functionalities. At this point, though, tests really play a vital part as final deployment is just around the corner.
Agile iterations
We believe that an iterative approach is the best way to adjust the scope and direction of the application development process. It guarantees that input is taken into account immediately and that changes are made at each stage of the development cycle quickly and effectively. As a result, teams can complete given tasks while staying within the timeline and budget of a project.
The agile approach to application development also allows for a great deal of flexibility in terms of the project's scope and shape. When a new functionality has to be developed, its details can be quickly discussed during SCRUM meetings, assigned to new tickets, and put into production straight away.
Success
At last, comes the deployment of the finished product. The application development life cycle isn't done yet, though.
After that, the client may require additional post-launch support and maintenance. They can also look to establish a long-lasting business relationship and develop the application further, as it gains momentum among users.
The key takeaway from this part is that when working on a software product for a client, it is crucial to offer your partner a complete package. By that we mean a complete software development lifecycle, starting from analysis through the development and testing of the entire product, to data migrations, installation, and maintenance.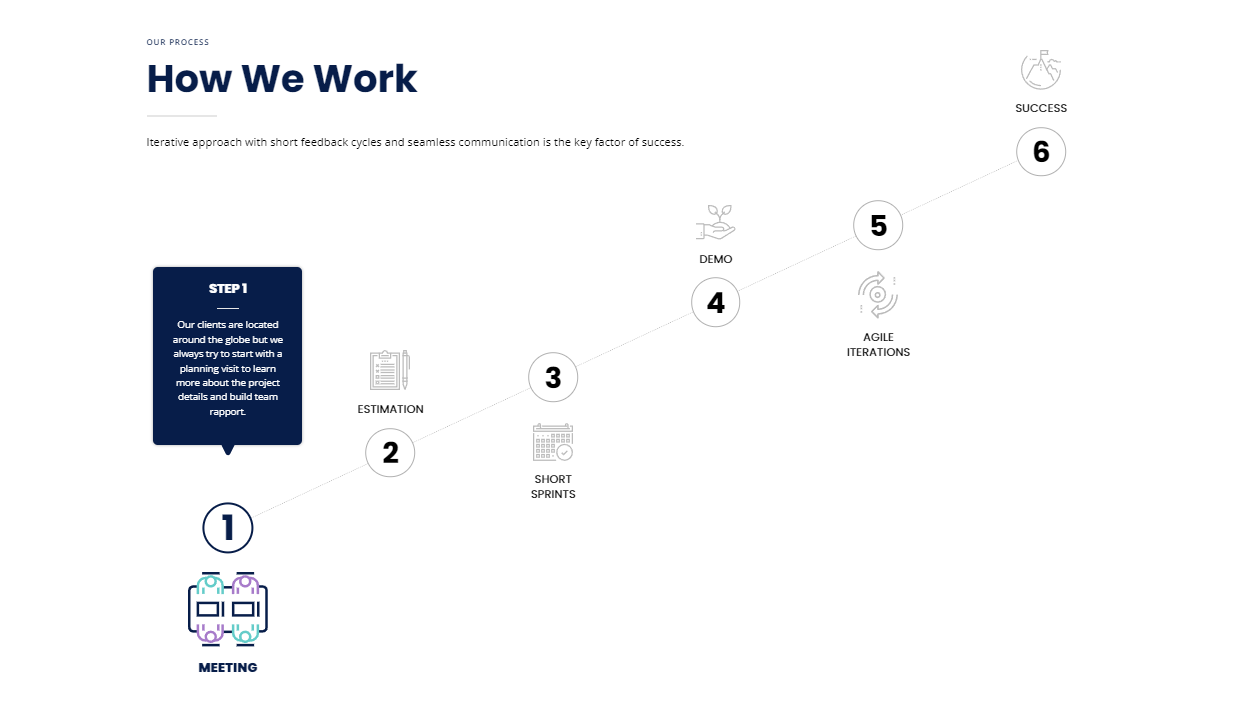 5 types of application development methodologies
Software development methodologies have been a topic of interest for management theoreticians and academics for quite a while. It is mostly due to its complex, and technical nature, but also due to the possibility to divide the work into smaller chunks that can be assigned to a specific programmer. Below, we've listed five main types of application development methodologies that are currently popular, so you can judge by yourself which one best suits your needs.
1. Waterfall development
Sometimes regarded as the classical approach, the waterfall model gets its name from the way each phase of the project cascades into the next, flowing steadily down like a waterfall.
The undeniable advantage of waterfall application development is that it is very meticulous, with planning and sequencing being at its core. It has, at least, five to seven stages that follow in strict linear order, where a phase can't begin until the previous phase has been completed.
When waterfall methodology works best?
You don't anticipate many changes in the scope of the project,
The development team has experience working on a very similar architecture,
The project has a strictly dedicated budget,
The customer doesn't want to be involved in the application development up until the release.
Do you see a problem here?
That's right, these days' development projects that meet these criteria are exceedingly rare.
Changes happen all the time. Even if the development team builds an app exactly to the business requirements (which frankly cannot be taken for granted), by the time they are done the technological and economical landscape has changed so much that it rendered the application's initial functionalities virtually useless.
That's why new application development methodologies were formulated. This time with a larger emphasis on being more agile.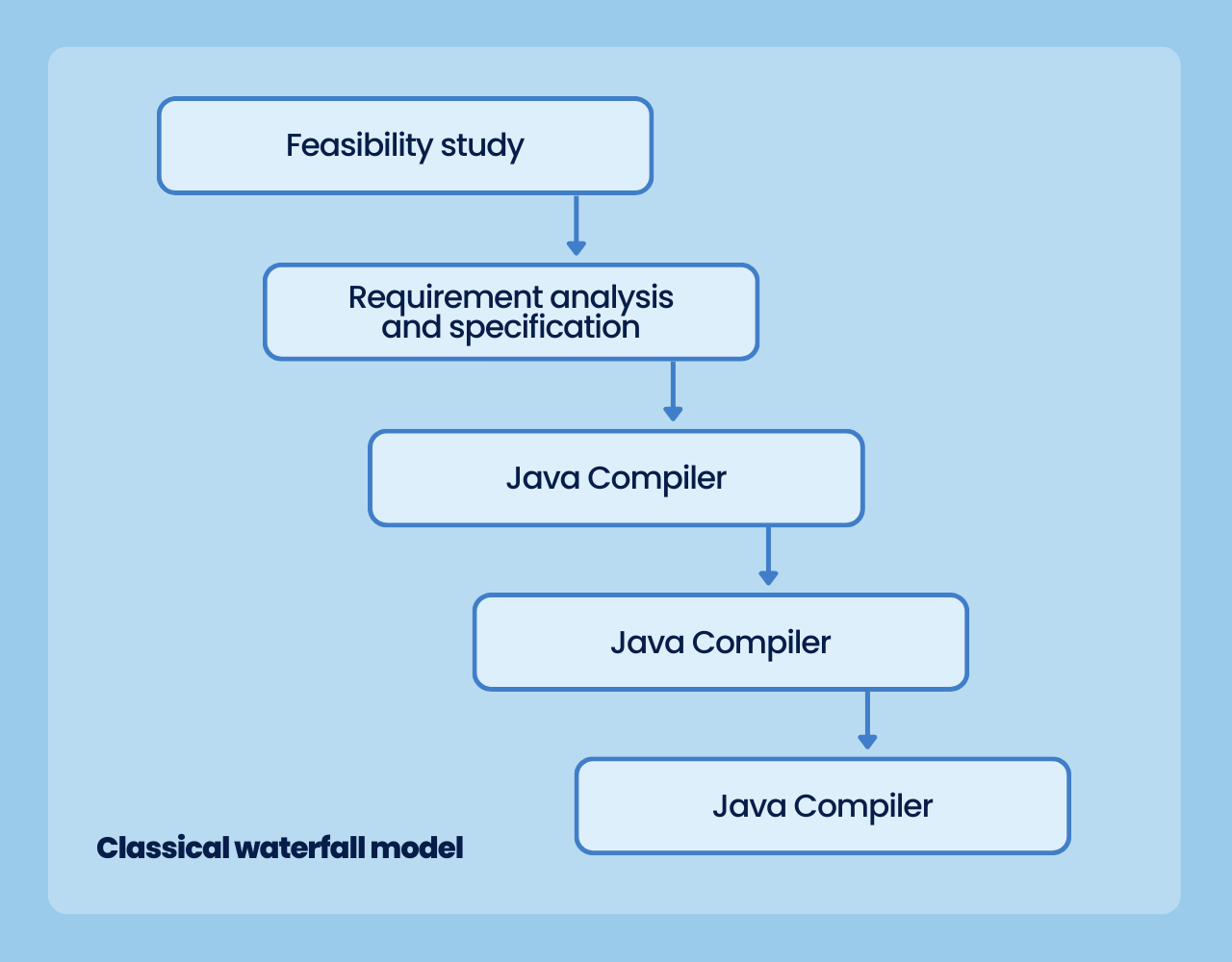 2. Rapid application development (RAD)
To address these problems, a new method emerged called rapid application development (RAD). It was conceived in the 1980s, so it's definitely not a brand-new concept. Unlike the waterfall model, it's not singular. In many ways, RAD is the polar opposite of the waterfall method.
At the core of RAD application development methodology lie prototypes. Its main objective is to produce a working version of the application as quickly as possible, and then enrich it with remaining functionalities until it matches the initial product vision. Constant releases of new prototype versions of the application necessitate very close cooperation between team members and the client.
Rapid application development is like a highly-specialized tool – it can do great things, but only in the hands of an expert.
RAD methodology usually involves small teams of most experienced developers who have knowledge about multiple technologies and frameworks. It works great when a development team is forced to divert from the original plan, but unfortunately, it is only applicable to small application development projects. With apps that are larger in scope, RAD is simply too bear-bone of a methodology to be efficient.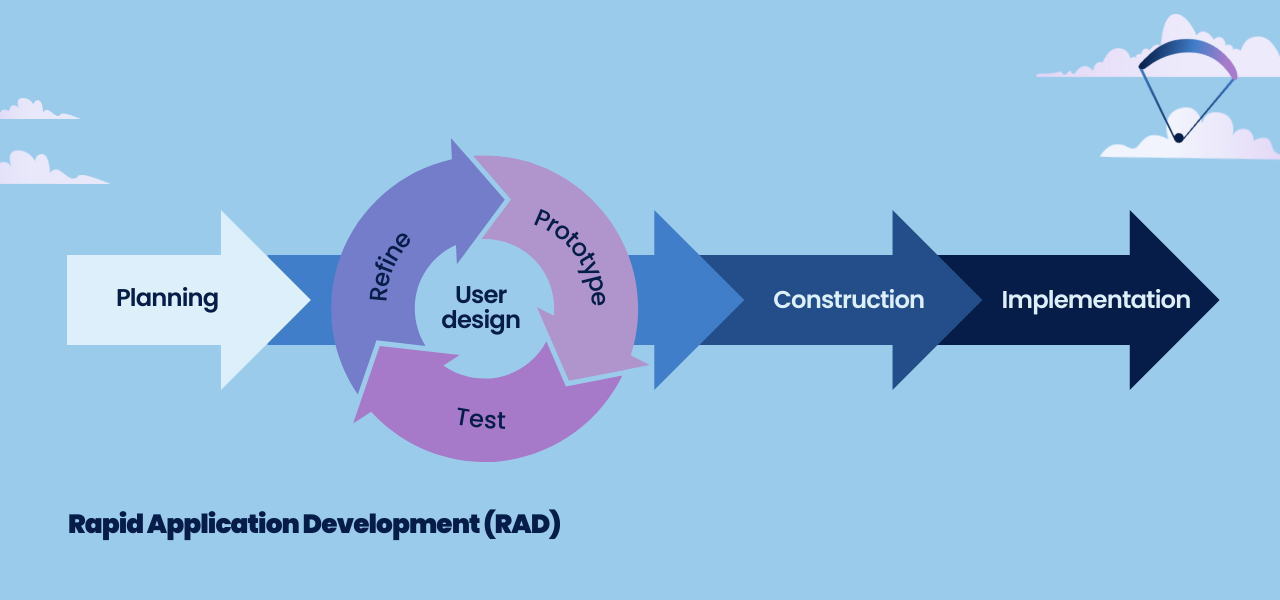 3. Agile development
In many ways, RAD was the forerunner of Agile application development. It's similar in many ways, but also includes some important changes to make it more suitable for larger projects as well. Similarly to RAD, Agile is iterative in nature. The main difference is that in this methodology, the development team focuses on building features one at a time.
It is hard to put one simple definition of Agile methodology. It is rather an umbrella term for a set of frameworks and practices based on the twelve core principles of Agile philosophy. They include simplicity, customer focus, and embracing changing circumstances. Functionalities are developed by one feature at a time, and the customer can see the progress of the project at each step of the way and confirm each new development.
Needless to say, Agile methodology has really caught on in recent years. It is estimated that up to 70% of software companies use it in their projects.
When is Agile methodology best for application development?
When the project is undergoing frequent changes.
When there is access to a team of experienced software developers, alongside the scrum master and product owner.
When a customer is ready to have regular meetings with the development team to discuss the progress of the project.
[Read also: What's the Future of Digital Transformation and Its Trends? An Expert's Point of View]
We believe that Agile is the best and most efficient way to conduct development projects. It allowed us to always deliver our high-quality software products to clients within agreed-upon timeframes and budgets.
4. Low-code/no-code
Now let's briefly touch on some more innovative approaches to app development.
Low-code and no-code application development methodologies promise to enable building software faster and easier with the minimal technical knowledge required. All thanks to an intuitive drag-and-drop dashboard that they provide.
Although there are similar approaches, low-code and no-code are slightly different.
In no-code methodology non-technical users can use UI elements to build apps without coding. Low-code solutions, in turn, allow for more complex actions thanks to the usage of programmable code snippets and scripts.
These methodologies are currently one of the most controversial approaches to software development out there. A lot of software development purists criticize them for being too bare-bone and only leading to technical debt down the line.
We believe these opinions to be too close-minded, as low-code/no-code methodologies offer unique advantages even though they are not applicable to every commercial scenario.
No-code platforms are a good choice for simple application development that requires little in the way of customization. Low-code solutions on the other hand can be useful for developing relatively simple web and mobile applications that can also be integrated with other systems.
Does your company need a prototype of a web application? Or a simple internal tool? You don't have to wrestle with UI libraries, integrate multiple data sources, and work on access controls. A good low-code platform can help you with that by decreasing the time designated for the software development process.
[Follow up reading: The Role of Low-Code in Digital Transformation]
5. Mobile application development
We should also quickly cover mobile application development, as there are also some important trends present.
According to Statista, in 2022 over 6.5 billion people worldwide own a smartphone, which is over 83% of the world's population. That means one thing – your service cannot possibly succeed if you don't take into account mobile users.
But not only Native Mobile Applications are important. After all, they have one crucial disadvantage – users have to download them. This creates a powerful barrier that only the biggest brands can overcome. That's why a lot of businesses look into alternatives like Progressive Web Applications (PWAs) which we will look into in a moment.
[Read also: Latest Software Development Trends]
8 types of applications
Just like there are numerous approaches on how to build apps, there are also a lot of types of software applications themselves.
1. Desktop applications
First, let's cover the most basic types of software applications – desktop and mobile apps.
Desktop platform applications are kinds of applications that run on desktop operating systems like macOS, Windows OS, Linux OS etc. Their biggest advantage is no need for an internet connection and the ability to introduce as advanced functionalities as the user's hardware is able to handle.
[Read also: Legacy Software Systems: How to Live with Aging Software Architecture?]
2. Mobile apps
Mobile applications, commonly referred to as apps, are designed to run on mobile devices, such as smartphones or tablets. Most bare-boned mobile apps are just PC-based applications ported to operate on a mobile device.
A more sophisticated approach involves developing specifically for the mobile environment, taking advantage of smaller touch screens of mobile devices. Mobile developers most often use frameworks and languages like React Native, Flutter, and Swift to develop modern mobile applications.
3. Web applications
Web applications utilize browsers and web technologies to perform tasks over the Internet. No need to download anything! Just open your browser and use all the available functionalities online.
Web applications process data using server-side code (written in back-end programming languages such as Java), while client-side scripts (written in JavaScript and HTML5) present the relevant information on the user-friendly UI interface.
Their biggest advantage is that they can work on any device regardless of the operating system. On the other hand, though, there is no way of implementing very advanced functionalities without sacrificing the performance of a web application.
Read also: Java Best Practices That Every Java Developer Should Know in 2023.
4. Custom applications
Custom application development is the process of designing, creating, and deploying tailor-made software applications for specific users. For instance, many schools, healthcare providers and businesses create their own custom portals for students, patients, and employees alike, to be used for a variety of purposes.
5. Open-source applications
Open-source applications just as the name suggests are open to everyone. They are free and each user can legally download and use them.
Open-source applications are usually developed in a decentralized and collaborative way. They are often cheaper and more flexible alternatives to paid applications, but lack some more advanced functionalities which can be locked behind a paywall.
Open-source applications are also characterized by their longevity, because more often than not they are developed by dedicated communities rather than a single author or company.
6. Hybrid apps
A hybrid app is essentially a web app, but it's packaged in a native app "container". Thanks to that, developers can leverage features from the native platforms and device hardware (e.g., using the device's camera, or allowing for push notifications) that normal web applications cannot access.
Similarly to ordinary web applications, hybrid apps are built with some of the most popular front-end development technologies and languages like HTML5, JavaScript, and CSS, allowing for cross-platform functionality.
7. Enterprise applications
Business application software is a type of application software designed to fulfill specific requirements set by an organization. The main goal of such an application is to improve the efficiency, productivity, and profitability of a company's operations. Developing enterprise software applications is usually a pretty big undertaking for a development company.
8. High-performance applications
High-performance applications are the subtype of enterprise apps. They are usually built for specific business scenarios that require low latency and data throughput. These include financial institutions, travel agencies, airlines, and manufacturing companies. Depending on the industry, such an application may require an extreme level of responsiveness or the ability to transfer and process gigabytes of data in a matter of minutes.
[Read also: Guide to Java Profilers: Which Performance Monitoring Tool Is the Best?]
Summary
Application development is a much more complex process than many non-technical people might suspect. After all, in their eyes, the main goal of every software application is rather similar – to provide their users with relevant content. As we've shown in this article, the reality is much more complex. There are a myriad of different types of software applications and numerous ways and methodologies to develop them. Each one offers a unique set of quirks and features best suited to different scenarios.  That's why a decision whether you want to develop the application by yourself or look for the help of experts is a complex one and it should not be taken lightly.
We are Stratoflow, a custom software development company. We firmly believe that software craftsmanship, collaboration and effective communication is key in delivering complex software projects. This allows us to build advanced high-performance Java applications capable of processing vast amounts of data in a short time. We also provide our clients with an option to outsource and hire Java developers to extend their teams with experienced professionals. As a result, the solutions designed for our customers contribute to their business development. We specialize in travel software, ecommerce software, and fintech software development. In addition, we are taking low-code to a new level with our Open-Source Low-Code Platform.