Blog
Healthcare

Zuzanna Pajorska
Jul 11, 2023
5 Most Popular Healthcare Software Solutions
Today, digitization is increasingly crucial in all areas of life, and the health sector is no exception.
Digitization and modern software have great potential to transform healthcare and streamline medical processes. Discover what trends dominate this fast-growing sector and why the demand for digital solutions is growing at a breakneck pace. Find out how innovative software impacts healthcare quality, making medical professionals' work more accessible and offering an ever-improving patient experience. We invite you to continue reading!
What is medical software?
Healthcare software definition
Medical software is a category of health information technology software that plays a key role in managing various aspects of healthcare. Designed to streamline clinical and administrative operations, medical software is an essential component for healthcare organizations.
There are many types of healthcare software available on the market for the medical sector that automate and simplify a variety of processes. These range from medical billing software and patient scheduling to medical record creation and management, electronic prescribing, virtual healthcare, scheduling, and more.
[Read also: Detailed Guide to Healthcare Software Development]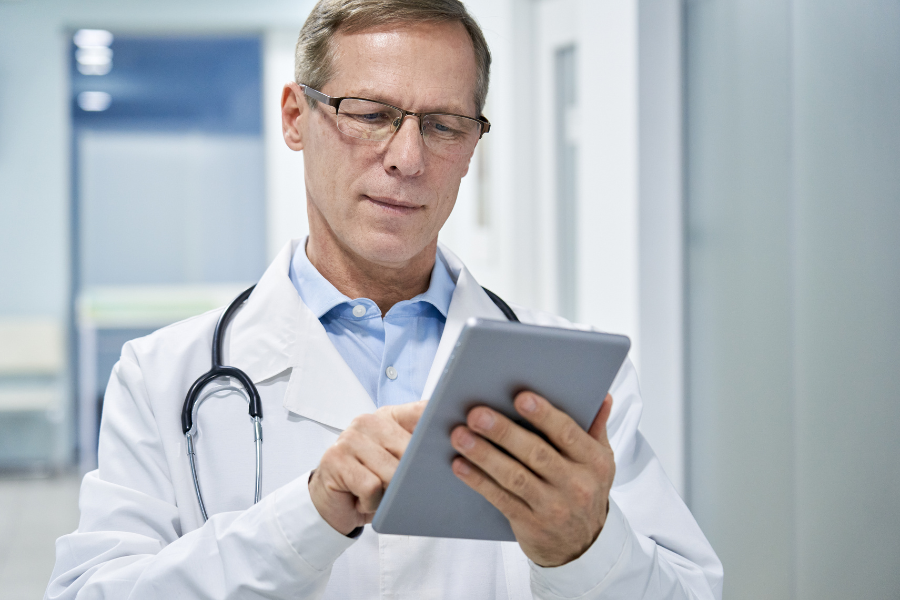 Why medical software is important?
Medical software enables efficient patient stats management, providing quick access to medical information, electronic medical records, medical history, laboratory results, and other relevant clinical data. It also allows the generation of reports and analyses that can be used to make medical and administrative decisions.
Medical software makes monitoring and managing resources in healthcare facilities, such as medical equipment, medicines, medical staff, and others, possible. This can help optimize processes, reduce costs, improve the quality of care, and accelerate the digitization process.
Undoubtedly, medical programming is of great importance to the efficiency and effectiveness of healthcare, helping to improve patient safety, simplify administrative processes and increase the efficiency of medical staff. It is an integral part of modern healthcare and is crucial in delivering quality medical services.
Healthcare software market stats
According to market analysis, the global healthcare IT market was valued at $97.8 billion in 2020. It is projected to reach $346.7 billion by 2027, growing at a CAGR of 16.7% from 2021 to 2027. These figures perfectly illustrate how rapidly the demand for digital solutions for the healthcare industry is growing and how quickly the adoption of new medical technologies is progressing.
Let's now see what types of medical software are available on the market.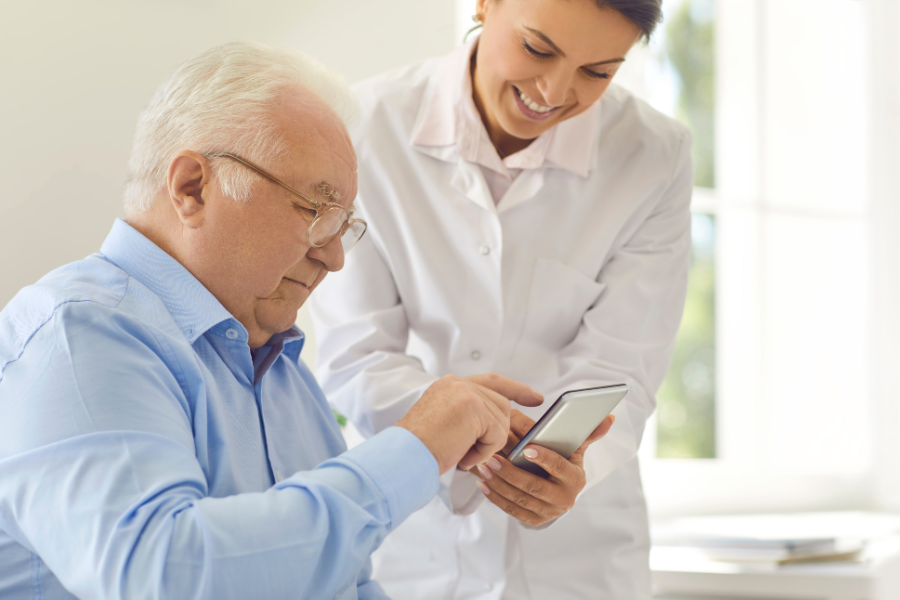 5 Types of healthcare software
Electronic Health Records software (EHR)
Electronic Health Records software (EHR) is an essential and popular software in healthcare. It provides a central repository for patient data, including medical history, family history, lab results, medication history, etc.
One of the critical features of EHR systems is the ability for authorized providers to create and manage a patient's health information and then share this information with other providers at various healthcare facilities. Through this process of automation and facilitation of information flow, medical professionals do not have to collect the same data from the same patient again. Moreover, such data sharing significantly improves the quality of patient care. EHR systems reduce errors, increase patient safety and contribute to better therapeutic outcomes.
Many EHR systems have built-in features that not only record patients' prescribed medications and allergies but also automatically check the integrated drug database, alerting physicians to potential conflicts in prescribing given medications to a patient. In addition, they often include a financial module for billing and payment and a separate module dedicated to patients where they can verify their data.
Overall, EHR systems reduce the risk of data duplication, loss of information, or essential patient health data. They are also more cost effective than traditional paper medical records, which are prone to error or destruction over a longer period. Importantly, EHR systems provide better security for sensitive medical data.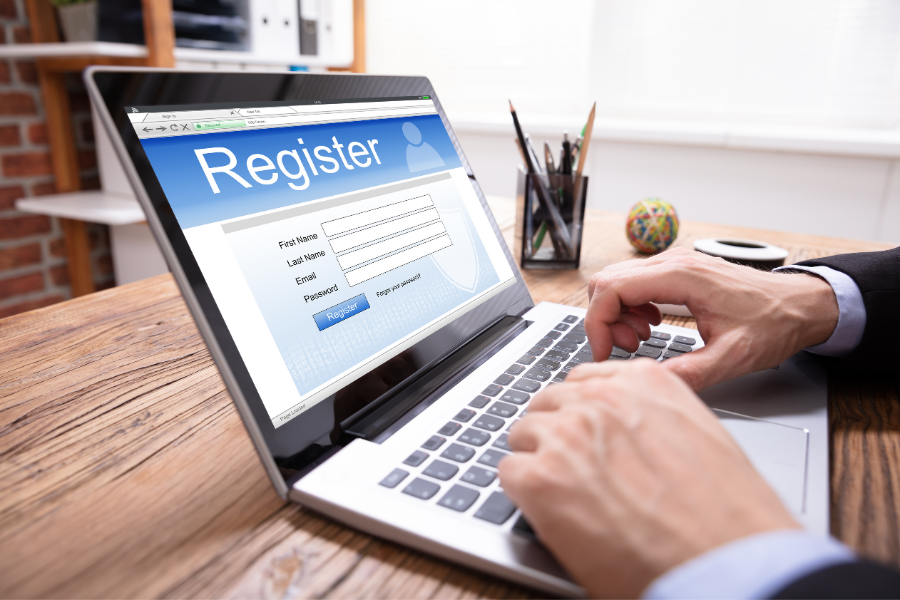 Examples:
Epic Systems: Epic is one of the world's leading providers of EHR systems. Their software is widely used in many reputable medical facilities, including hospitals and clinics.
Cerner Corporation: Cerner is another well-known healthcare provider with of EHR systems. Their platform is used in many countries and includes patient data management, lab results, medication orders, and more modules.
Allscripts: Allscripts offers a variety of EHR solutions for medical facilities, including hospitals, clinics, and doctors' offices. Their systems enable the storage and management of patients' comprehensive medical information.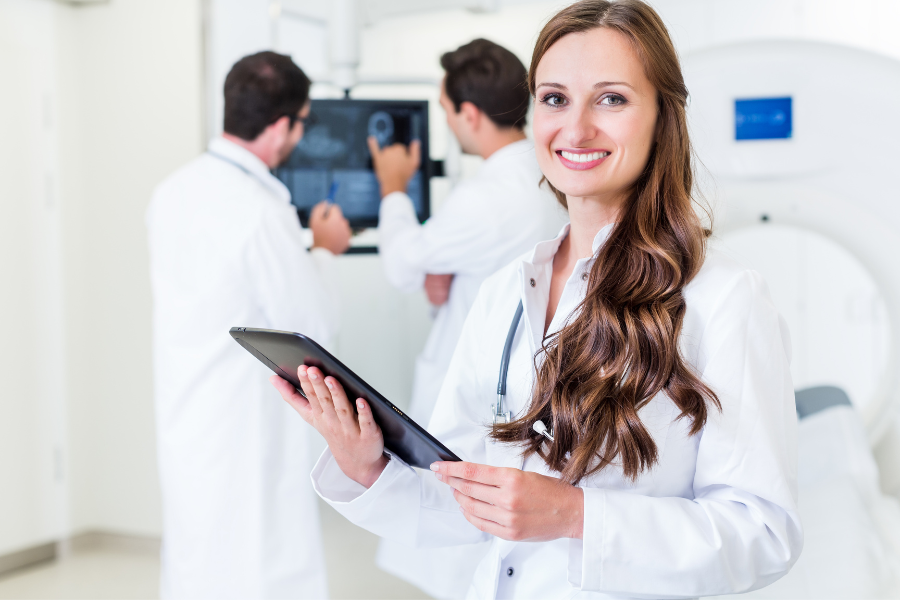 Telemedicine healthcare software
Telemedicine, or using medical software to conduct remote consultations, gained tremendous importance during the 2020 coronavirus pandemic.
Then, when traditional healthcare services were disrupted, and patients found it challenging to visit doctors in person, telemedicine became an indispensable tool. This need became the catalyst for a global digital revolution in healthcare.
While the need for telemedicine may have diminished somewhat after the pandemic, this form of contact between patients and doctors has become a permanent part of digital health care. Covid-19 broke down a significant barrier for providers of remote consultations and showed that telemedicine can significantly improve healthcare delivery.
A growing number of telemedicine applications and services are appearing on the market that offer a variety of features available on a single platform, such as video conferencing, file transfer of patient records and test results, and payment capabilities.
Using telemedicine medical software guarantees many benefits. Key among them are:
Accessibility and convenience
Telemedicine software allows patients to access medical consultations without leaving their homes. People living in remote areas with limited mobility or poor health can consult a doctor using a computer or mobile device.
Quick access to healthcare
With telemedicine, patients can receive a quick medical evaluation. Waiting times can be significantly reduced, which is especially important in urgent or emergency cases.
Telemedicine software makes it easier for patients to continue their health care. Consultations after health verification and implemented treatment, health monitoring, and access to prescriptions can be provided through e-visits.
Eliminating the need to travel to a medical clinic or hospital means saving time and costs associated with travel, parking, etc. In addition, some telemedicine visits can be less expensive than traditional in-person visits.
As a result, telemedicine software contributes to improving healthcare accessibility, reducing waiting times, saving time and costs, and ensuring patient safety.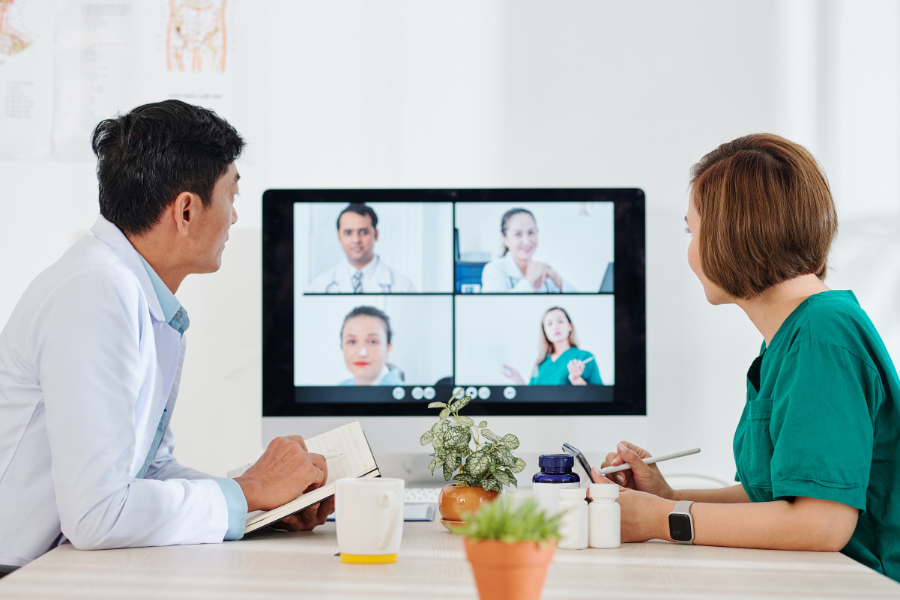 Examples:
Teladoc: Teladoc is one of the world's leading telemedicine software. It provides a platform that allows patients to contact their doctor through video calls or remote telephone consultations. Teladoc offers various medical services, including medical advice, diagnosis, prescription, and health monitoring.
Doxy.me: Doxy.me is a popular telemedicine software allowing patients and doctors to attend online appointments. It works by simply connecting through a web browser, eliminating the need to download additional software. Doxy.me offers features such as video calling, file sharing, and medical notes, providing a secure and private telemedicine environment.
OhMD: OhMD is a telemedicine platform that allows doctors to communicate with patients via text messages and video calls. It is an easy-to-use tool that enables secure exchange of medical information and remote communication between healthcare providers and patients.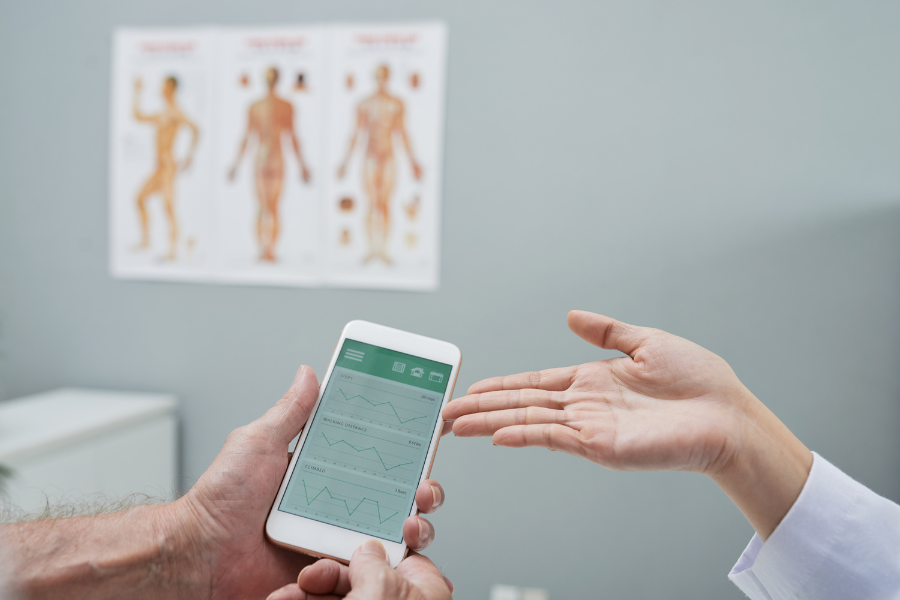 Remote Patient Monitoring (RPM) healthcare software
Remote patient monitoring (RPM) is an innovative approach that allows patient data to be collected outside traditional healthcare facilities such as clinics and hospitals.
This makes it possible to obtain detailed information on a patient's health status and even perform remote diagnosis based on the collected data. Remote patient monitoring software also plays a vital role in informing doctors or clinics when abnormalities are detected.
There are a variety of remote patient monitoring technologies. Examples include:
heart rate and blood pressure monitors,
devices for measuring blood glucose and oxygen levels,
wearable ECG monitors.
Overall, RPM technologies and devices have great potential to significantly improve home healthcare services for people with chronic diseases, those recovering from surgery, and elderly patients. With remote monitoring, it becomes possible for healthcare workers to respond quickly to changes in a patient's condition, enabling earlier intervention and more effective management of medical care.
It is worth noting that remote patient monitoring not only benefits users but also affects the work of medical personnel. With remote data and alerts on abnormalities, doctors and medical staff have a better insight into the treatment process, which enables them to optimize healthcare processes.
Examples:
BioIntelliSense: BioIntelliSense offers a comprehensive RPM platform that includes wearable sensors and a cloud-based analytics platform. It enables continuous remote monitoring of patient vital signs, activity levels, and other health parameters.
Medtronic CareLink: Medtronic CareLink is a remote monitoring system designed for patients with implantable cardiac devices such as pacemakers and defibrillators. It enables healthcare professionals to remotely monitor device performance and patient data for early detection of potential issues.
Vivify Health: Vivify Health offers a cloud-based RPM platform that enables remote monitoring of patients with chronic conditions. The platform provides patients with personalized care plans and educational content, while healthcare providers can monitor patients' health status and intervene as needed.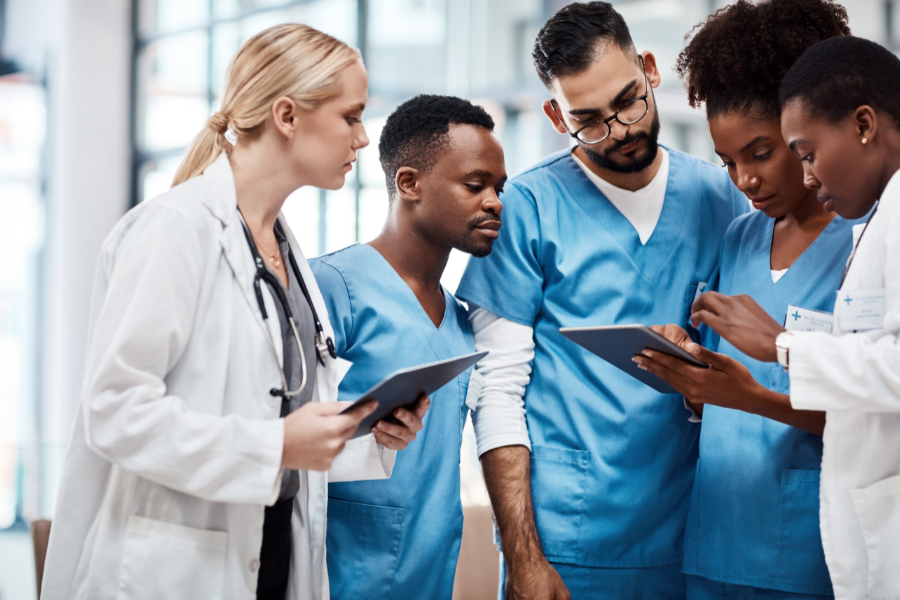 Hospital Management Systems software (HMS)
Hospital management software (HMS) is a vital tool for the effective operation of a hospital. This software not only provides critical information about the status of a medical facility but also enables effective management with the needs of administration, doctors and other medical staff, and patients in mind.
Hospital management software typically consists of two separate portals – one dedicated to management functions and the other accessible to patients. The management dashboard contains comprehensive administrative, electronic health record, and health information necessary for the smooth operation of the hospital. It includes:
nutrition and medication management,
reservations and room-filling schedules for individual departments,
doctors' work schedules and their scheduled appointments.
In addition, the panel also covers day-to-day management aspects, such as utility expenses, water and energy consumption controls, consumable inventory management, and more.
The patient portal, on the other hand, acts as an interactive platform where patients can access necessary information. Within this portal is a digitized registration form that facilitates the admission process for patients. This part of the HMS software also contains information about the patient's treatment history and is often synchronized with the Electronic Medical Record. In some cases, the patient portal also includes information on:
financial billing,
insurance,
admission notifications,
scheduled medical procedures,
medical appointments
as well as a complete list of medications taken and prescription information.
Hospital management systems are essential not only for improving overall productivity and streamlining procedures but also for ensuring a positive experience for those being treated. In addition, HMS enables hospitals to collect and analyze valuable data on all aspects of their operations, allowing them to make better decisions based on factual information.
With Hospital Management Systems, hospitals can operate more efficiently, increasing the quality of medical care, streamlining administrative processes, reducing costs, and ensuring patient satisfaction.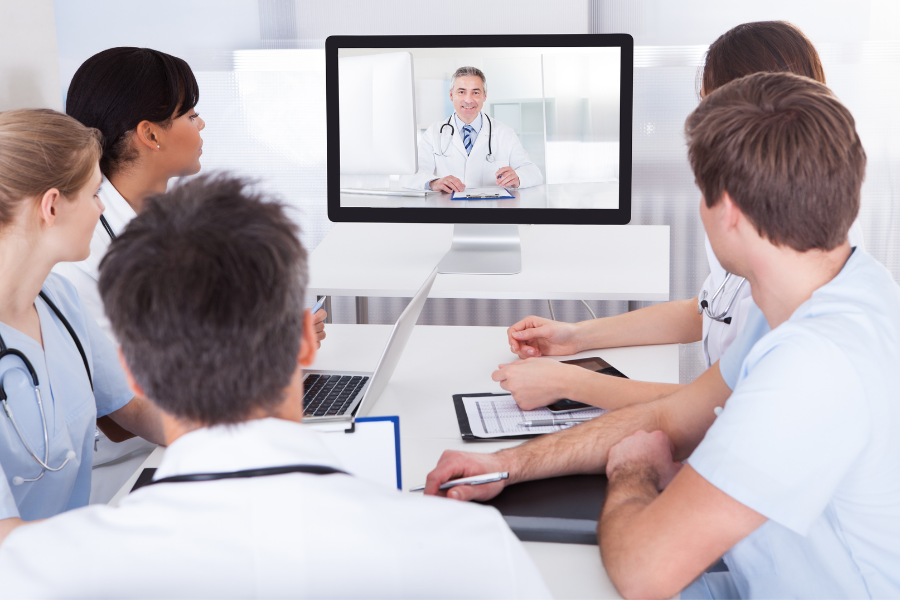 Examples:
AthenaOne: AthenaOne is an advanced HMS (Hospital Management System) software widely used in medical facilities worldwide. It offers comprehensive solutions for managing administrative, financial, and clinical processes. AthenaOne provides full support for various areas such as patient registration, appointment scheduling, medical data management, billing, billing, task management, and more.
Net Health: Net Health is a leading provider of healthcare management software whose solutions are used worldwide. Net Health software offers comprehensive tools for managing medical facilities, including hospitals, clinics, rehabilitation centers, and nursing homes. Their solutions include patient data management, appointment scheduling, therapy management, billing, medical records management, data analysis, and many other functions.
Waystar: Waystar is a leading provider of financial management software and solutions for the healthcare industry. The company offers advanced tools to manage the billing, invoicing process, payments, financial analysis, and other financial aspects of healthcare facilities. Waystar's software enables automation and optimization of billing processes, helping to shorten payment cycles and increase economic efficiency. Waystar's tools integrate with most EHR software and other medical systems, enabling a smooth flow of data and eliminating billing and invoicing errors.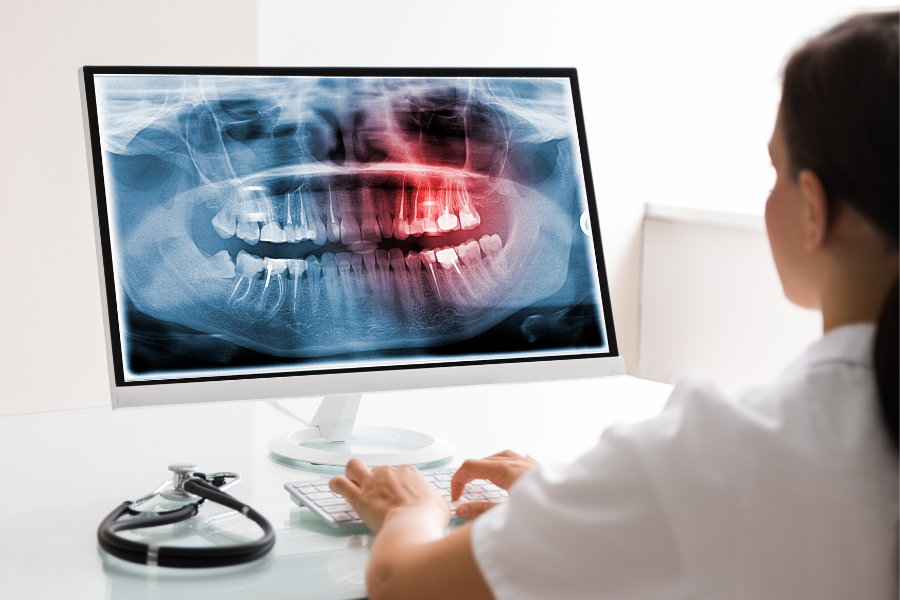 Medical diagnosis software
Medical diagnostics software is used in many fields of medicine, contributing to more efficient and precise examination of patients. We can identify two main types of this kind of software:
applications for patients,
advanced diagnostic tools for doctors.
Medical diagnosis apps for patients are accessible and easy-to-use tools that allow people seeking information about their health to self-monitor and assess their condition. Through simple questionnaires or interactive chatbots, patients can consult their symptoms and receive an initial assessment, which can help them take appropriate action, such as contacting a doctor or attending an appointment. Such support is critical when access to direct medical care is limited and patients need an immediate assessment of their condition.
On the other hand, advanced diagnosis tools designed for medical professionals are complex systems based on artificial intelligence and data analysis. These advanced solutions enable doctors to collect and analyze large amounts of clinical information, medical images, and laboratory results for faster and more precise diagnoses. Diagnosis software can support doctors in identifying nonspecific symptoms and suggest possible causes, reducing the time needed for diagnosis and enabling early treatment. In addition, the anonymized data collected by these systems can be shared between healthcare facilities, contributing to better care coordination and collaboration between specialists.
Examples:
VisualDx: VisualDx is a medical diagnostic tool that utilizes artificial intelligence (AI) and a vast database of medical images to assist healthcare professionals in diagnosing various skin conditions and diseases. It allows physicians to input symptoms, patient information, and visual cues to generate a list of potential diagnoses, accompanying images, treatment options, and relevant clinical information.
Isabel: Isabel is a widely used clinical decision support system designed to help healthcare providers reach accurate diagnoses. It allows physicians to input patients' symptoms and relevant clinical information into its user-friendly interface. Using an extensive medical knowledge base and sophisticated algorithms, Isabel generates a list of potential diagnoses ranked by likelihood.
Infermedica: Infermedica is an intelligent symptom checker and triage software that uses advanced algorithms to analyze patient-reported symptoms and provide potential diagnoses. It employs natural language processing (NLP) and machine learning techniques to gather detailed patient information and assess their symptoms against a comprehensive medical knowledge base.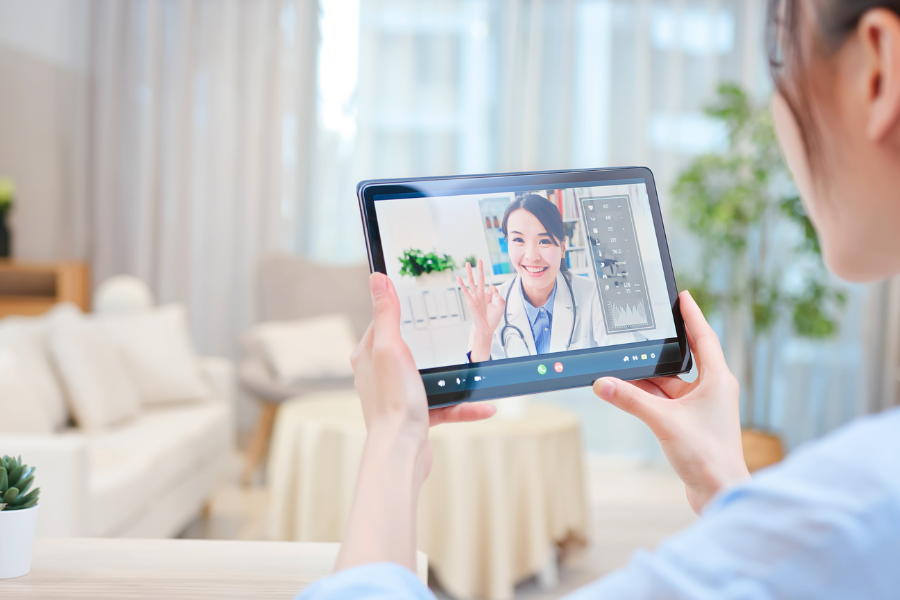 In addition to the medical software listed above, the following are often used:
medical equipment management software,
healthcare billing software,
medical database software,
medical training software
mHealth apps,
clinical trial management software,
E-prescribing software,
medical research software.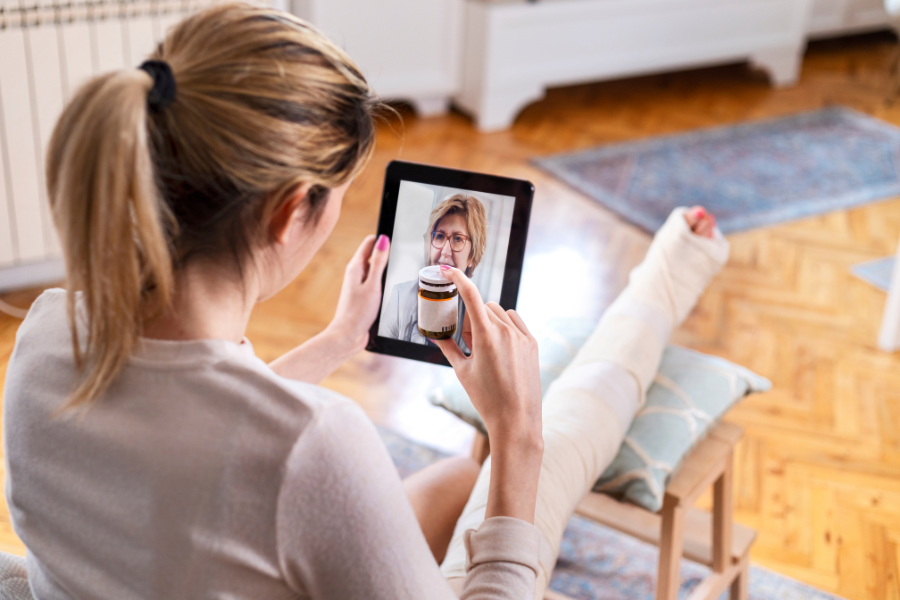 How to choose medical software for your medical facility?
Choosing the right medical software for your medical facility is an important decision that can significantly affect the efficiency and effectiveness of your operations. Here are some steps to help you make your decision:
Identify your needs
Identify your medical facility's specific requirements and goals. Consider factors such as patient management, scheduling, billing, electronic health records (EHR), telemedicine, inventory management, and reporting. Make a comprehensive list of essential features and functionality for your practice.
Research the available options
Conduct thorough research to identify medical software vendors that offer solutions tailored to your requirements. Look for reputable vendors with experience in the healthcare industry and a track record of providing reliable and secure medical software solutions.
Verify integration capabilities
Ensure the software you choose can be integrated with other systems or software your facility currently uses, such as laboratory, radiology, or pharmacy systems. Interoperability allows for seamless data exchange and avoids duplication of work.
Assessing user-friendliness
User-friendliness ensures the smooth adoption and effective use of medical software. Look for intuitive interfaces, easy navigation, and workflows that fit into existing processes. Consider ordering demos or trial versions to evaluate the usability of the software.
Check regulatory compliance
Verify that the software you choose complies with relevant regulations and standards, such as HIPAA (Health Insurance Portability and Accountability Act), for data of the treated person security and privacy. Compliance with industry standards ensures that the software meets basic requirements and protects confidential information.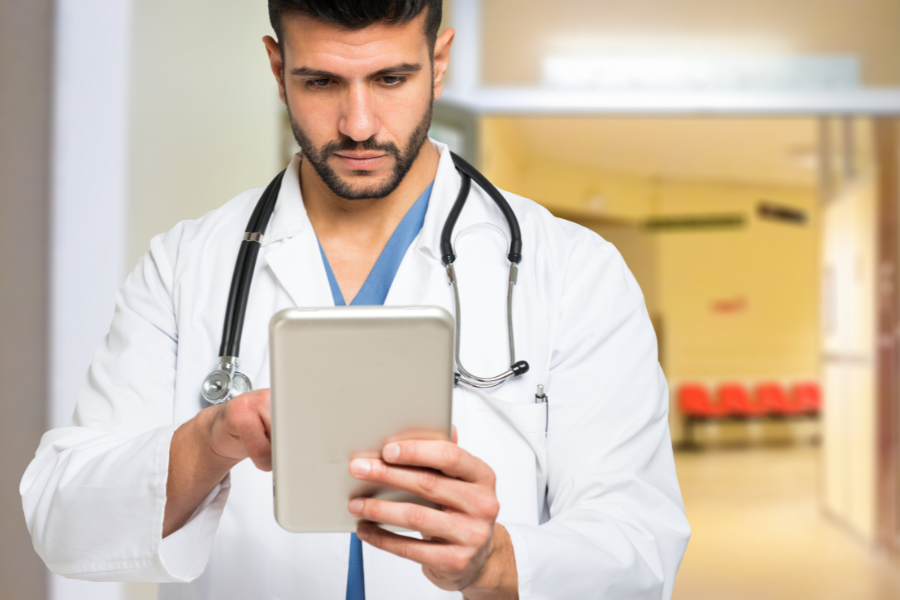 Training and support
Adequate training is crucial for staff to use medical software effectively, and reliable technical support ensures prompt assistance with any problems or questions.
Explore customer reviews and check references
Look for customer reviews and references to gain insight into the experiences of other medical facilities that have used the medical software of your choice. Also, consider contacting the vendor for references from medical facilities of similar size and scope of service.
Evaluate cost and scalability
Also, consider the cost of the medical software, including any licensing fees, implementation costs, and ongoing maintenance or support fees. Evaluate the scalability of the software to accommodate future growth, revenue cycle and changing needs.
Security and data protection
Pay particular attention to the security features of your medical software. Make sure it provides robust data encryption, access control, and audit logs to protect patient information from unauthorized access or breaches.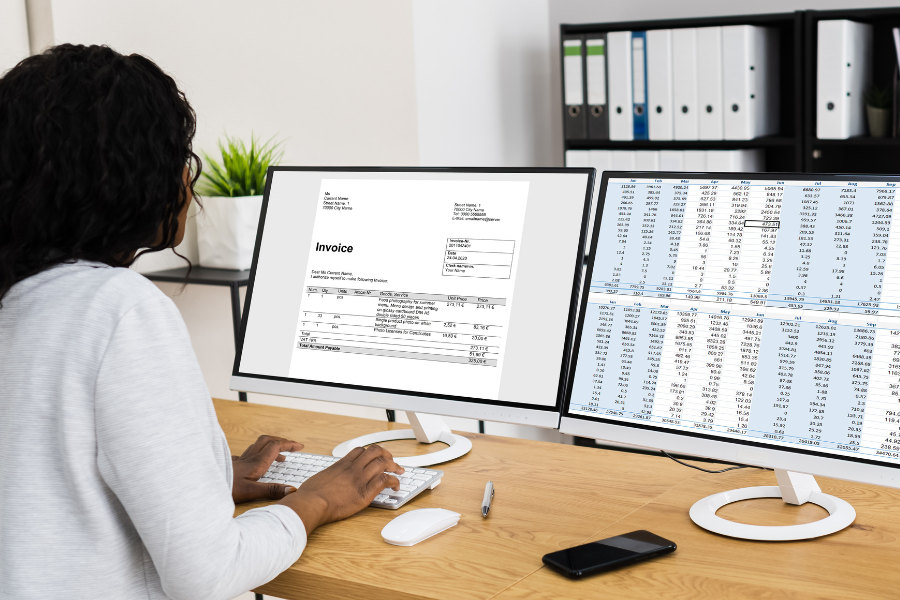 Consider choosing a custom solution
If you can't find software that meets your medical facility's needs, you can choose custom enterprise software explicitly designed for you. By following current software development trends, it will be easier to pinpoint the specific functionalities that a dedicated solution should have. This way, you will avoid many problems in software development, and the selected Tech Stack will be perfectly aligned with the other systems in your medical facility.
By following these steps and conducting thorough due diligence, you can select software that best meets your medical facility's needs, improves workflow efficiency, enhances patient care, and meets regulatory requirements. Undoubtedly, the future of software engineering in the medical sector will bring many changes that will serve better diagnosis and implementation of effective therapies.
If you want to learn how to speed up the software development process and which programming languages are worth choosing for developing medical software or web applications for your healthcare organization, be sure to contact the experts at Startoflow. Our software developers have in-depth knowledge of the healthcare market and will help you choose the right software for your medical facility.
We are Stratoflow, a custom software development company. We firmly believe that software craftsmanship, collaboration and effective communication is key in delivering complex software projects. This allows us to build advanced high-performance Java applications capable of processing vast amounts of data in a short time. We also provide our clients with an option to outsource and hire Java developers to extend their teams with experienced professionals. As a result, our Java software development services contribute to our clients' business growth. We specialize in travel software, ecommerce software, and fintech software development. In addition, we are taking low-code to a new level with our Open-Source Low-Code Platform.