Artificial intelligence
Digital transformation

Arkadiusz Krysik
Apr 4, 2023
All You Need to Know About AI Transformation in 2023
Not a week goes by without hearing about new, exciting developments in the AI industry.
Tools like ChatGPT, DALL-E 2, and other large language models are hitting global headlines and in record time are reaching hundreds of millions of active users. At the same time, AI frameworks like Theano are becoming increasingly popular among developers.
What does it all mean for companies and organizations? 
The AI revolution is here, and now it is only a matter of finding ways in which this technology can be incorporated into business processes.
This process is called AI transformation, and it should be a subject of interest for every executive looking to expand their business in 2023.
What is AI transformation?
AI transformation is the next phase of digital transformation, which aims to integrate AI solutions into all areas of a business to further improve the company's value proposition to customers and transform day-to-day operations.
Since AI adoption touches virtually all aspects of the modern enterprise, it can be very beneficial in both commercial and operational aspects.
A lot of tech giants are already actively integrating AI initiatives into their processes, services, and products. A great example is Google, which calls itself an "AI-first" organization.
But it's not only big multinational corporations that see value in artificial intelligence solutions. According to IDC's estimates, at least 90% of new organizations will insert some sort of AI technology into their processes by 2025.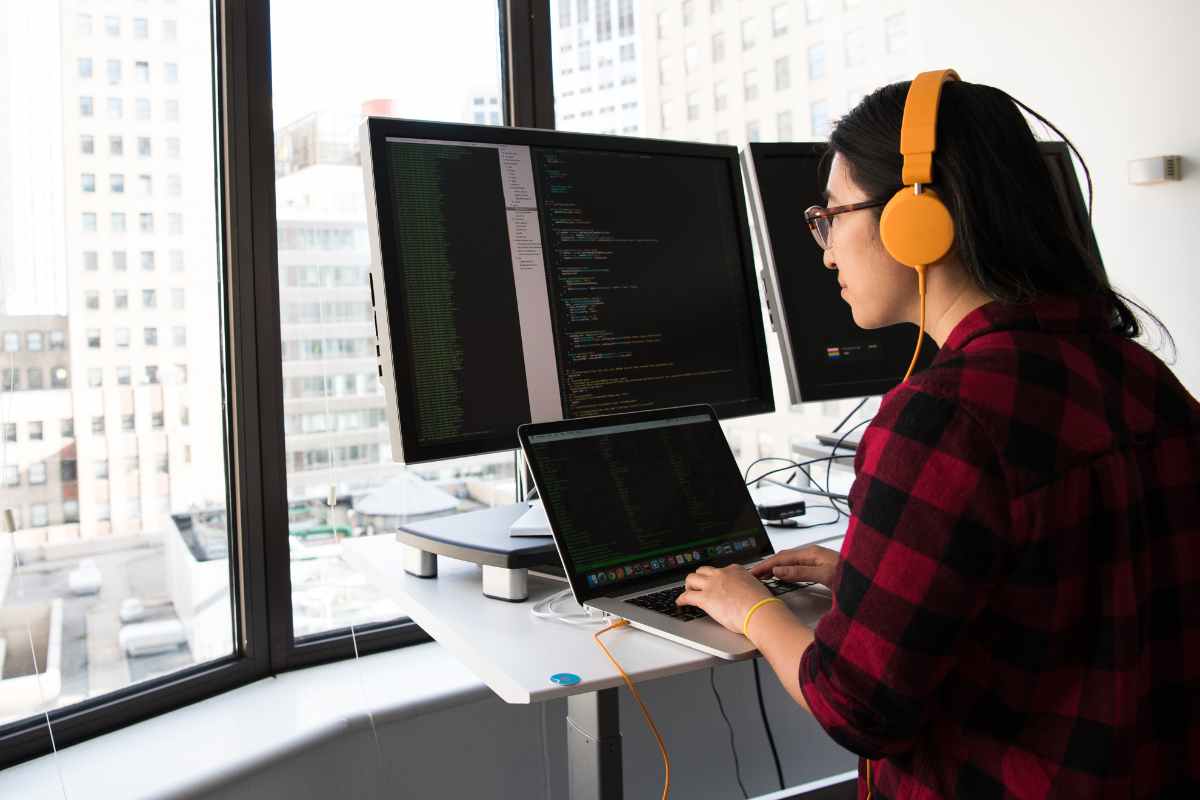 Why AI is so important in 2023?
Business leaders see that artificial intelligence and machine learning can impact virtually all aspects of business in one form or another.
And we are not talking about forcing ChatGPT and large language models in every app imaginable.
Artificial intelligence can bring value to companies in ways that are not so apparent at a first glance, but they can greatly improve customer experience and efficiency at all stages of the supply chain.
One of such implementations are AI-powered analytics tools that help companies make better decisions based on accurate forecasts and market trends that are not so clearly visible to a human. According to recent McKinsey Digital research, AI-powered forecasting can reduce errors in supply chain networks by 30 to 50%.
And there's not that much time for executives to act. According to PWC, by the end of this decade, up to 70% of companies worldwide will adopt AI solutions in one form or another. Overall, it will contribute up to 15.7 trillion USD to the global economy.
Companies that will fail to take advantage of AI in the next few years may never catch up.
We've all heard precautionary tales of companies that failed to adapt to changing business landscape like Kodak or Blockbuster. Let's not fall into that trap once more by ignoring lucrative AI investments that are just reaching the broader markets.
[Read also: Future of Business Intelligence]
What is AI maturity?
We've mentioned in the first paragraph that Google is an "AI-first" company. We can thus confidently say that it is the prime example of an organization achieving full AI maturity.
What does it mean?
AI maturity refers to the degree to which organizations have mastered the usage of AI tools and solutions to deliver better value to customers, stakeholders and employees.
There are many factors that influence overall AI maturity. It's not only data and AI that matter but also organizational strategy, AI talent, and corporate culture. In other words, it's the company's collective mindset towards artificial intelligence that is the key to complete AI transformation.
More and more companies have recently started to pursue the idea of AI maturity.
According to Accenture research, in 2021, among the world's 2,000 largest companies, those who discussed AI on their earnings calls and keynotes, were 40% more likely to see share prices increase. This represents a visible increase from 23% in 2018.
Having said that, according to the latest data, only 12% of companies have reached sufficient AI maturity to achieve superior growth compared to the market competition. According to a recent O'Reilly study, around one-quarter of executives (26%) consider their use of AI solutions and tools as mature, meaning that they have implemented AI products that in a real way impact a company's revenue streams.
What does all of this data mean to business people around the world?
Companies are dedicating substantial resources and expertise to developing and deploying AI tools in their tech stacks. There's still a long transformation journey ahead.
[Read also: Benefits of Open Source Software for Developers, Managers and Business]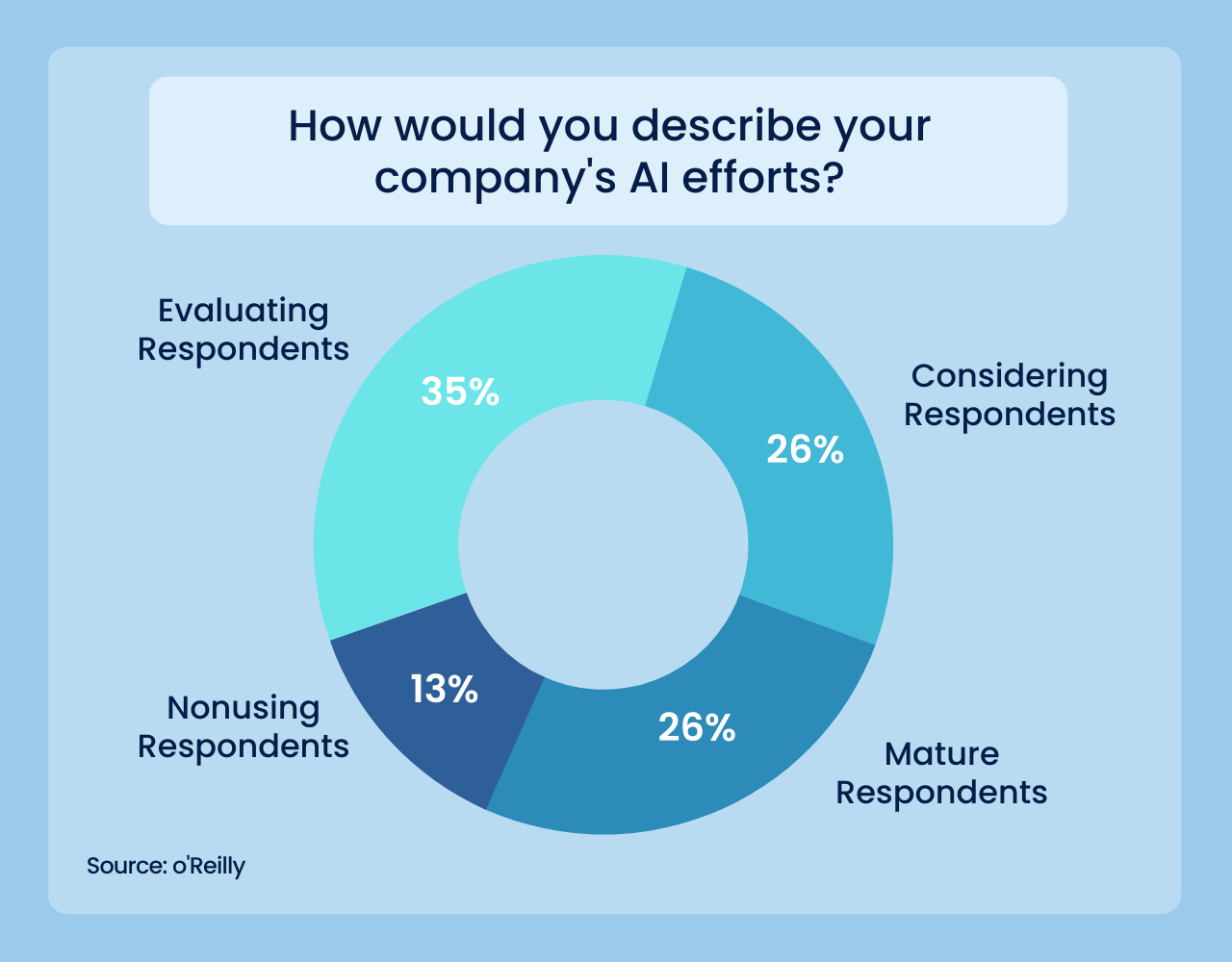 5 steps of successful AI transformation
So how to achieve complete AI transformation at scale and move your company towards full AI maturity?
Andrew Ng in his AI Transformation Playbook has pointed out five stpps to AI transformation:
1. Execute pilot projects to gain momentum
First and foremost, the company should test the waters by running pilot projects to gain initial experience in working on AI initiatives.
It is crucial to remember that the main goal of the first few AI projects is to succeed, rather than to generate impressive revenue figures and business impact. Nevertheless, these initiatives should be significant enough for the company so that it can get acquainted with artificial intelligence and convince other members of the organization that AI investments make sense.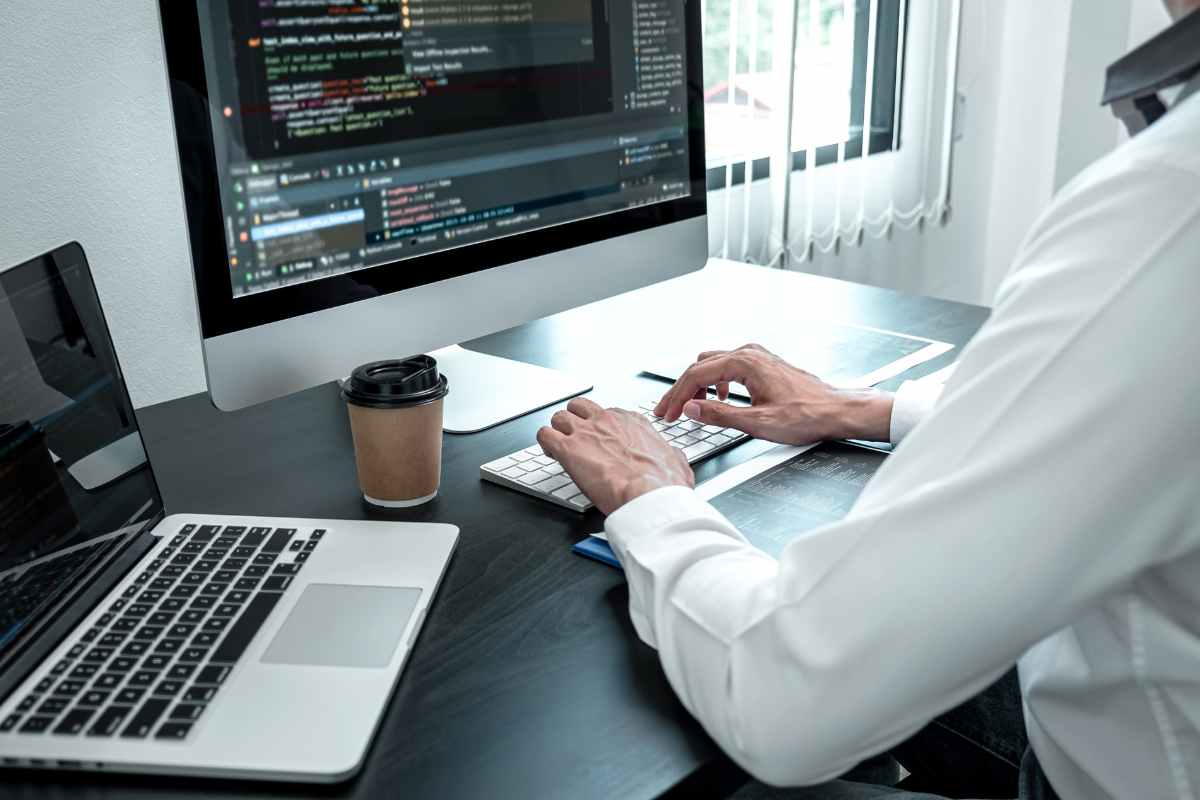 2. Build an in-house AI team
The second step is to build a team that can successfully perform AI adoption in all departments of the company.
Seems easy, but we have to address the elephant in the room.
Virtually no company today has enough in-house AI talent.
That's why outsourcing of IT services, especially related to AI work, has been rising in popularity. It can significantly boost the pace of the AI transformation process in the beginning phases.
Having said that, building an in-house AI transformation team can still be more advantageous in the long run.
At the dawn of this millennium, a position of a CIO was popularized among large companies to create a cohesive strategy for integrating a then-revolutionary technology – the Internet. 25 years later, in the wake of the new AI era, many companies will again begin creating centralized AI teams that can help the organization with AI transformation.
This AI team could sit under the CIO, CTO, or CDO. These highly specialized IT experts and engineers will be responsible for creating AI capabilities to support the company's processes and executing an initial sequence of cross-functional projects in various divisions with AI projects. With a dedicated AI unit, organizations will be able to pool in AI talent across divisions and drive initiatives influencing all aspects of the company's day-to-day operations.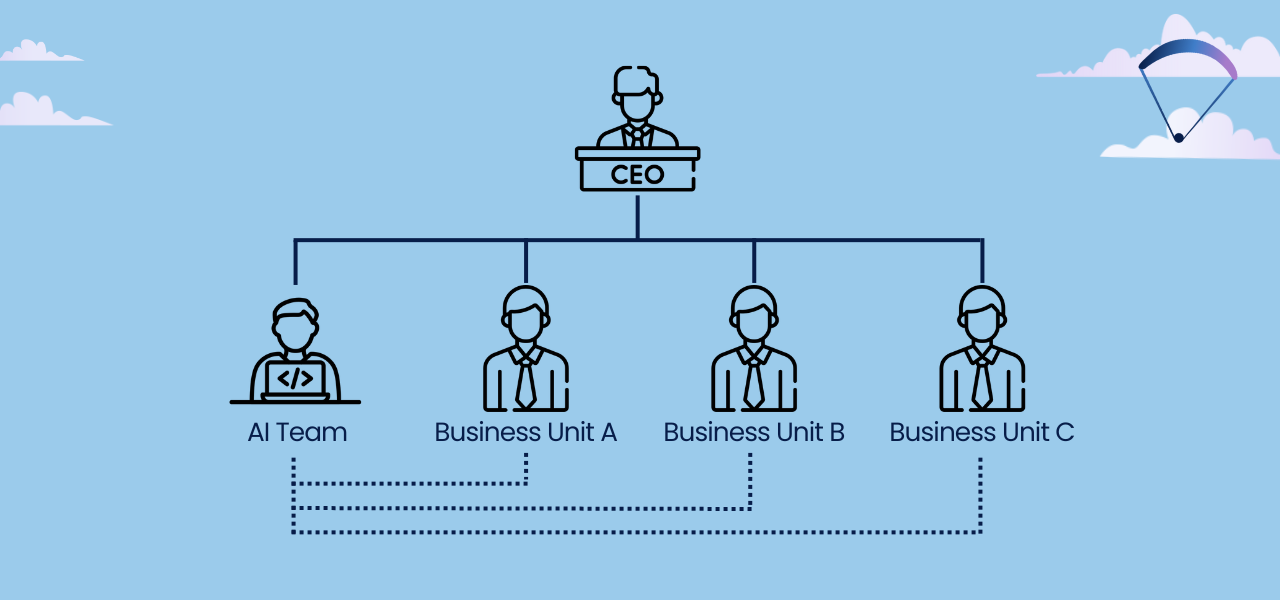 3. Provide broad AI training
In the previous step, we have mentioned that finding IT professionals with extensive AI backgrounds is incredibly hard. Organizations thus can not expect adequate knowledge about AI solutions from their members.
In order to complete the AI transformation process, organizations should train their employees in accordance with their positions on the role and benefits of AI technology in business. Broad AI training should be considered on three main levels:
AI strategy principles for executives, division leaders, and lead engineers,
General applications, trends, and AI project workflows,
The implementation process of AI tools in theory and in practice.
Ten years ago, employee training boiled down to hiring consultants to give lectures to the employees. But, just as in many other areas of business, COVID-19 pandemic has influenced the learning and tutoring fields as well. Now, e-learning courses are more popular than ever and are a popular choice for companies looking to develop their employees' skill sets on a budget.
But that doesn't mean that in-person lessons are obsolete. Actually, the concept of a "flipped classroom" in which online materials supplement in-person lessons is found to be the most effective and enjoyable method of learning. It has been even adopted by reputable colleges across the world. Stanford University offers deep learning classes for data scientists and they are taught using a combination of both online and offline learning materials.
[Read also: Introduction to Mojo Programming Language: The New Generation of AI Development]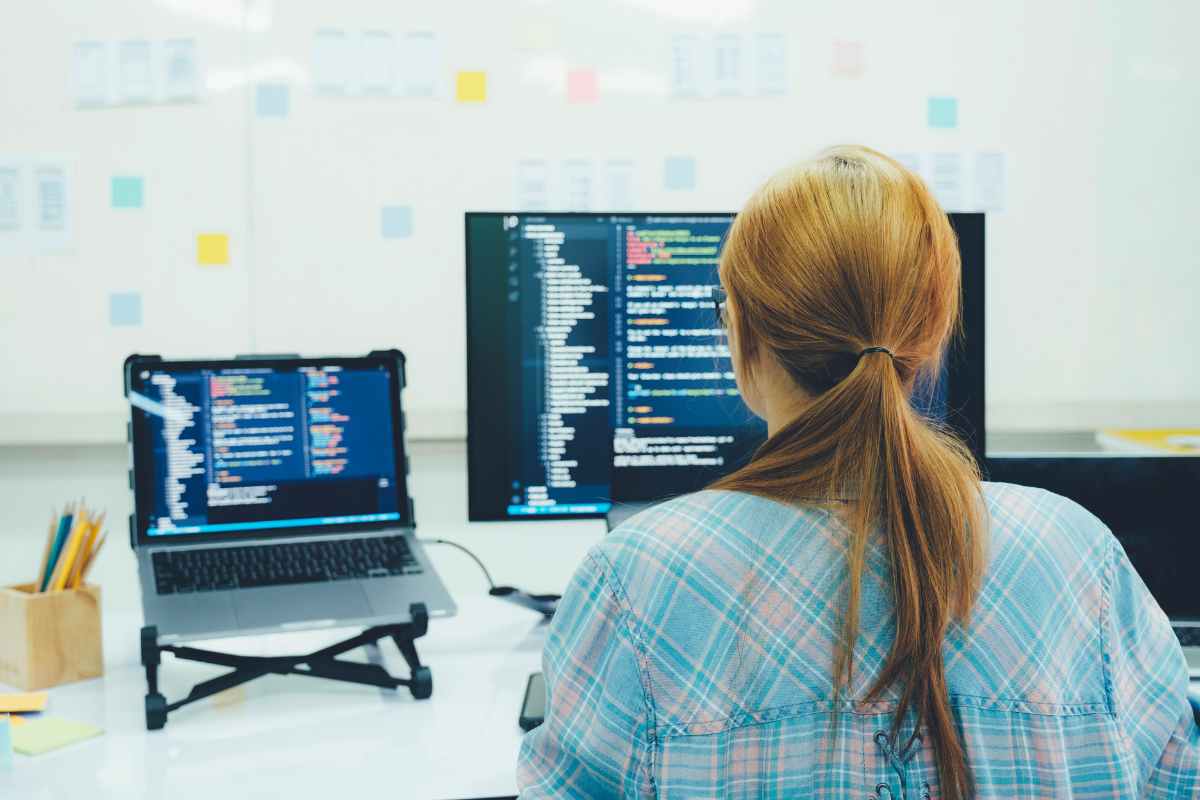 4. Develop an AI strategy
You might be surprised why this step is in the fourth phase, but it's not without a reason.
The first three steps ensure that the executives know what AI can and cannot do, and what are their realistic capabilities in terms of AI transformation. This now becomes the foundation for developing an AI strategy.
In a nutshell, AI strategy is a strategic vision that guides a company toward creating a new value through artificial intelligence. Once teams start to see the success of their pilot projects and form a more thorough understanding of AI, they can identify and focus on those areas of the company that yield the best results.
AI strategies should be aligned with the "Virtuous circle of AI" concept: they should utilize data from deployed AI projects to work on and improve ones that are still in development. Creating a positive AI feedback loop makes it hard for competitors to break into, and catch up with.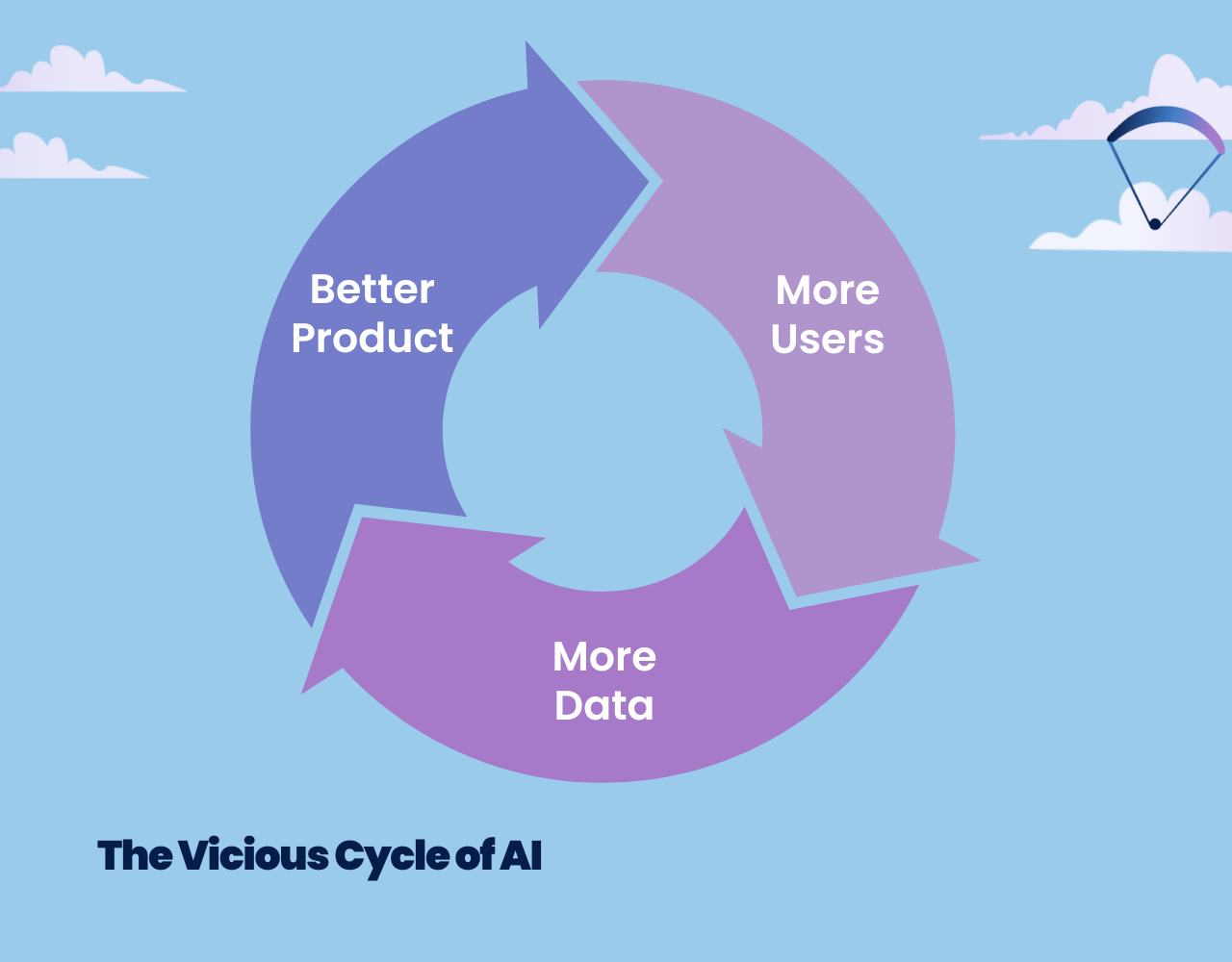 5. Develop internal and external communications
Without a doubt, properly introduced artificial intelligence will affect your business in significant ways.
Because some stakeholders may be unaware of the ways in which AI might influence the organization, executives should set up a communications program to ensure alignment within the company. There are five key types of stakeholders that should be taken into consideration:
Investor relations – Explaining what value will AI have in your company, and its future capabilities will help investors value your company appropriately which may result in higher stock values or new financing opportunities.
Government relations – Developing a compelling AI case-study story which explains the value that the AI initiative brings to the local community, is an important step in building trust and goodwill.
Customer relations – Since AI will likely be perceived as a big strategic advantage, companies have to ensure that it will be included in appropriate marketing and product materials.
Internal communications – Since artificial intelligence is still quite poorly understood by many people, there may be some fear, uncertainty, and doubt among employees when an organization starts deploying AI solutions. It is thus crucial to address such employees' concerns and explain to them that it will not pose a threat to their current positions.
Recruitment activities – As we've already mentioned, AI talent is scarce. Employer branding strategies should include information about AI initiatives to attract IT professionals looking for a challenge.
Which industries are most important for AI transformation?
Even though it's the content creation that has gotten the most media attention recently when it comes to new advancements in Artificial Intelligence, other markets are also beginning to see its uses.
According to O'Reilly AI Adoption in the Enterprise 2021 survey, industries such as custom software development, fintech, healthcare, and travel have already covered a substantial amount of ground in AI adoption. The differences between industries are likely to persist in the future, as more digitized businesses like ecommerce or real estate are likely to take better advantage of AI technologies.
[Read also: The Future of Software Engineering: Key Emerging Trends]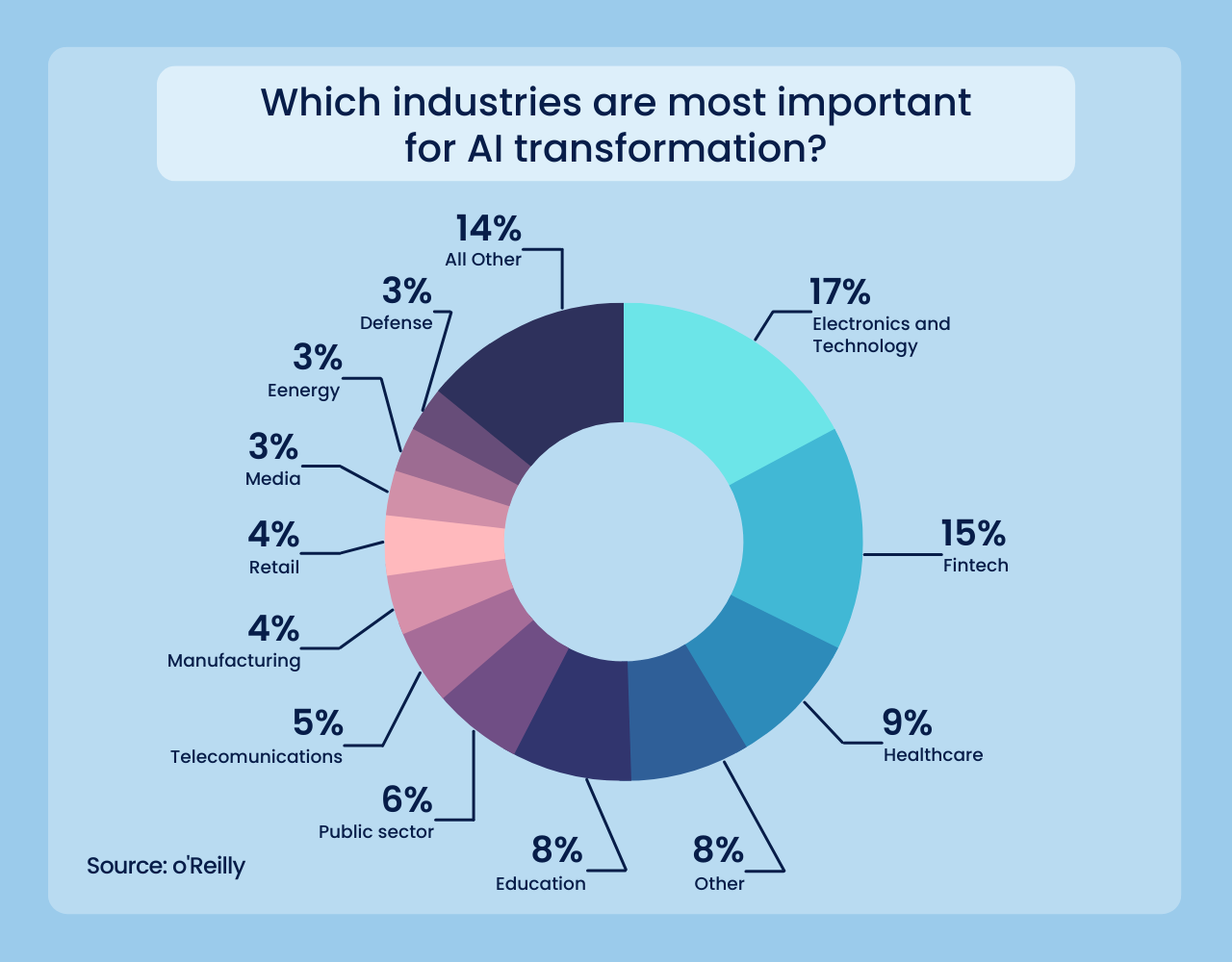 What does your company need for successful AI transformation?
Reaching full AI maturity in a big and well-established organization is by no means a trivial task. Here are 3 factors that a company needs for a successful and smooth AI adoption:
Clear business goals
Organizations need to have a clear understanding of their business goals and how AI can help them achieve these goals. This includes identifying specific problems or opportunities that AI can address.
Robust infrastructure
Organizations need to design and set up IT infrastructure capable of storing, processing, and analyzing large amounts of data. This includes cloud computing, high-performance computing, and multitenant databases.
Sufficient resources for multiple AI projects
Companies can't underestimate the resources needed for future AI projects. Executing multiple AI projects that deliver direct value to the business. AI and digital transformation can be expensive, especially for small and medium-sized businesses that may not have the financial resources to invest in AI technology and infrastructure.
[Read also: Future of digital transformation]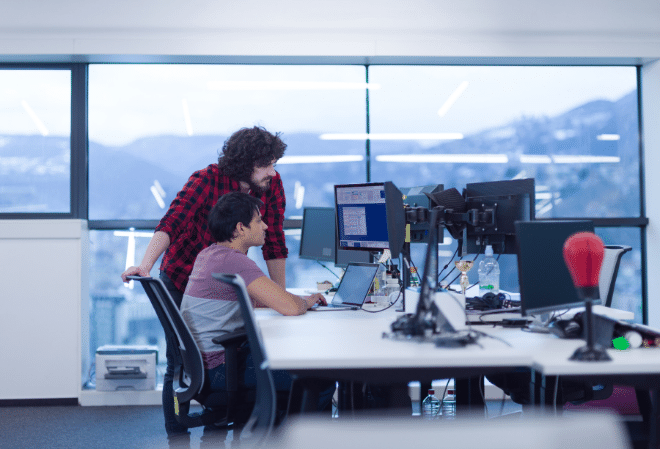 What are the obstacles to AI transformation?
There are several obstacles to AI transformation, including:
Lack of talented professionals
AI transformation requires highly skilled professionals who can design, develop, and maintain AI systems. However, there is a shortage of AI talent in the job market, which makes it difficult for organizations to find the right people.
Insufficient data
AI tools and models usually require large amounts of high-quality data to be trained effectively. However, many organizations struggle with data quality issues such as incomplete, inaccurate, or outdated data. This can lead to biased or unreliable AI models and decrease the eventual ROI of AI initiatives.
Resistance to change
AI transformation often involves changes to business processes, organizational structure, and employee roles. This can be met with resistance from employees who fear job losses, changes to their work routines, or simply do not understand the benefits of AI.
[Read also: 5 Most Popular Healthcare Software Solutions]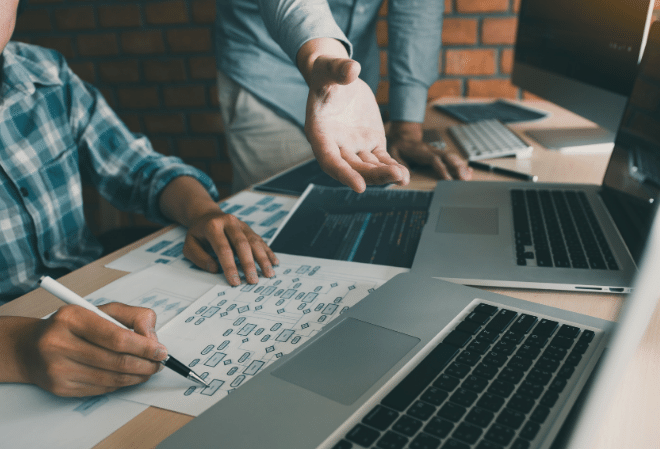 Business AI transformation – closing thoughts
AI transformation can help companies become more agile, efficient, and innovative, enabling them to compete more effectively in today's rapidly changing business environment.