Blog
Low-code and no-code
Software Development

Zuzanna Pajorska
Mar 20, 2023
Enterprise Software: What It Is and 12 Best Application Examples
Can you imagine the functioning of modern companies without the software? Mobile apps, data security, operating systems, CRM platforms, online payments, purchasing, logistics, marketing, and accounting – all these aspects of business operations require specialized systems to streamline work and daily tasks. So which enterprise organizations offer handy solutions? That's what you'll find out in the rest of this article.
What is enterprise software?
Enterprise software, also known as enterprise application software (EAS), is a type of computer software that helps manage various aspects of a business rather than individuals. For example, enterprise software can be used to manage accounting, sales, marketing, and human resources, analyze data, handle payments and projects, and develop custom applications.
There is a wide range of enterprise software available on the market. Among them are universal software, which entrepreneurs can use regardless of the specifics of their operations, as well as specialized programs dedicated to specific industries.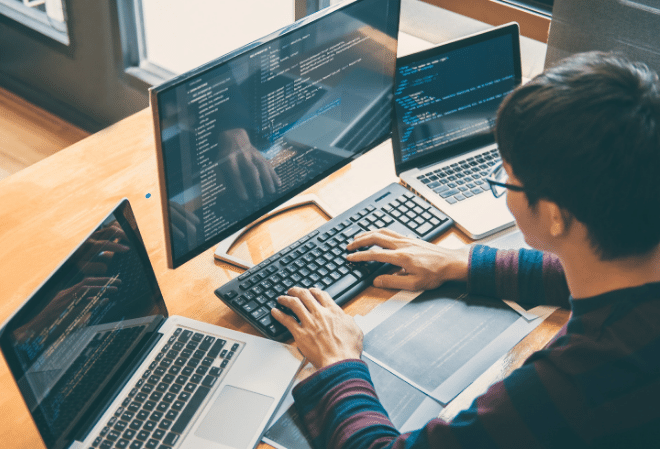 Why use enterprise application software?
Using enterprise software can bring many benefits – especially today, in a rapidly changing world and a fiercely competitive market. Among the most important benefits of using enterprise software are worth mentioning:
1. Streamlining the company's work
With application software, an enterprise can automate many business processes, saving time and money and reducing the risk of mistakes.
2. Increasing efficiency
Enterprise software provides easy monitoring of the efficiency and effectiveness of operations so that irregularities can be addressed quickly and appropriate changes can be made.
3. Improve collaboration
Enterprise applications facilitate communication between employees and the flow of information, improving collaboration quality and enabling more effective teamwork.
4. Better use of data
Application software also makes collecting, analyzing, and presenting business data easy and quick. Information based on reliable data, in turn, becomes crucial when making business decisions.
5. Increased competitiveness
The use of modern enterprise software allows the company to respond faster and more effectively to changing market conditions, thus increasing its competitiveness.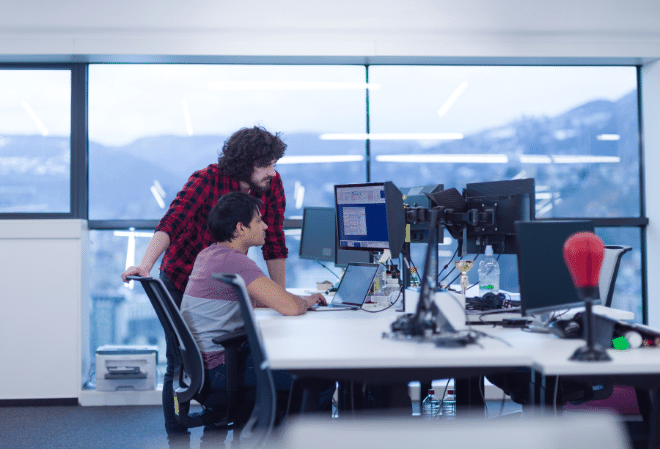 What are the types of enterprise software systems?
The growing emphasis on automation and informatization means that companies are using more and more systems and applications to support their work. Among the most popular types of enterprise software are ERP, CRM, CMS, EAM, BI, and SCM systems. So what is each of them used for?
1. ERP software (Enterprise Resource Planning)
Enterprise Resource Planning systems allow you to manage enterprise resources, such as production, logistics, warehouse management, supply chains, purchasing, finance, sales, or human resources. ERP integrates various business processes, enabling complete control over the entire enterprise and achieving better business results.
Besides, with Enterprise Resource Planning systems, you can streamline your company's business processes by automating them, which saves time and resources. Ultimately, however, this also translates into almost complete cost control by tracking expenses in various areas of the company's operations.
2. CRM (Customer Relationship Management) systems
On the other hand, CRM enterprise software is used to manage customer relationships. These IT tools enable the collection, storage, and analysis of customer data to understand their needs and preferences better and adjust the company's operations accordingly.
The main objectives of using Customer Relationship Management systems are:
Customer acquisition and retention – CRM systems enable tracking customer interactions and customization of offerings. This allows for effective customer acquisition and retention.
Improving customer service – with access to customer data, employees can better understand their needs and preferences, respond more quickly to their inquiries and problems, and handle complaints.
Increase sales – Customer Relationship Management systems enable more efficient sales process management and allow you to take better advantage of sales opportunities by providing employees with information about customer preferences and purchase history.
Data analysis – CRM systems enable you to collect and analyze customer data. This makes it better to match your company's offerings to market needs. In addition, making data-driven decisions, including those used for predictive analysis, allows you to detect trends and find business opportunities.
3. CMS (Content Management System)
CMS systems, also known as Content Management Systems, are tools that allow you to control the content of websites. They make it possible to create, edit and publish digital content. CMS systems have an intuitive graphical interface that allows even people without technical expertise to use them.
They also support new and already published content management, thanks to built-in internal back-end components. All operations are performed with simple steps, which increases the comfort of work.
Today's CMS systems have many functionalities, such as content editing tools, user and access management, content version control, and personalization. They can also integrate with other tools, including site traffic analysis, optimization, sales, internal or external search, and marketing automation.
Popular CMS systems include WordPress, Drupal, Joomla, and Magento, which vary in use and functionality. Ultimately, the choice of CMS as enterprise software depends on the needs and goals of a particular project or web development process.
[Read also: What Is a POC and How to Create a Proof of Concept?]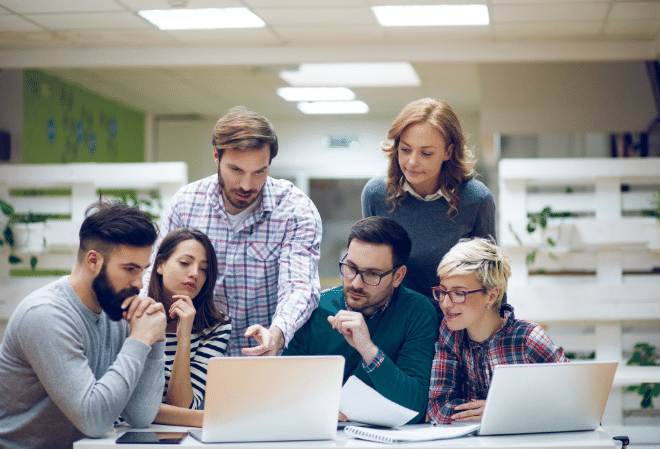 4. EAM (Enterprise Asset Management)
Another enterprise software is EAM (Enterprise Asset Management) systems. They manage enterprise assets such as machinery, equipment, and infrastructure. Their main task is to optimize the use of resources, increase their lifespan and minimize the costs associated with their maintenance.
How is this possible? EAM systems enable tracking the life cycle of individual assets – from the moment they are acquired, through their use and maintenance, until they are decommissioned. This makes it possible to schedule and perform regular inspections and maintenance to avoid failures, thereby minimizing costs associated with repairs and downtime.
EAM systems also offer functionality related to monitoring the performance and availability of individual assets and generating reports and analyses on their consumption, failure rate, or costs. This allows companies to make informed decisions on investing in new investments, choosing the best maintenance methods, or planning their replacement.
EAM systems are used in many industries, such as heavy industry, energy, transportation, public services, and construction. By using this type of enterprise software, companies can increase the efficiency of operations, minimize the costs associated with asset maintenance and improve the quality of services offered.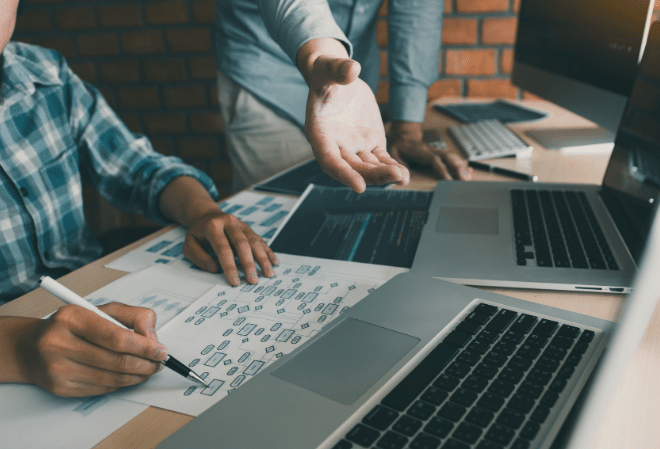 5. BI enterprise software tools
Companies use enterprise software such as Business Intelligence (BI) to increase their efficiency and competitiveness in the market. This is because BI software enables them to collect, analyze and present business data in a way that is clearer and easier to understand.
Equally important, Business Intelligence tools allow them to process large amounts of data in real-time, enabling them to respond quickly to changing market conditions.
With BI software (for example, Microsoft Power BI or Tableau), companies can make informed business decisions based on actual data and market trends.
BI enterprise software can also be used to monitor the effectiveness of business processes, such as sales, marketing, and logistics. This allows companies to identify areas where changes must be made to increase efficiency and improve financial performance.
6. SCM (Supply Chain Management enterprise software)
Enterprise software can also support supply chain management (SCM). Supply Chain Management tools enable companies to oversee procurement, manufacturing, distribution, and warehousing processes to optimize the entire supply chain.
Moreover, SCM enterprise software makes planning and monitoring business processes significantly easier in real-time so companies can respond quickly to dynamic market conditions. In addition, using SCM software facilitates cost management and eliminates the problem of missed deliveries or delays in order processing.
What's more, companies can use SCM software to establish better relationships with suppliers and customers, leading to long-term strategic business partnerships that enhance competitiveness and financial performance.
7. Enterprise software solutions for communication
In today's digital age, team communication via instant messaging has become a standard process in companies. Today's enterprise communicators offer many benefits for corporate communication and are seamlessly integrated with existing operating software.
They enable rapid response, reduce email exchanges and improve information flow. Work is also facilitated by group chats tailored to specific topics or projects. Using team communication tools results in increased productivity and informed business conduct.
8. Payroll Management enterprise software
Payroll management is an essential aspect of the operation of any company. However, it can be time-consuming and complicated without the right tools. Fortunately, payroll management enterprise software comes to the rescue, automating calculating salaries and employee benefits, taxes, and other HR-related tasks.
This software solution saves time and effort while ensuring accuracy and compliance with legal requirements. In addition, payroll management enterprise software allows companies to more effectively manage employee information such as contact information, personal information, employment history, examinations, completed courses, or qualifications.
In addition, this type of enterprise software includes time and attendance monitoring functions for employees, allowing companies to analyze employees' working hours, overtime, and time off. With their help, generating reports on employee payroll, taxes, and other HR documents becomes much simpler while minimizing the risk of error. This data can be used to analyze business performance and make informed decisions.
9. Project Management software solutions
Among enterprise application software, project management software should also be pointed out. It helps companies plan, execute and monitor projects through a central platform for teams to collaborate, share information, and track progress toward goals.
Some standard features of project management software include task management, scheduling, team collaboration, project tracking, and reporting. Project Management software allows teams to break complex projects into smaller tasks, assign responsibilities, set deadlines, and monitor progress in real-time.
Project management software can also provide insight into project performance and team productivity through reporting and analysis. This helps companies identify areas for improvement, adjust schedules and make informed decisions.
10. HR Management software systems
Human resources software systems are essential for large organizations that manage significant numbers of employees and have dedicated HR departments responsible for recruitment, promotions, layoffs, retirement, and leave management.
Depending on the company's location, it may be subject to complex labor laws, and failure to comply can result in severe financial and legal repercussions. That's why most organizations must have specialized software to help HR professionals manage their tasks effectively.
Implementing HR software can streamline and automate HR processes, leading to improved efficiency and accuracy of record keeping. These systems can help organizations manage employee information, track attendance and leave balances, and facilitate benefits administration. In addition, they can generate insightful reports that help HR professionals make informed decisions about employee planning and development.
Moreover, HR software systems can ensure compliance with labor laws and regulations, providing features such as leave entitlements, tax calculations, and legal document templates. By automating compliance tasks, HR professionals can focus on more strategic activities such as talent acquisition, employee engagement, and retention.
11. Email marketing software systems
Among the enterprise software systems valued by entrepreneurs are email marketing systems. They are indispensable for many organizations in various industries to establish and maintain customer relationships effectively.
Email is still a typical means of communication in the business world. It is, therefore, essential to use the right email marketing system to automate mailings, data analytics, and proper graphic design of messages. In addition, modern email marketing systems also increase message deliverability, prevent spamming and ensure compliance with data protection regulations such as RODO.
12. Low-code platforms as enterprise application software
Is this the end of the enterprise application software opportunity? Definitely not! We must also mention the role of low-code platforms in developing many critical business functions.
Low-code platforms are a type of software that enables companies to develop business applications without the need for programming expertise. With them, companies can build their IT systems faster and more efficiently, resulting in greater productivity and competitiveness in the market.
Low-code platforms offer a range of tools and modules that allow easy development of applications, including user interfaces, databases, or integration with various systems. Using off-the-shelf components, companies can deploy applications faster, saving time and money on software developer recruitment or outsourcing.
In addition, low-code platforms permit easy customization of applications to meet individual company needs, as well as rapid iteration and testing, making it significantly easier to adapt applications to changing business requirements.
A case in point for utilizing low-code elements to expedite the development process involves creating industry-specific apps for small businesses. These include project management tools, time tracking tools, and insurance management tools, as well as custom software needed to establish various businesses such as OTA, staffing agency, insurance agency, real-estate agency, marketing agencies, among others.
An example of this is the Java open-source low-code platform called Openkoda, which guarantees rapid development of enterprise SaaS applications. The software you build in Openkoda is high-performance, secure, and scalable. Companies of all sizes can use this low-code platform, gaining a nearly 3x reduction in programming effort.
[Read also: Off the Shelf vs Custom Software: Pros & Cons + Examples]
Top enterprise software companies
1. Salesforce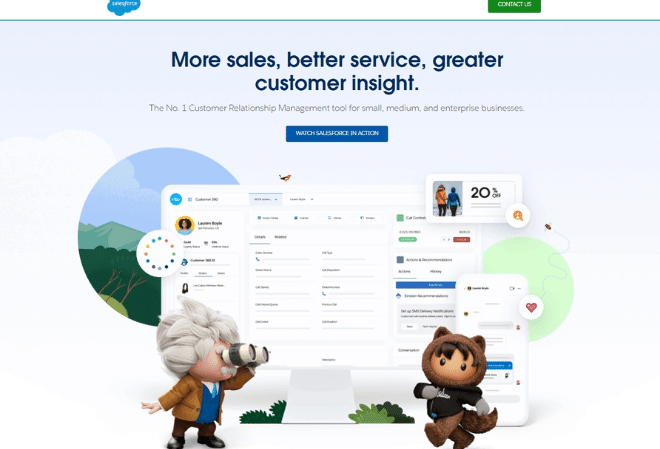 Salesforce is a cloud-based platform furnishing many tools and services to organizations for customer relationship management (CRM), sales, marketing, customer service, business analytics, and several other business operations. Besides, Salesforce also extends an extensive suite of cloud-based applications that facilitate companies in comprehending their customers better, streamlining their business processes, and augmenting profitability.
Salesforce endows access to CRM tools like contact management, campaign management, sales management, and analytics management. All these features empower enterprises to monitor customer activities efficiently and authorize customer-related employees to assume a more personalized approach. Salesforce further proffers marketing management applications like marketing campaigns, social media advertising, and analytics.
Flexibility and cloud scalability are the bedrock of Salesforce. As a result, the platform is highly adaptable to meet the needs and demands of any organization, notwithstanding its magnitude or industry. Moreover, Salesforce proffers various solutions enabling businesses to tailor the platform to their specific needs and integrate it with other business applications.
It's also worth knowing that since Salesforce acquired MuleSoft, their customers have gained the ability to accelerate the pace of innovation significantly. This is made possible by unlocking data in cloud applications, legacy systems, and devices and connecting them all into a single application network.
2. Atlassian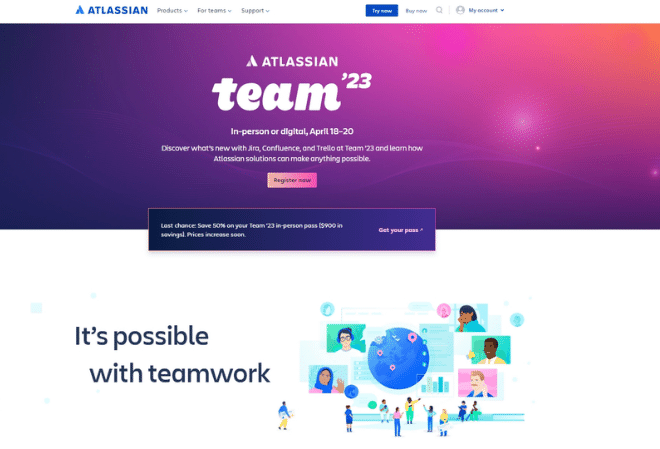 Do you know and use tools such as Jira, Confluence, Bamboo, Crowd, or Trello in your daily work? If so, you probably know that they all come from the Atlassian brand – a market leader in collaboration tools.
This company was founded in 2002 by Mike Cannon-Brookes and Scott Farquhar and has grown in strength over the years. Atlassian is a company that creates project management software, development tools, and applications for teams. Atlassian software is used by business representatives to streamline processes, improve products and services, and make teams more efficient.
As we mentioned, Atlassian offers many tools, including Jira – a project management platform, Confluence – a documentation and collaboration tool, Bitbucket – a code repository, Trello – a task management tool, and many others. These tools help companies organize projects, manage tasks and documentation, track progress, manage software versions, and much more.
Atlassian is used by companies in a variety of industries, including medicine, telecommunications, banking technology, and many others. The company is famous for its simplicity, flexibility, and ease of use. Atlassian also offers many integrations with other tools, allowing multiple functionalities in one place.
3. Oracle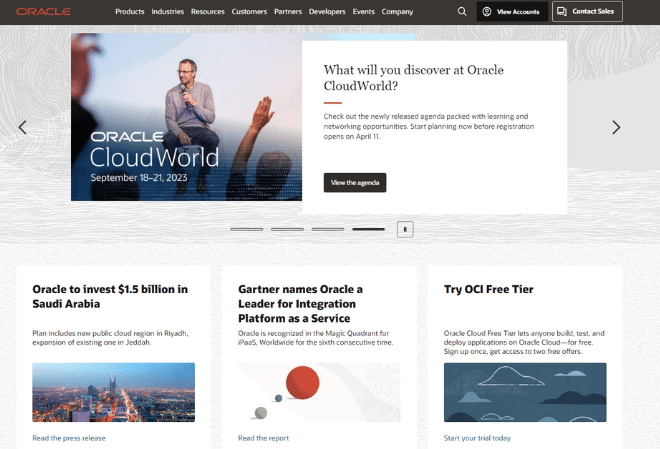 Existing in the market since the late 1970s, Oracle is known worldwide for its multi-model database management system, which is made possible by integrated hardware and software solutions.
Oracle software is widely used in business to support a variety of operational processes, such as management:
customer relations,
finances,
projects,
supply chain,
databases.
Oracle offers a wide range of software products, such as Oracle Database, Oracle E-Business Suite, Oracle Fusion Applications, Oracle Cloud, Oracle Customer Experience Cloud, Oracle Human Capital Management Cloud, and many others. Each of these solutions is designed to help companies achieve greater productivity and operational efficiency.
Oracle Database, for example, is one of the most popular databases in the world. It offers advanced features such as multi-threaded transactions, data management and replication, security, and performance optimization. Thanks to them, Oracle Database enables quick and easy access to crucial business information.
On the other hand, Oracle E-Business Suite is an integrated management system that enables companies to efficiently organize business processes in various areas, such as finance, sales, purchasing, production, and warehousing. Finally, Oracle Cloud is a cloud platform that enables companies to use multiple cloud services such as computing, data storage, artificial intelligence, and data analytics. With this solution, companies can quickly scale their resources and optimize their business processes.
That is not the end of its possibility. Oracle provides a variety of corporate instruments and applications, such as the Oracle Analytics Cloud, Oracle Marketing Cloud, Oracle Sales Cloud, and others, that enable businesses to manage different commercial processes efficiently.
The enterprise applications provided by Oracle help companies enhance their inventory management, productivity, and operational efficiency, improve customer service, and gain a better understanding of their business processes. This business software also offers an elevated level of security and data protection, guaranteeing that businesses can rest assured that their critical information is secure and safeguarded.
4. Slack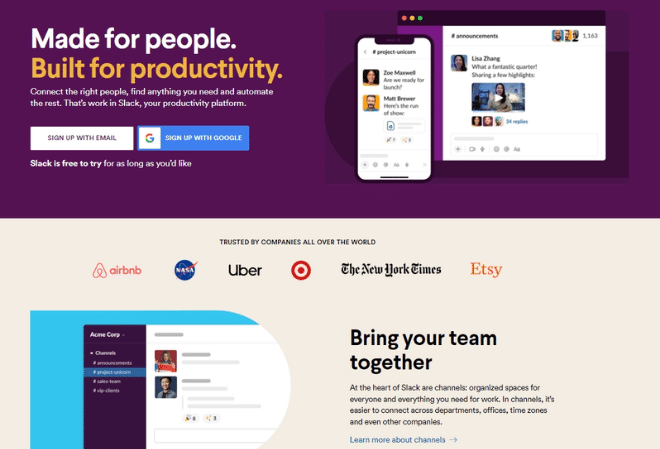 Another enterprise software company worth knowing about is Slack. Enterprise customers appreciate this messenger primarily for its functionality. Slack has become a connectivity hub for many organizations and companies in various industries. Teams value the application's ability to exchange information in subject channels and user-friendly interface efficiently.
Slack offers a range of functionalities, such as chat, video conferencing, file sharing, appointment reminders, automatic notifications, or integrations with other tools. This enables quick and direct communication between team members, making organizing and solving problems easier. In addition, thanks to integrations with other tools, Slack can be used as a project management center, allowing better work organization. With the help of this type of information technology solutions, teams can use their time more efficiently and focus on achieving their goals.
5. Microsoft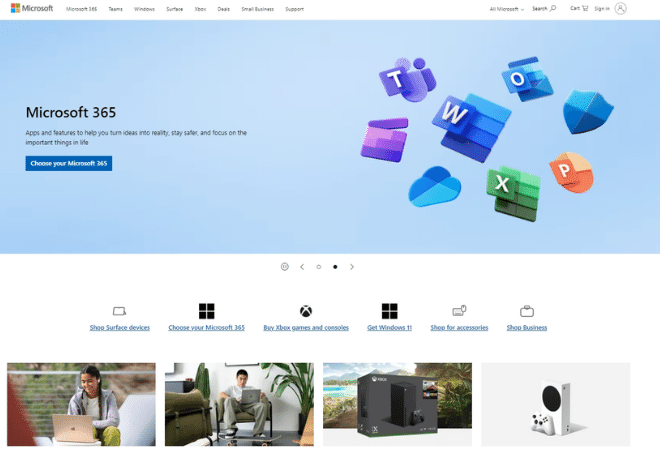 Our list of enterprise software companies could not miss the world-renowned brand founded in 1975 by Bill Gates and Paul Allen – Microsoft.
Microsoft's enterprise software provides businesses with a diverse set of tools and applications catering to their needs for data management, communication, data analysis, and other key business processes.
Amongst the most popular tools offered by Microsoft is the Microsoft Office Suite, which includes applications like Word for word processing, Excel for spreadsheets, PowerPoint for creating presentations, and Access for managing and creating databases. MS Office is not just a document editing tool but also serves as a platform for remote and cloud work, communication through Teams, and creating presentations and reports. Additionally, Microsoft also provides a range of project management tools like Project and Planner.
The integration of these programs with Microsoft's Azure cloud platform ensures secure and efficient storage and processing of data. Moreover, Microsoft also provides comprehensive training services, technical support, and software deployment and configuration tools for its business clients.
6. Openkoda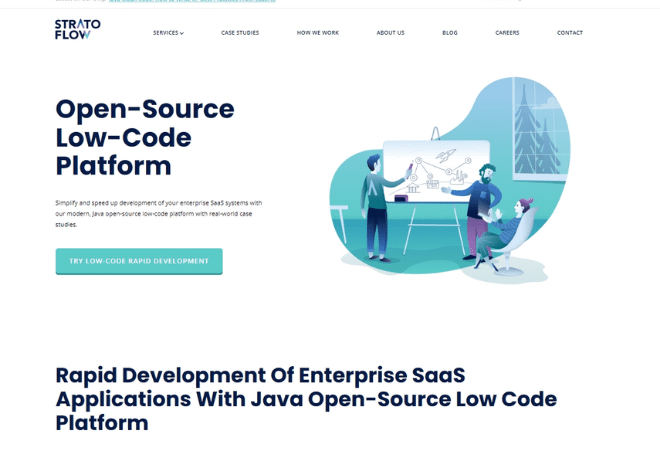 The list closes with the above-mentioned low-code platform, available in an open-source model based on Java – Openkoda.
In today's rapidly changing business landscape, companies require innovative solutions to create digital products quickly and cost-effectively. The need for agility has driven the demand for low-code platforms, revolutionizing the software development process. The market offers a plethora of low-code platforms, but only a few stand out due to their superior features, flexibility, and ease of use.
One of the low-code platforms is our in-house tool – Openkoda – an open-source low-code Java platform, which simplifies and accelerates the custom development of corporate SaaS systems.
[Read also: Top Software Development Methodologies: How to Choose the Right One?]
How does Openkoda's enterprise software improve the efficiency of companies?
The experience gained in building high-performance, and low-latency applications allowed us to learn about the problems faced by entrepreneurs and developers in their daily work and, based on the lessons learned, create a tool that, on average, reduces programming time and software development costs by three times compared to building from scratch. In addition, Openkoda's low-code platform provides the ability to integrate with various tools, including authentication, communication, and payment systems, enabling developers to build comprehensive digital products quickly.
Role-based security and access control, scalability according to current needs, multi-accessibility, auditing, or multi-language support are features that greatly facilitate the work on new digital products. Openkoda's low-code platform provides all these features and more.
Key features include:
Authentication: LDAP, Google, Salesforce, LinkedIn,
Communication: Slack, Jira, Microsoft Teams, Trello, GitHub, Basecamp with STOMP-based Push Notifications,
Payments: Stripe and Hotpay.
Besides, our low-code platform features above-average, highly scalable performance and capacity, and application extensions are possible with the help of modern Java and JavaScript without learning a proprietary language or toolkit.
All of this is available under a free, open-source license with a premium support option, which sets our low-code platform apart from others offered on the market. On top of that, we also provide no vendor lock-in, meaning the code will still belong to you even if you quit using the Stratoflow tool.
In summary, Openkoda open-source low-code platform provides a comprehensive solution for companies seeking to create digital products quickly and cost-effectively. The platform's features, flexibility, and ease of use make it an ideal tool for developers who want to build innovative digital products rather than worrying about technical details. Furthermore, with a free, open-source license and premium support option, Openkoda low-code platform is a cost-effective, superior solution that can help businesses achieve their digital transformation goals.
[Read also: The Future of Software Engineering: Key Emerging Trends]
Is it worth using enterprise software?
In an era of almost universal digitization and digital transformation of companies in various industries, the ability to use enterprise software such as project management, accounting, resource management, human resource management, ERP, BI, or CRM makes work much easier and more effective.
These systems and applications allow us to gain valuable insights and collect customer feedback. This, in turn, will enable companies to know in which direction they should go and whether the adopted business goals are being met. In addition, many of the daily tasks can also be automated, freeing up resources to perform more complex tasks. This way, productivity and cost efficiency increase, and market advantages and opportunities for real profits grow.