Big data
Blog
Software Development

Arkadiusz Krysik
Jul 14, 2023
Power of Cloud Computing Scalability: Empowering Businesses to Scale with Ease
In today's digital age, businesses are constantly evolving and growing, demanding technology solutions that can keep pace with their expanding needs. This is where the power of cloud computing scalability comes into play.
Whether it's handling sudden surges in user traffic, accommodating growing data volumes, or expanding into new markets, the ability to dynamically scale resources is critical.
In this article, we will explore the transformative power of cloud computing scalability and how it enables organizations to manage growth, improve performance, and stay ahead of the competition. So let's get started!
What is cloud scalability?
Imagine you have just launched your first SaaS application. After a while, it really takes off and your customer base grows rapidly. Suddenly, your website experiences a surge in traffic, overwhelming your servers and causing performance issues.
Left unchecked, this situation would lead to a poor customer experience as your users deal with lagging service, which in turn could lead to lost revenue potential in the long run.
Enter cloud scalability.
Cloud scalability refers to the ability of a cloud-based system to adapt and handle increased workloads seamlessly.
It allows businesses to effortlessly scale resources such as computing power, storage, and bandwidth to meet growing demands. Rather than being constrained by the limitations of physical infrastructure, cloud scalability allows organizations to dynamically allocate resources based on demand.
Whether it's a sudden spike in user activity, a seasonal peak, or the need for continued growth, cloud scalability ensures that your systems remain efficient, reliable, and able to deliver an exceptional user experience. With cloud scalability, your business can expand and thrive without being constrained by traditional infrastructure limitations, opening the door to a whole new world of growth potential.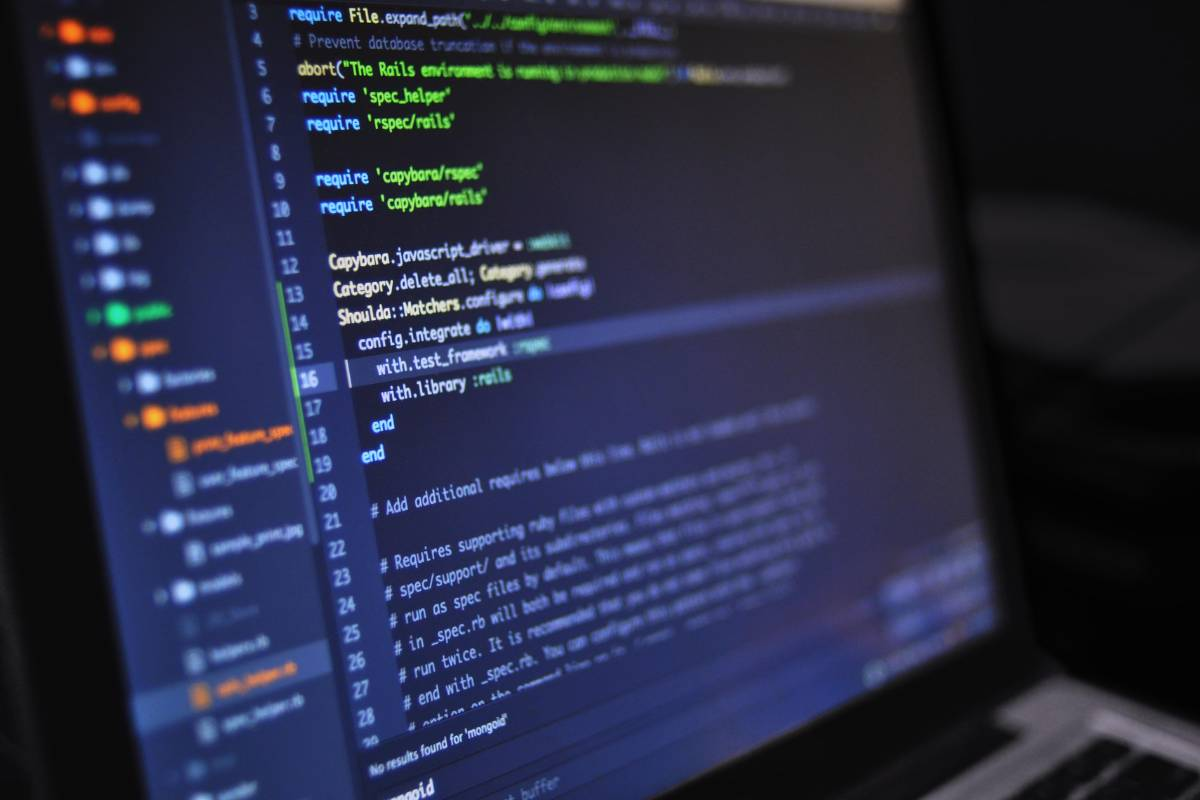 Three key types of cloud scalability
To better understand the key types of cloud scalability, put yourself in the shoes of the manager of a development company responsible for building a brand new skyscraper in the city center. Suddenly, you receive a call from one of your clients who has signed a lease for the offices in your building, informing you that they need much more office space due to the rapid growth of their business.
What options do you have?
Well, one option is to add additional floors to your existing project and expand its vertical space. That's a great solution, but there are limitations. Many cities have set limits on the height of skyscrapers in certain districts, and the technical design of a building can only support a limited number of floors.
So what then?
The alternative is to expand the footprint of the building by adding wings or extensions. By expanding the structure of the building, you could easily accommodate the increased demand for office space even though you will need to pay for an extra plot of land.
Scaling out cloud systems is really similar to this fictional scenario as you have three main options: expanding the existing infrastructure by adding upgraded physical hardware, distributing the workload across multiple servers, machines, and nodes, or choosing a smart mix of the two.
Let's take a closer look at these three types of scalability in cloud computing.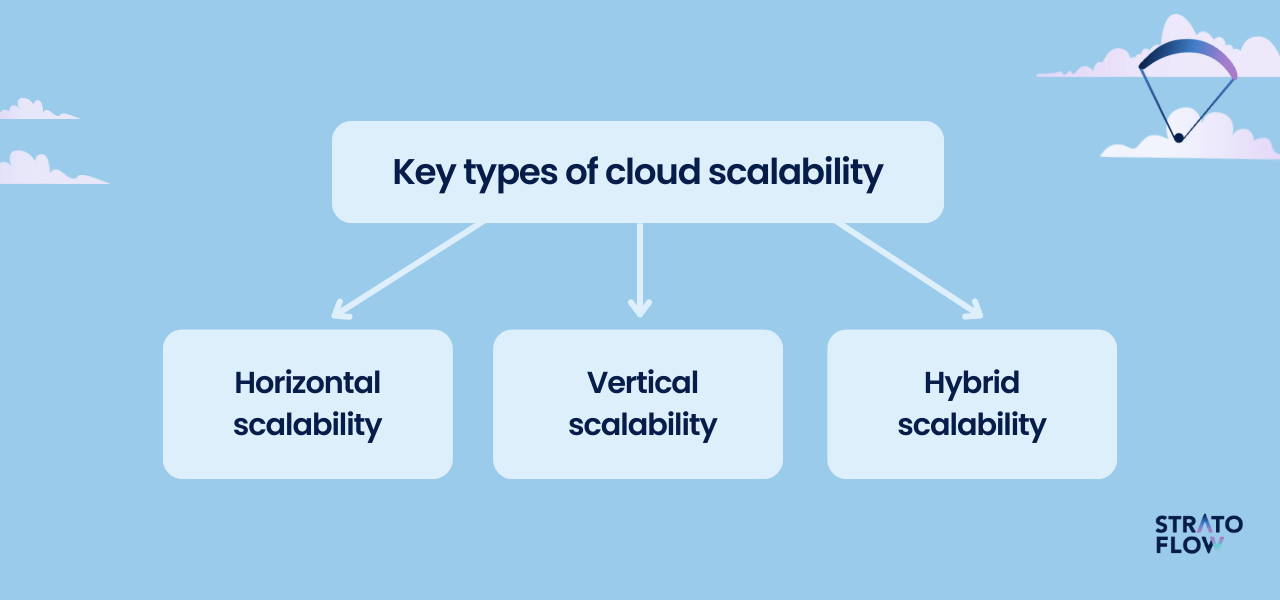 Horizontal scalability
Horizontal scaling, also known as scaling out, refers to the ability to increase the capacity of a system by adding more instances or nodes in parallel, just like expanding the footprint of our office building in the previous example. In the context of cloud computing, it involves distributing the workload across multiple machines or servers to meet increased demand.
By adding more instances, organizations can handle increased traffic and process more data, but it can also be beneficial in terms of system reliability and stability by improving fault tolerance and creating data redundancy.
Vertical scalability
On the other side, we have vertical scalability, also known as scaling up. This involves increasing the capacity of a single server or resource by adding more resources to it, just as our construction company in the previous example added additional floors to the building.
In this approach, organizations upgrade their existing server infrastructure by adding more powerful processors, memory, storage, or network capacity to meet increased demand. Vertical scaling can be useful when the workload requires a single resource with more processing power or memory, such as complex single-threaded tasks. However, there are limitations in terms of cost and the maximum capacity that a single server can handle.
Hybrid scalability
Hybrid scalability, also known as diagonal scaling, combines both vertical and horizontal scaling approaches to optimize resource utilization and meet changing workload demands. It involves dynamically scaling resources both horizontally and vertically based on the specific requirements of the workload.
By adopting a hybrid approach to scalability, organizations can achieve a balance between cost optimization and performance. They can dynamically allocate resources based on workload patterns, using horizontal scaling for periods of high demand and vertical scaling for resource-intensive tasks. This approach provides the flexibility to scale both the infrastructure and individual resources as needed to optimize application performance, reliability, and cost-effectiveness.
Five key benefits of cloud scalability
Since we've already briefly touched on the benefits of cloud scalability for businesses, let's systematize this knowledge and list five key benefits of cloud scaling for organizations and businesses.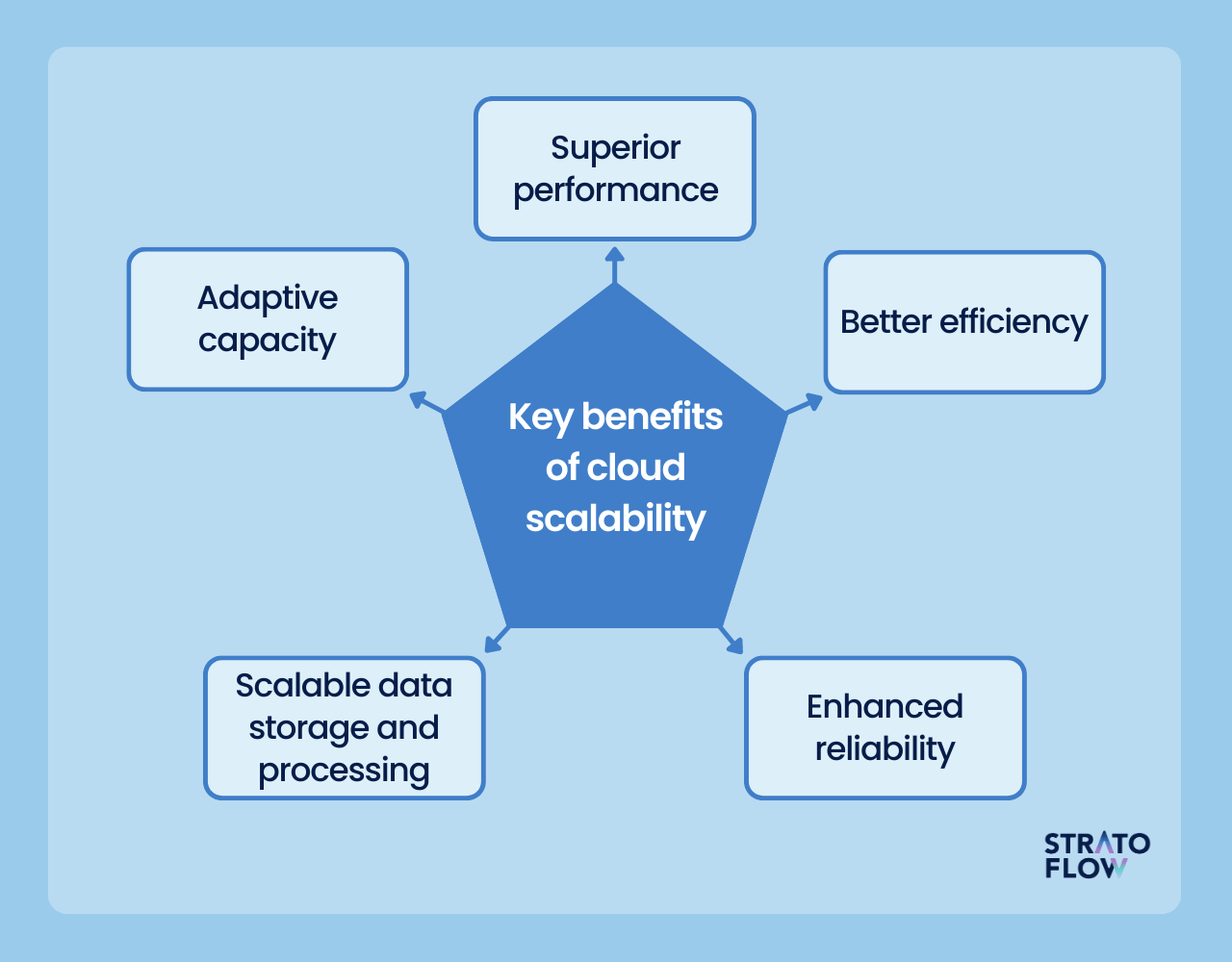 Superior performance
In today's fast-paced digital world, performance is everything, and cloud computing scalability enables businesses to do just that – maintain low latency and high throughput even during periods of increased workload.
By dynamically allocating computing resources and data storage capacity, businesses can ensure that their applications and services can handle heavy traffic without performance degradation or downtime. This results in a better user experience and higher customer satisfaction.
Better efficiency
One of the key benefits of cloud computing scalability is improved efficiency, both in terms of cost and hardware utilization.
It allows organizations to easily adjust their resource allocation based on actual fluctuating demand. It enables rapid provisioning and deprovisioning of resources such as compute, storage, and bandwidth, providing the flexibility to scale up or down as needed.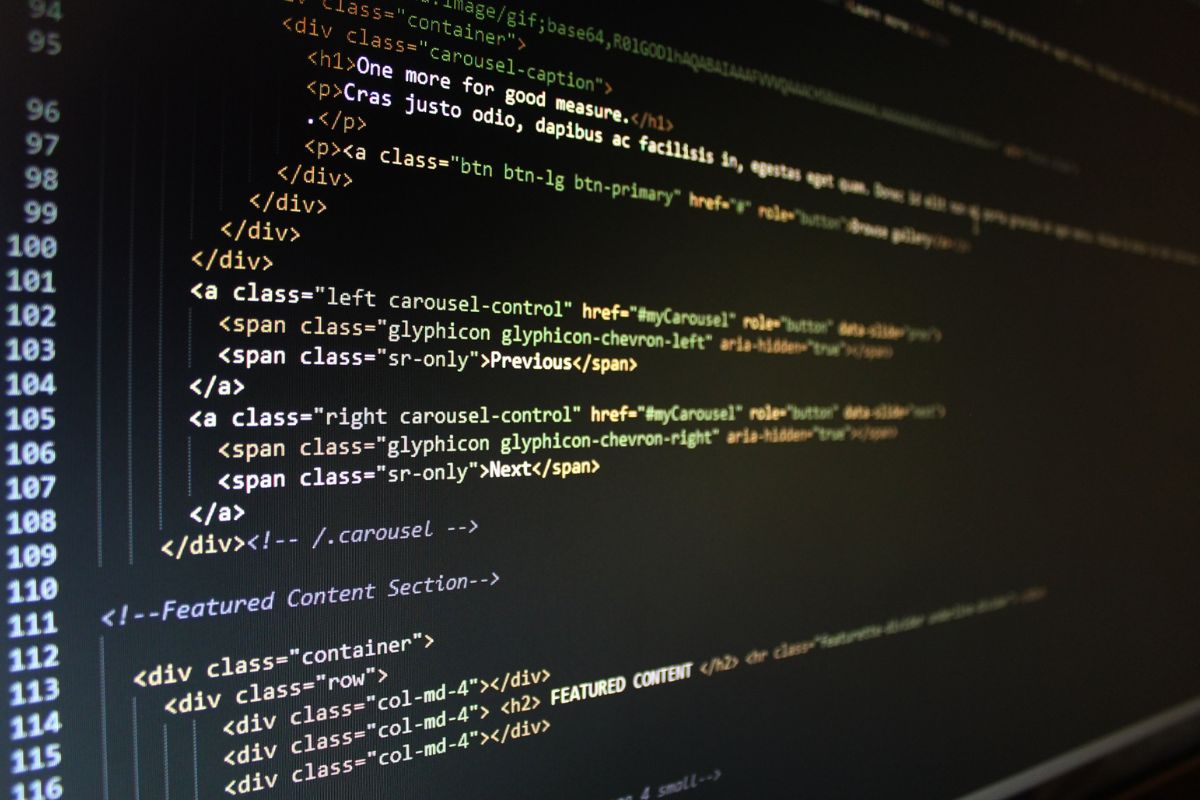 Adaptive capacity
Cloud scalability allows organizations to handle sudden spikes in demand by leveraging bursting capabilities. Bursting enables temporary scaling beyond normal resource capacity to accommodate unexpected spikes in traffic or workload.
This elasticity ensures that businesses can meet peak demand without negatively impacting performance or user experience. In other words, you don't have to worry about missing a sale or a new user sign-up during periods of unexpectedly high traffic.
Enhanced reliability
Scalability in the cloud improves system reliability by distributing workloads across multiple servers and data centers. In the event of hardware failure or disruption in one area, the workload can be automatically shifted to other available resources, minimizing downtime and ensuring business continuity. This redundancy and fault tolerance helps improve system reliability and business continuity.
Scalable data storage and processing
Cloud scalability extends to data storage and processing capabilities. By leveraging approaches such as multi-tenancy, organizations can scale storage capacity as data volumes grow, ensuring seamless data management and accessibility, as well as best-in-class software performance.
[Read also: Software development methodologies]
How to achieve true cloud scalability?
One thing is certain: in the fast-paced digital landscape, businesses must be prepared to scale their operations quickly and efficiently. Cloud computing scalability offers a solution to this ever-increasing demand.
So let's answer the most fundamental question of this whole topic: how to achieve cloud scalability?
First and foremost, it requires a holistic approach that balances powerful hardware with a well-designed software architecture. You can't have a high-performance software system without adequate hardware, just as the most powerful server won't help if the cloud legacy software is outdated and unoptimized.
That's why careful planning and architectural design are essential.
Adopting software application development best practices is essential. When designing applications with scalability in mind, software developers should consider using microservices and containerization, and implementing fault-tolerant and distributed systems. Decoupling services enables better scalability by allowing each component to scale independently based on its own needs.
In addition, you cannot forget about continuous performance monitoring, as it plays a critical role in achieving cloud computing scalability. By implementing effective monitoring tools to track system performance and analyze metrics, organizations can identify bottlenecks and areas for improvement. You can pick from various types of software testing such as load and stress testing to ensure that the company's software infrastructure can handle peak demands.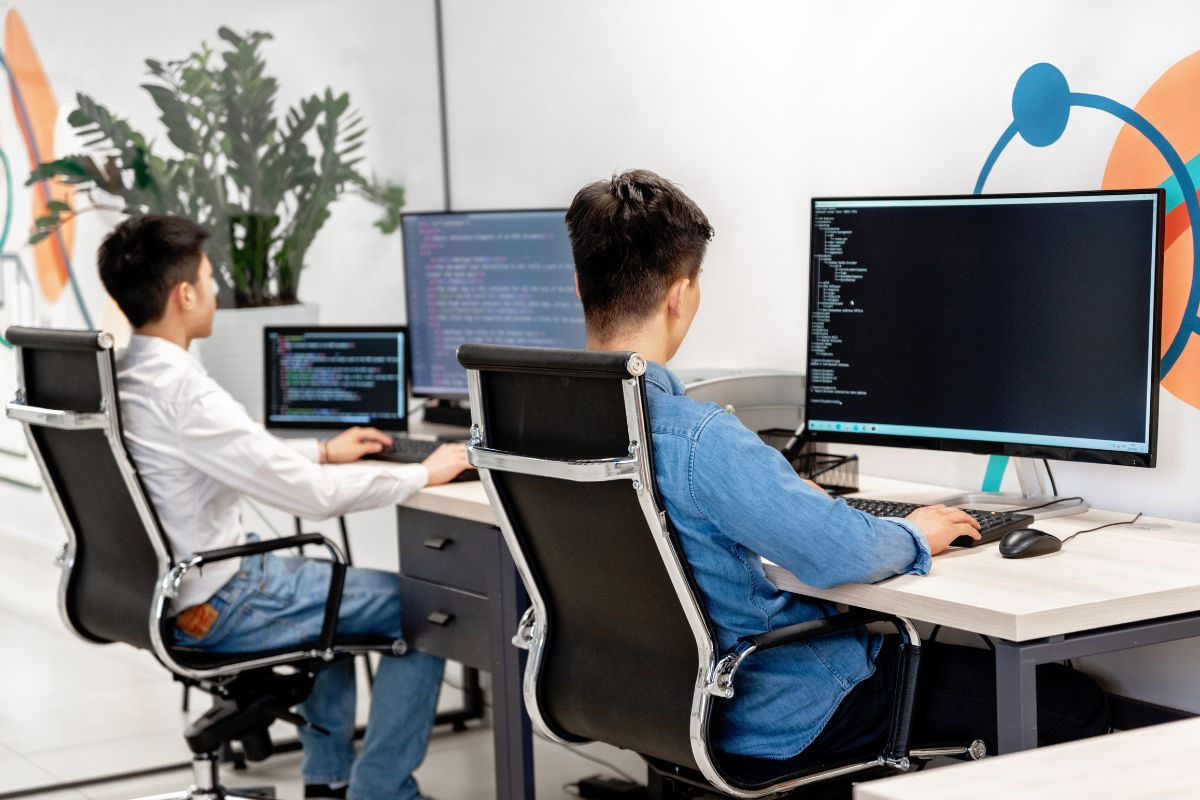 When we talk about achieving true cloud scalability, we cannot forget about data management and storage, as they are critical to achieving excellent user experience even under heavy system load. In these cases, multitenancy offers an interesting approach to achieving cloud scalability.
Multitenancy refers to a software architecture in which a single instance of an application serves multiple customers (tenants). This approach enables efficient resource utilization because tenants share the same underlying infrastructure while maintaining data isolation and security. By leveraging a multitenant database approach, organizations can scale their database systems horizontally to accommodate a growing number of tenants without significantly increasing hardware requirements.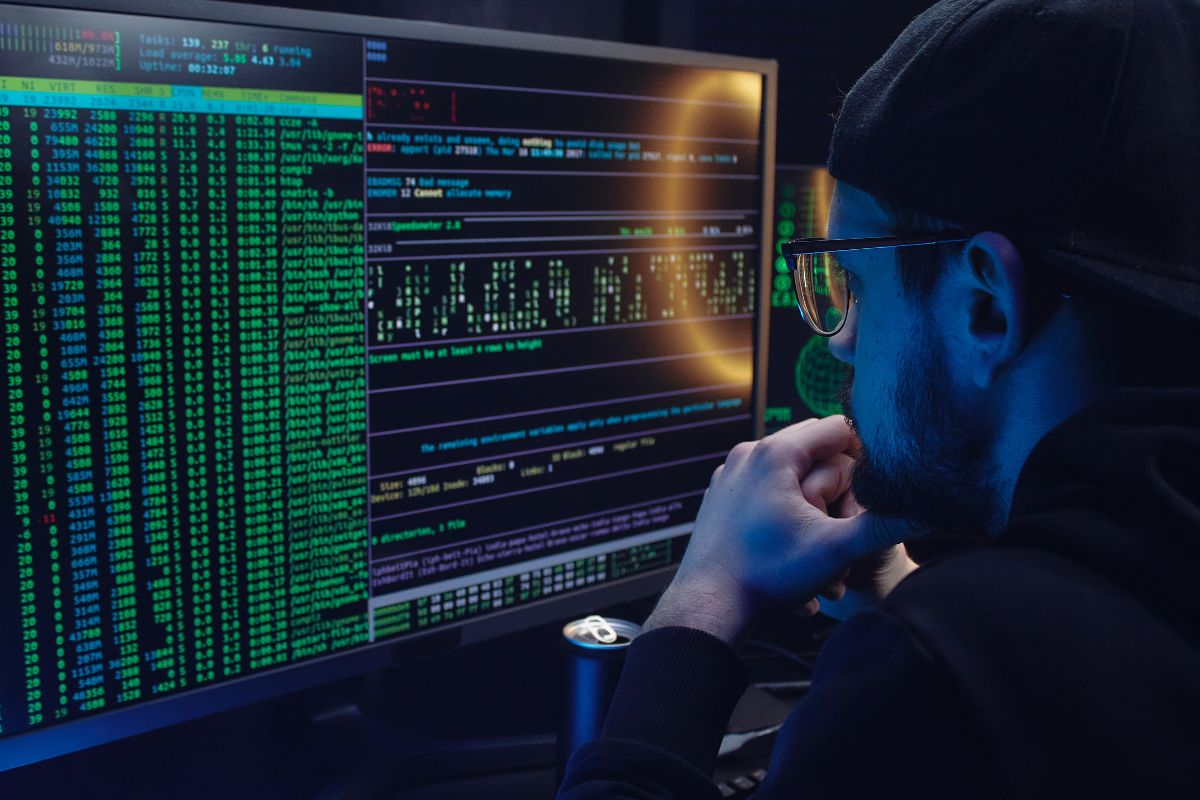 Developing a scalable software solution is not an easy task. There are hundreds of little caveats to consider and there is no single universal key to go about it, as each software engineering project is different and focuses on different objectives.
For this reason, if you are looking for the best possible results, it is wise to seek the help of a custom software development company that specializes in high-performance enterprise software solutions built with scalability in mind. At Stratoflow, we have over 10 years of experience delivering state-of-the-art software that enables our clients to stay at the forefront of innovation, including a horizontally scalable cloud platform for financial applications based on open source software architecture and a personalized recommendation system using a multi-tenant database.
Conclusion
You could say that cloud computing scalability is like a secret weapon that empowers businesses to break free from limitations and embrace virtually limitless growth. With the ability to dynamically allocate resources, businesses can effortlessly scale up or down to meet evolving demands, ensuring optimal performance and cost efficiency.
So don't let traditional constraints limit your business. Harness the power of cloud computing scalability and experience the transformative impact it can have on your business.