Blog
FinTech
Software Development

Arkadiusz Krysik
Oct 20, 2023
In-Depth Guide to Accounting System: Definition, Types and Ideas for Custom Solutions
Have you ever wondered how companies keep their finances organized and accurate?
The answer lies in an accounting system – a structured system that records, tracks, and analyzes all financial transactions.
In this guide, we will explore the definition of accounting systems, the different types available, and how custom solutions can be tailored to meet specific business needs.
What is accounting system?
An accounting system is software solution that provides a structured, formalized framework used by companies to record, monitor, and analyze their financial transactions and other related operations.
At its core, it is designed to streamline financial processes and ensure a consistent, accurate representation of a company's financial health.
By meticulously tracking revenues, expenses, assets, liabilities, and equity, an accounting system provides a transparent, comprehensive view of a company's financial position. This essential tool helps manage resources, ensure regulatory compliance, and provide critical financial information to stakeholders.
How accounting system works?
An accounting system works by following a sequence of well-defined steps, beginning with the recording of financial transactions as they occur.
Each transaction is documented in an accurate and timely manner, primarily through the use of journals and ledgers. During financial reporting, the system categorizes these transactions into different accounts, such as revenues, expenses, assets, liabilities, and equity, ensuring a meticulous organization of financial data.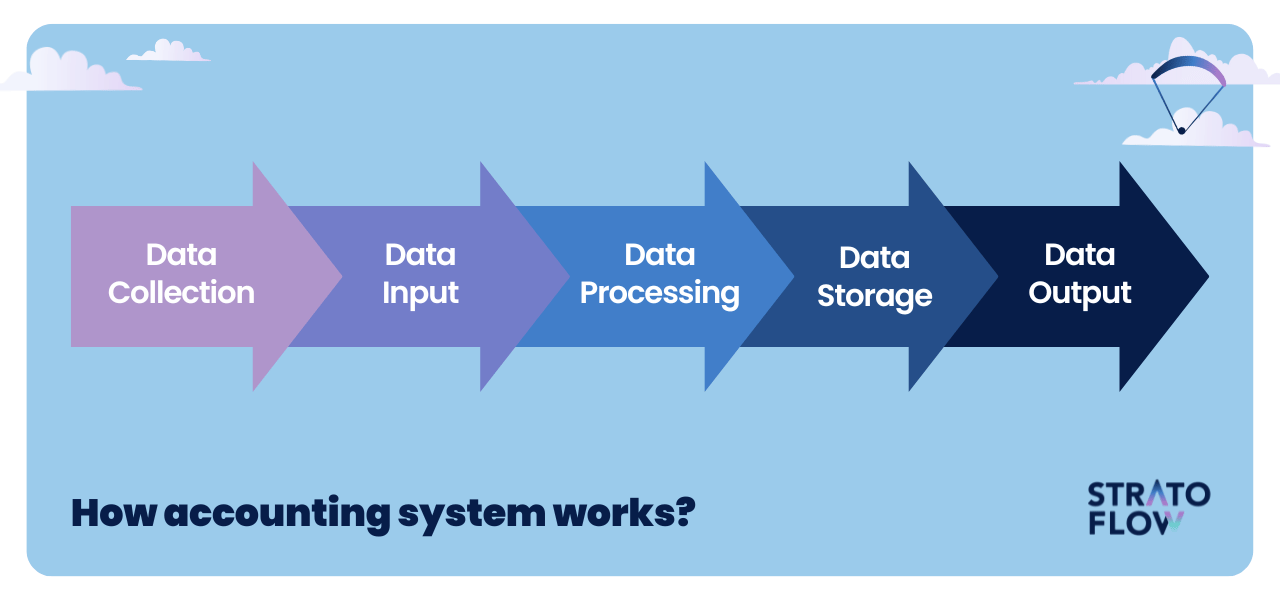 After recording phase, the accounting system helps adjust and check accounts to show the correct financial situation of the company at a certain time. It then creates financial reports, like the income statement, balance sheet, and cash flow statement, that give a summary of how the company is doing financially.
The effectiveness of an accounting system is greatly enhanced by the integration of modern software solutions. These digital platforms automate many accounting processes, minimize human error, improve data accuracy, and speed the generation of financial reports.
Through a combination of automation and manual oversight, an accounting system assists in the expert management of a company's financial resources, ensuring the reliability and accessibility of financial data for informed decision-making and strategic planning by the business owner.
What Are the Types of Accounting Methods?
There are two types of accounting methods: Cash Accounting and Accrual Accounting:
Cash Accounting
Cash accounting records transactions at the time money changes hands, i.e., when payment is received or made. This method is simpler and provides a clear picture of cash flow, but may not accurately reflect the financial health of a business over time.
Accrual Accounting
Accrual accounting records transactions when they are incurred, not when payment is made or received. This method gives a more accurate picture of a business's financial health over time, but can be more complex to manage as it involves tracking receivables and payables.
Types of accounting systems
Just like there are two main methoods of accounting, there are also two types of accounting systems: single-entry and double-entry accounting systems which correspond with the previously mentioned accounting methods:
Single entry accounting system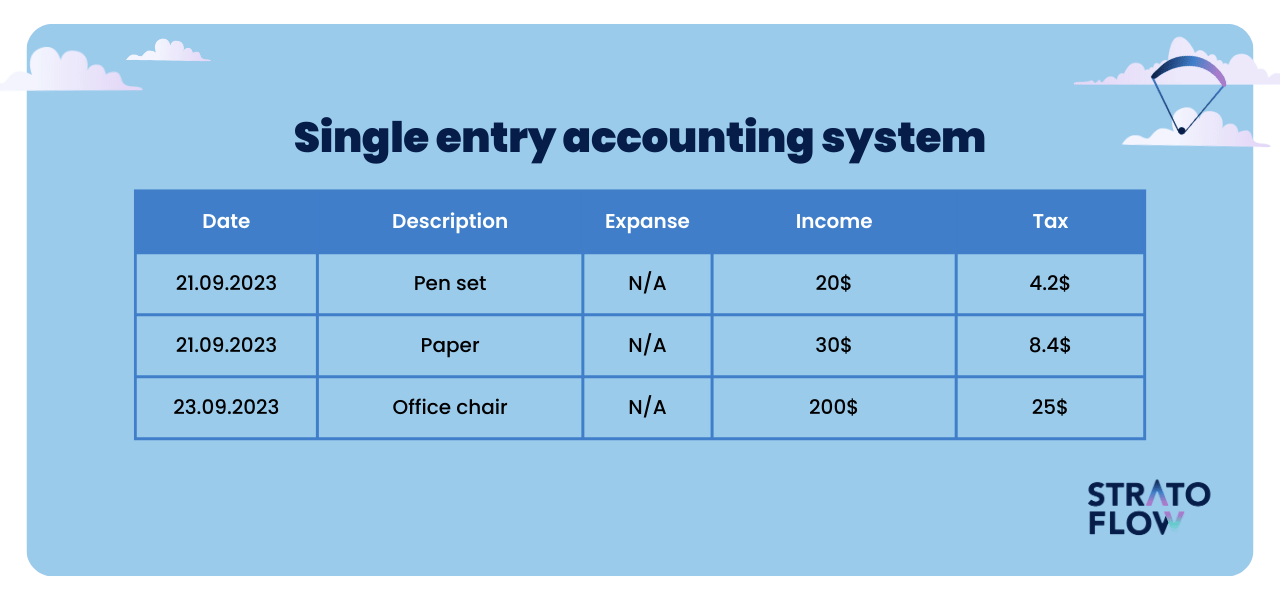 A single-entry accounting system is a straightforward method used primarily by small businesses to maintain their financial records. In this system, each transaction is recorded only once, either as an income or an expense. Unlike double-entry accounting, it does not provide a complete representation of the business's financial position as it doesn't track assets and liabilities.
The single-entry system is akin to maintaining a checkbook where transactions are noted in a simple, linear fashion.
While it's easier to manage, the lack of detailed financial information and the inability to check for recording errors through balancing makes the single-entry system less robust and siutable for many small business owners.
Double entry accounting system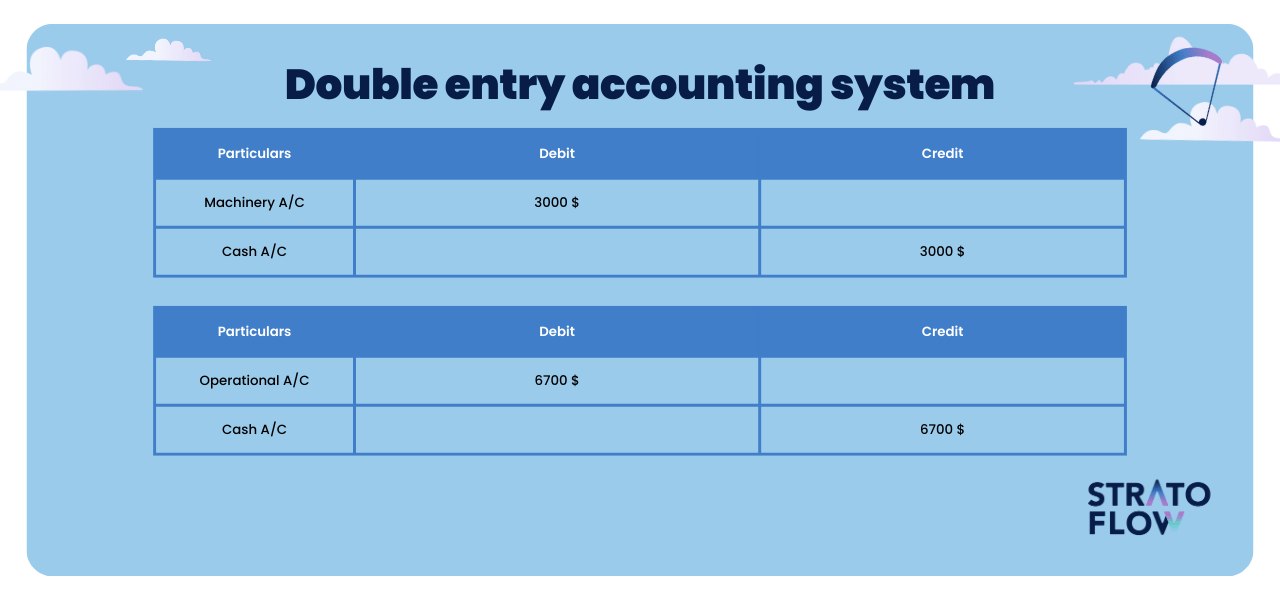 The double-entry accounting system is a comprehensive method employed by many businesses to ensure a balanced and accurate representation of their financial position. In this system, each transaction is recorded twice – once as a debit and once as a credit – to corresponding accounts allowing for proper financial reporting.
This double entry system ensures that the accounting equation (Assets = Liabilities + Equity) remains balanced, providing a clear picture of the business's financial health. Double-entry accounting tracks all aspects of transactions including assets, liabilities, equity, revenue, and expenses, thereby creating a complete financial picture that aids in informed decision-making and compliance with financial reporting standards.
Primary features of accounting systems
Accounting systems are the backbone of a business's financial management systems, encapsulating a range of features designed to streamline financial processes, ensure accuracy, and foster compliance.
In the subsequent discussion, we will delve into the key features of accounting systems that not only aid in meticulous financial record-keeping but also drive informed decision-making, contributing to the overall financial robustness and sustainability of a business.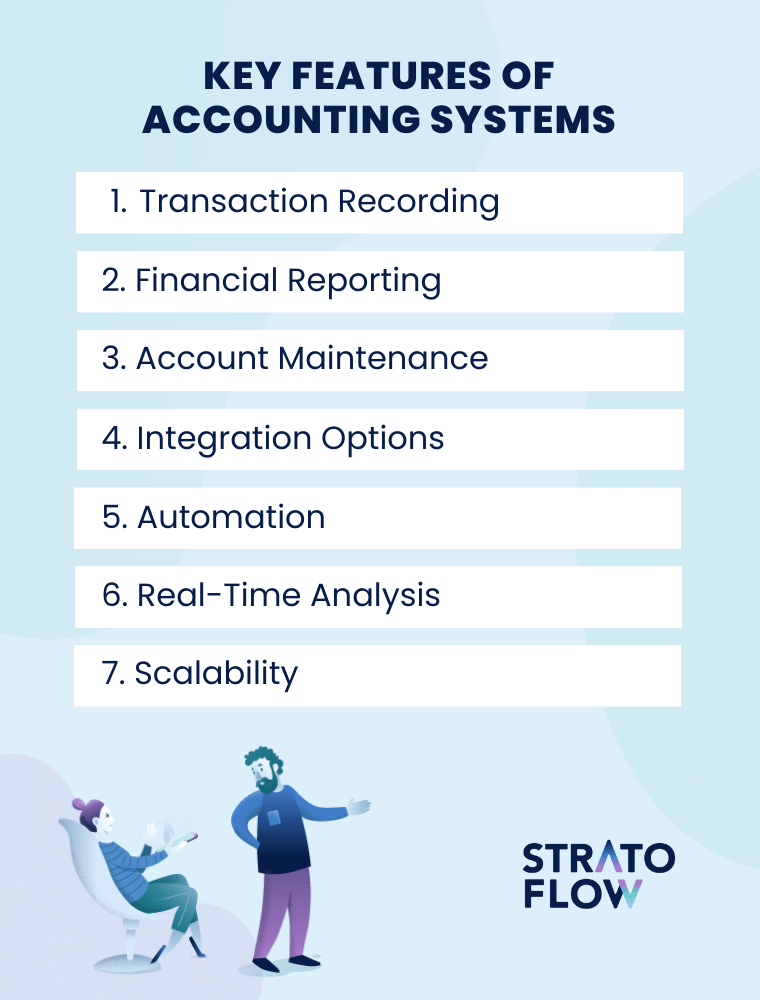 Transaction Recording – The most basic functionality of every accounting system. It provides accurate and timely recording of all financial transactions, accounting records, including sales, purchases, and payments.
Financial Reporting – Generation of crucial reports of business finances such as income statements, balance sheets, and cash flow statements.
Account Maintenance – Organization and maintenance of various accounts like assets, liabilities, equity, revenue, and expenses is among key accounting features.
Integration Options – Every good accounting software should be able to integrate with other business systems like inventory management, payroll, and CRM systems for streamlined operations.
Automation – We live in the age when efficiency is paramount to business success. That's why automation of repetitive tasks, and reducing manual errors, is so important for accounting systems.
Real-Time Analysis – High-performance, analysis functionalities provide real-time insights and analysis of financial data for informed decision-making.
Customization – Customizable to meet the unique needs and demands of a business.
Scalability – Ability to scale with the growth of the business, accommodating increased data and more complex financial operations is crutial for financial systems.
[Read also: Banking Technology: Top 7 Trends for 2023]
Key advantages of accounting systems
Finances are the crutial aspect of almost all organizations.
Due to that integrating an accouting software can bring immense benefits to the businesses on multiple fields – not just improving the flow of financial data. let's briefly cover five of the most important: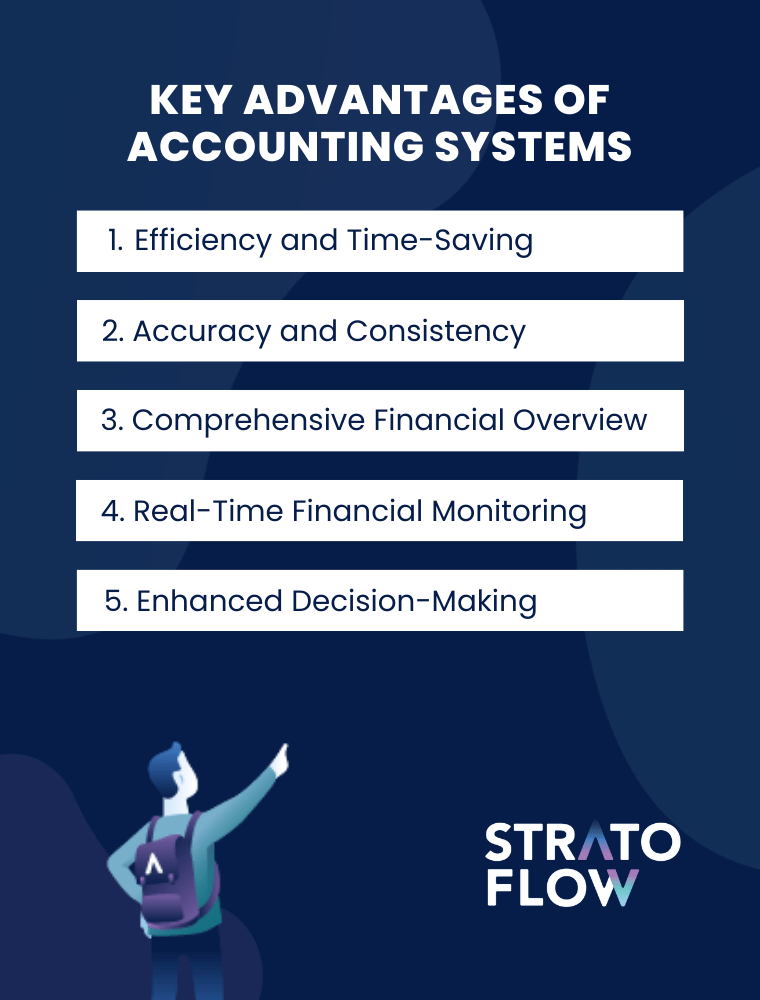 Efficiency and Time-Saving – An accounting system automates many routine and repetitive accounting tasks, saving valuable time and allowing employees to focus on more strategic activities.
Accuracy and Consistency – Automated accounting reduces the chances of human error in data entry and calculations, ensuring accuracy and consistency in your financial records.
Comprehensive Financial Overview – It provides a centralized platform to record, track, and analyze financial data, offering a comprehensive overview of the business's financial health.
Real-Time Financial Monitoring – Real-time data entry and reporting allow for timely financial monitoring and decision-making, which is crucial in managing cash flows and other financial aspects.
Enhanced Decision-Making – The insights derived from accurate and up-to-date financial data empower management to make informed decisions that align with the business's financial goals.
Custom accounting systems – Five factors to consider
So you and want to build an accounting solution of your own.
How do you go about it? Where do you start?
Let's cover five things you have to watch out for – factors that will influence the success of your custom development project.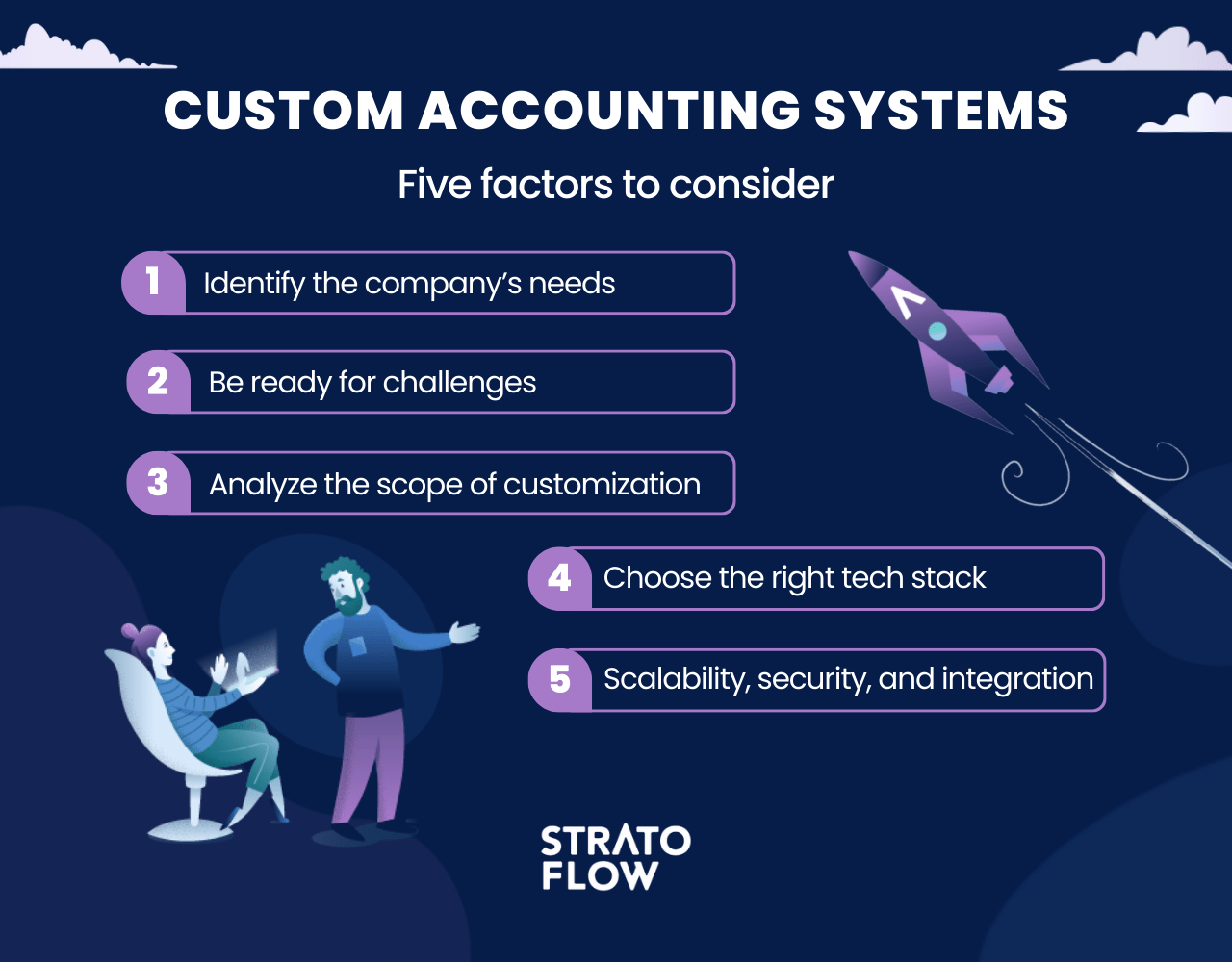 Identify the company's needs
Before starting to build a custom accounting solution, it's important to fully understand what the company needs in terms of managing its finances.
This means figuring out the specific accounting features needed, the type of financial information that will be handled, and what kind of reports the business will need. A clear assessment of these needs will guide the design and how the custom accounting system will work.
Be ready for challenges
Developing a custom accounting solution can present numerous challenges, from technical hurdles to budget and time constraints. There might be unforeseen issues that arise during development, requiring additional resources or expertise.
Preparing for such challenges by having a well-thought-out project plan, adequate resources, and a contingency plan can significantly smoothen the development process.
Analyze the scope of customization
Another crutial factor is determining the extent of needed customization.
A highly customized solution can cater precisely to a company's needs but may also require more time and resources to develop. On the other hand, a less customized solution might be quicker to develop but may not meet all the specific needs of the company.
Choose the right technology and tools
The choice of tech stack, development methodology, frameworks and tools significantly influences the functionality, efficiency, and ease of use of the custom accounting system.
It's essential to choose reliable, proven technologies and tools that are suited to the company's requirements, and that can facilitate the development process while ensuring the system's long-term viability.
Remember about scalability, security, and integration
A good custom accounting solution should be scalable to accommodate business growth, secure to ensure data protection, and capable of integrating with other existing or future business systems.
Cloud scalability ensures that the system remains functional and efficient as the volume of financial data increases. Security is paramount to protect sensitive financial data, and integration capability is crucial for achieving streamlined operations across various business functions.
[Read also: Latest Software Development Trends 2023]
How to build a custom accounting software?
Creating custom accounting software requires a good understanding of the company's financial needs and how it manages its money.
We've recently created a comprehensive guide on building custom accounting software, emphasizing its importance for businesses with unique financial management needs. It discusses the multitude of long-term advantages like better financial control and strategic management, making custom accounting software a worthwhile investment for many businesses.
So here we're just going to do a quick recap.
A big part of this project is finding a skilled development team that knows a lot about both accounting rules and how to build high-quality software. A good team can help choose the right technology and use the best accounting practices to make sure the software works well, follows rules, and fits the business's needs.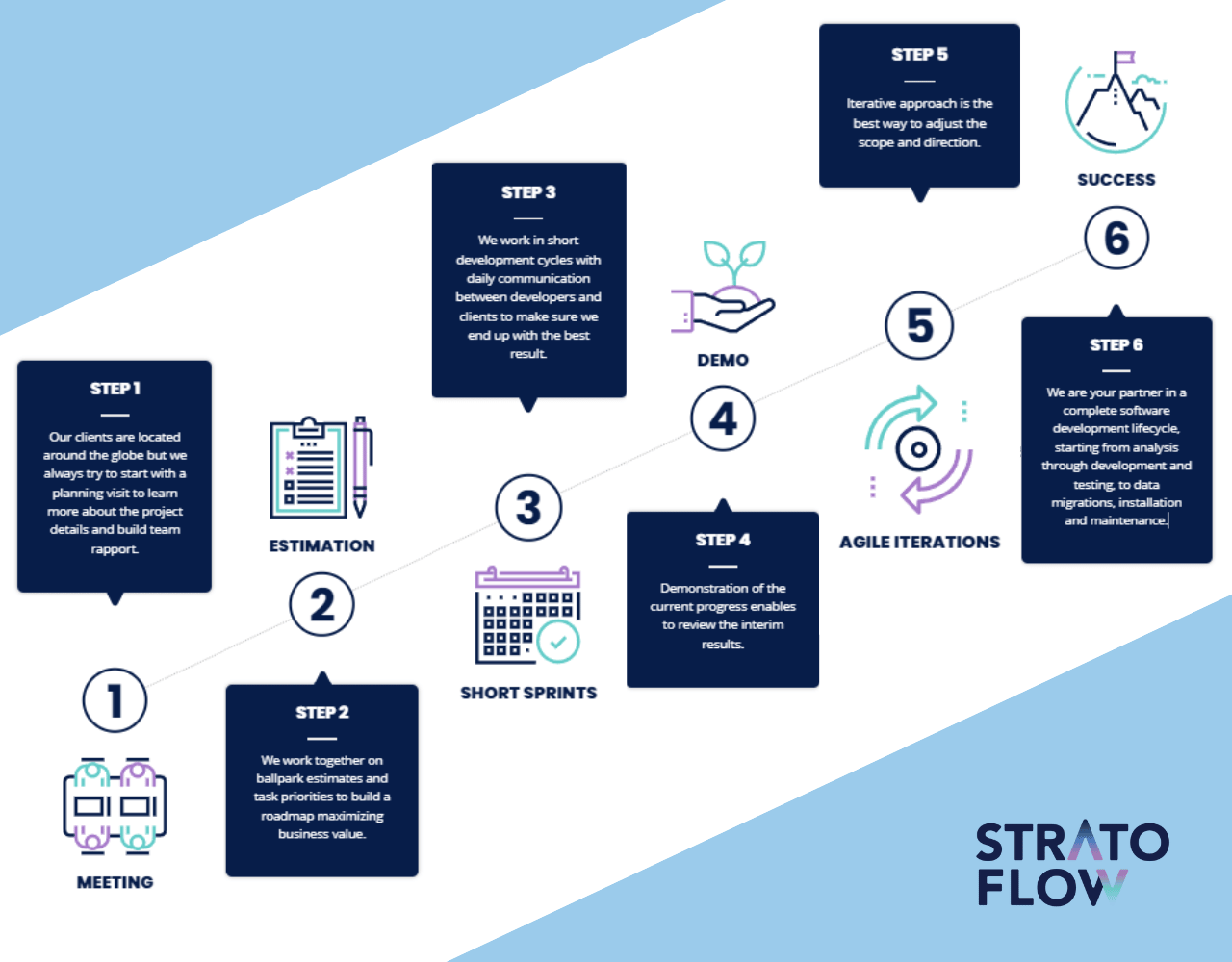 It's a good idea to choose a team that uses an agile approach, which means they can easily adjust to changes in the project as it goes along. This way of working helps keep checking and adjusting things, which is really helpful in dealing with the tricky world of financial rules and what the business needs.
If you are considering building your own accounting software system reach out to Stratoflow development team. We specialize in creating bespoke software solutions for finance industry and are here to guide you every step of the way. Schedule your free consultation now!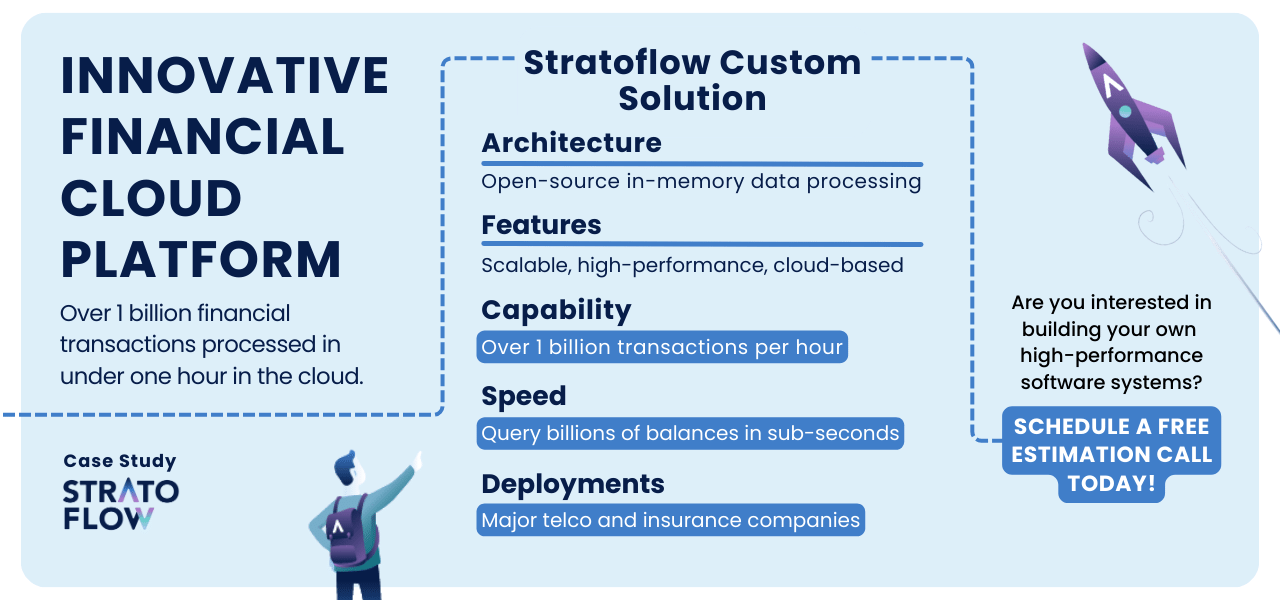 Examples of accounting systems
Be get a better outlook on the market of accounting systmes, let's take a closer look at five of the most popular choices for out-of-the box software among small and big businesses:
FreshBooks
FreshBooks is designed to make accounting processes simpler for a range of business types, including self-employed professionals and mid-sized businesses.
It provides accurate, timely financial information and integrates additional features like time tracking and project management, making it a comprehensive tool for both business owners and accountants​.
QuickBooks Online
QuickBooks Online is a longstanding industry leader in accounting software for small businesses, known for its robust features and user-friendly interface.
It also boasts extensive app integration, making it a versatile choice for businesses looking to streamline their accounting processes
Xero
Xero is recognized for its ease of use and comprehensive features, providing a solid accounting solution for businesses of various sizes.
Oracle NetSuite
Oracle NetSuite is a customizable cloud-based accounting solution that offers a range of financial management capabilities. It's suitable for businesses looking for a scalable and adaptable solution.
Sage
Sage is a reputable accounting software that caters to small businesses, providing a range of accounting and financial management features.
Conclusion
In conclusion, a solid accounting system is indispensable for maintaining financial integrity and fostering informed decision-making within a business. Whether opting for a conventional type or venturing into custom solutions, the right accounting system aligns with your business operations, ensuring compliance and financial transparency.
We are Stratoflow, a custom software development company. We firmly believe that software craftsmanship, collaboration and effective communication is key in delivering complex software projects. This allows us to build advanced high-performance Java applications capable of processing vast amounts of data in a short time. We also provide our clients with an option to outsource and hire Java developers to extend their teams with experienced professionals. As a result, our Java software development services contribute to our clients' business growth. We specialize in travel software, ecommerce software, and fintech software development. In addition, we are taking low-code to a new level with our Open-Source Low-Code Platform.