Blog
Software Development

Arkadiusz Krysik
Oct 16, 2023
How to Build a Search Engine: Step by Step Guide
How many times a day do we search the Web? 10, 20 or maybe 50?
Although we may not pay much attention to them, search engines have become a crucial aspect of our daily lives.
They serve us in various places, from Google search engine to travel metasearch engines and e-commerce sites – these tools are everywhere!
In today's guide, we will take a closer look at the inner workings of these systems and see what it takes to build your own custom search engine! You don't want to miss this, as this knowledge is invaluable in markets like e-commerce and travel, where search engines are key functionalities of virtually every website and application.
What is a search engine?
A search engine is a software application designed to help users find information on the Internet.
It uses algorithms to search the Internet based on keywords or phrases provided by the user and returns a list of results, typically in the form of web pages, that are most relevant to the user's query. There are generally three key elements that go into any search engine:
Sophisticated algorithms
Vast amounts of data
A cloud-based infrastructure that is customized for their particular search system
All of these elements are essential to the efficient operation of modern search engines.
Algorithms are critical for accurately processing and ranking vast amounts of data to ensure relevant and timely responses to user queries. The availability of rich data ensures that the search engine can comprehensively address a wide range of user queries.
Meanwhile, a customized cloud-based infrastructure provides the scalability and flexibility needed to ensure optimal data management, storage, and processing capabilities.
Additional Features of Modern Search Engines
Apart from basic search functionality modern search engines often include additional features aimed at improving user experience and sales such as:
Autocomplete – Predicts what the user is typing and provides suggestions.
Spelling Corrections – Automatically corrects or suggests corrections for misspelled words.
Rich Results – Provides enhanced results like images, ratings, and additional details to give users more context.
Personalization – Tailors results based on the user's location, search history, and other personal data.
Voice Search – Allows users to perform searches using voice commands instead of typing.
Search engines like Google, Bing, and Yahoo have become integral tools for navigating the vast amount of information available on the internet, helping users to find the specific information they are looking for efficiently and effectively.
Specialized search engines
Google is rightly considered the mother of all search engines.
But in some situations, a simple Google search just isn't enough. Sometimes users demand more detail than the SERPs of popular major search engines can provide.
That's where specialized search engines come in.
Specialized search engines are platforms designed to provide search results from a specific segment or type of content, focusing on a particular topic, industry, or type of data, such as academic papers, legal documents, or medical resources. Unlike general search engines, they prioritize and index content related to the specialized domain, providing users with more targeted, relevant, and in-depth results related to their specific queries within that domain.
Here's a collection of some of the examples of popular specialized search engines .
Flights and Travel
Finance
Yahoo! Finance – Provides financial news, data, and commentary including stock quotes, press releases, and financial reports.
Investing.com – Offers tools for tracking stocks, commodities, currencies, bonds, and other financial assets, along with news and analysis.
Education and research
PubMed – Focuses on biomedical literature, providing access to research articles, reviews, and clinical studies.
Wolfram Alpha – A computational search engine that provides answers to factual queries, calculations, and data analysis.
Professional services
Behance – A search engine for creative professionals showcasing their portfolios in design, photography, and art.
CodeSearch – Aims to help developers find open-source code for their projects.
[Read also: Application Modernization Strategy: Your Ultimate Guide]
How do search engines work?
We use them every day to search the web, browse products in online stores, or browse social media applications, but we rarely think about their inner workings.
Yet they are often the backbone of so many applications. One of their most important functionalities.
So, how does a search engine work?
Let's find out!
Here are five key components of modern search engines that allow them to sort through huge amounts of data and deliver relevant results to their users.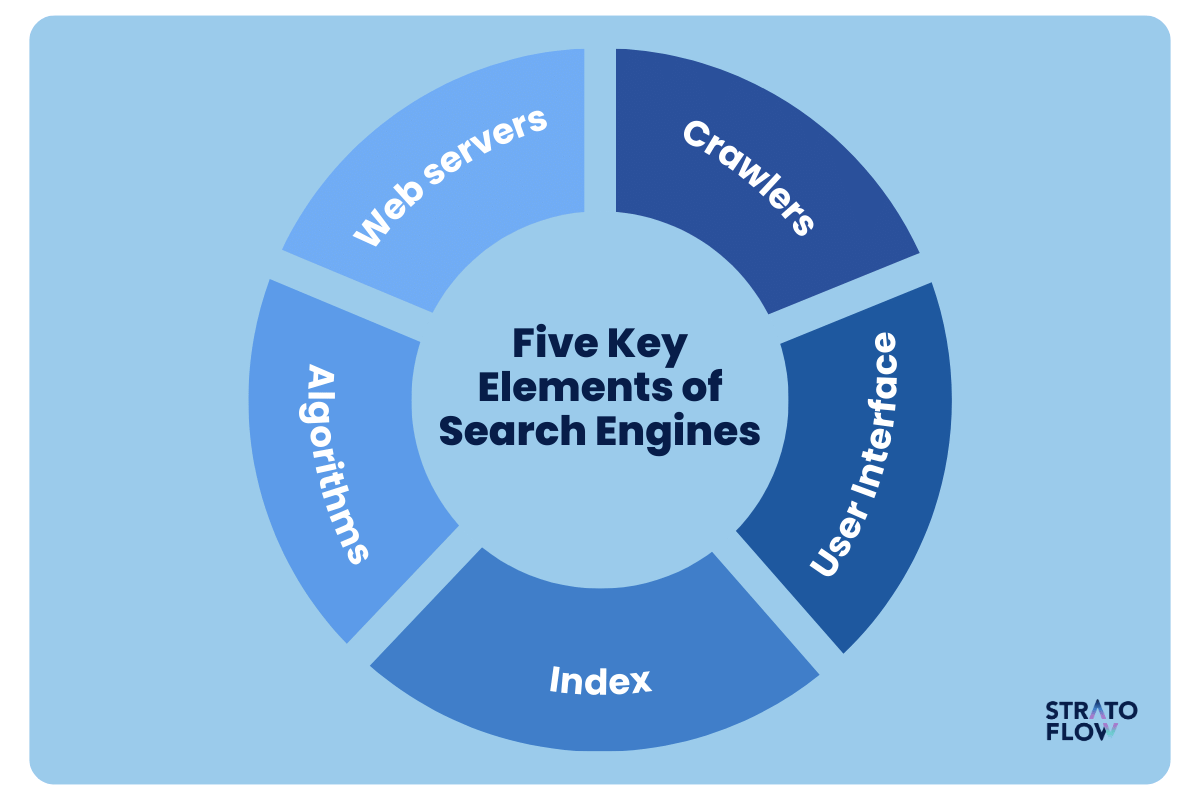 Part 1: Web servers

First, we will look at a preliminary step: understanding web servers.
They play a central role in the functionality of search engines, even though they are not a direct component of them.
A web server is a software application or hardware device that uses HTTP (Hypertext Transfer Protocol) and other protocols to respond to requests made over the World Wide Web. When a user enters a query into a search engine, the request is sent to the web server, which then retrieves the relevant data from the search engine's index and returns it to the user in the form of a Search Engine Results Page (SERP).
Web servers must manage and process many requests simultaneously to ensure that users have fast and reliable access to the information they seek. They are also responsible for securing data transmissions, managing user traffic, and ensuring that the data delivered is properly formatted and accessible across different devices and browsers.
Part 2: Crawlers (Spiders)

Even the most basic search engine must gather the data it needs to generate results.
That's the job of crawling – gathering data about websites and their pages, such as content, images, and links.
Web crawlers, also known as spiders, are automated programs or scripts that methodically and automatically navigate either a single website or the entire web (depending on the type of search engine we're building).
A web crawler visits a web page, "reads" and analyzes its content, and then follows the links on that page to discover additional pages. This process allows them to index a vast amount of different types of content, which is then stored in a database that forms the basis of the search engine's index. The information collected by the crawlers is used to update the search engine's index and ensure that it has the most current and relevant data.
Key takeaways
Purpose – Navigate the web to find and retrieve information.
Functionality – They visit webpages, "read" the content, and follow links on those pages to discover additional pages.
Part 3: Index

Once the data is collected, it's time to process and organize it, and that's where the index comes in.
The index is a huge database where all the information collected by the crawlers is stored and organized. When a crawler visits a web page, it collects various types of data, such as text, URLs, page title images, and links, and sends this data back to the search engine, which then adds it to the index.
The index is designed to optimize the speed of data retrieval, ensuring that when a user makes a query, the search engine can quickly find the most relevant information.
The organization of the index is critical to providing accurate and efficient search results because it must manage and make sense of the vast amount of data collected from across the Web.
Key takeaways
Purpose – Store and process information found by crawlers.
Functionality – It organizes the data and makes it accessible and retrievable, often optimizing it to be fetched quickly.
Part 4: Page Rank algorithm

By now our search engine has collected, processed, and organized the key information about our content.
Now comes the time for the most important part – using all the data to generate meaningful results for each individual user.
Search algorithms are complex sets of rules and calculations used by search engines to determine the relevance and ranking of pages in their index in relation to a user's query.
Different sites and engines will have different ranking algorithms. All of them take into account various factors, such as keyword density, site structure, link quality, and user experience, to evaluate and rank webpages. The goal is to provide the user with the most relevant and high-quality results for their search.
Search engines continuously refine and update their algorithms to improve the accuracy and quality of the search results, adapting to new types of content and user behaviors.
Key takeaways
Purpose: Determine the relevance of pages in the index to a user's query.
Functionality: It evaluates webpages on various factors like keyword density, links, and structure to rank them in order of relevance to the search query.
Part 5: User Interface (SERPs)

When our search results are ready, the system needs to present them to users in the most appealing and intuitive way.
The Search Engine Results Page, commonly referred to as the SERP, is the page that displays the results of a user's search query.
It typically contains a list of web pages that are relevant to the user's query, along with additional information such as snippets, images, and links to give the user a preview of the content on each page.
The SERP may also include advertisements, rich results (such as images, reviews, and additional details), and other specialized results (such as news, videos, and maps) to provide users with the most comprehensive and useful information. The design and functionality of the SERP is critical to the user experience, as it is the interface through which users interact with the search engine and navigate to other web pages.
As you can see, there is a lot going on in the background of any search engine, whether it is a smaller system serving a single e-commerce site or a huge behemoth like Google.
Keep in mind that the last two parts, content ranking and results generation, have to happen within milliseconds to ensure a sufficient user experience.
Key takeaways
Purpose: Display the results of a user's search.
Functionality: It presents the user with a list of results (websites, images, videos, etc.) that are relevant to their query.
[Read also: Documenting Software in Development Projects: Types, Best Practices, and Tools]
Personalization and performance is the key for success
Most search engines and e-commerce sites these days go far beyond just providing ordinary search results.
Instead of waiting for customers to fill up keywords in which they are interested, they choose a proactive approach – suggesting content based on users' preferences and intents.
That's why by 2023 personalization of the user experience has become the standard.
According to the latest McKinsey report, 71% of consumers expect companies to deliver personalized interactions, and 76% get frustrated when this doesn't happen. On top of that, according to Instapage, 94% of marketing professionals across multiple industries said personalization is "important," "very important," or "extremely important" for meeting their current marketing objectives.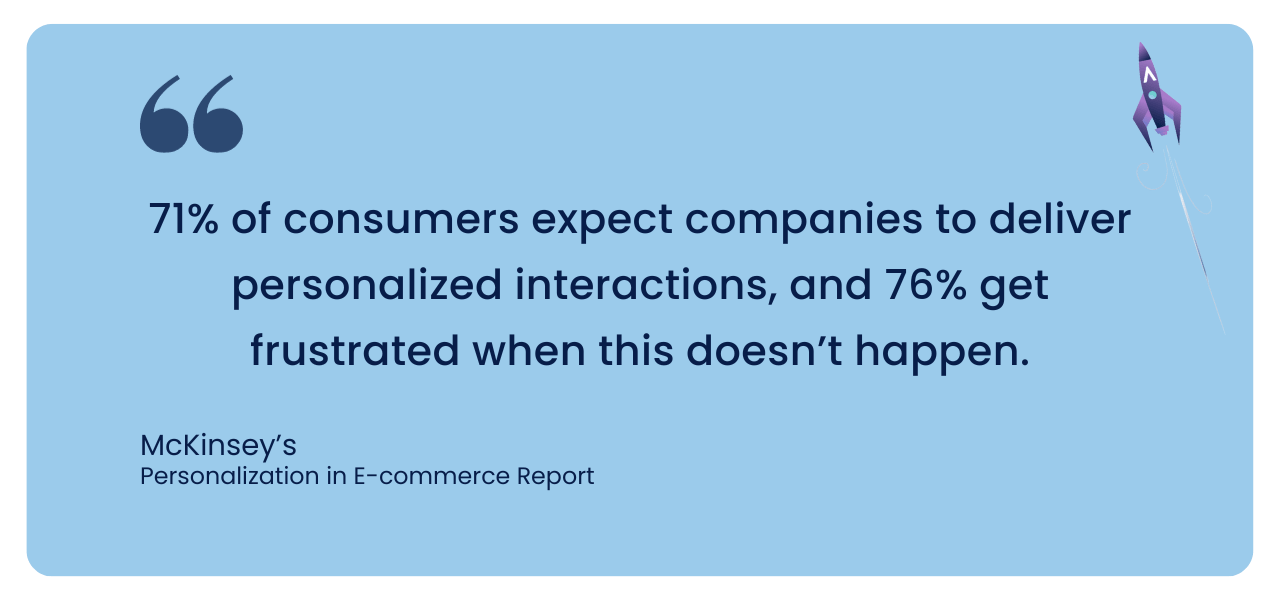 At Stratoflow, we've seen the growing importance of personalization in the e-commerce market, and that's why we decided to build Recostream – a cutting-edge recommendation engine.
Customers no longer have to type everything into a search bar!
After a short interaction, our algorithm learned each customer's preferences and generated a list of product recommendations tailored to their needs and preferences.
This solution worked perfectly with existing e-commerce search engines, improving the user experience and increasing sales by up to 10% – a true testament to the power and capabilities of personalization.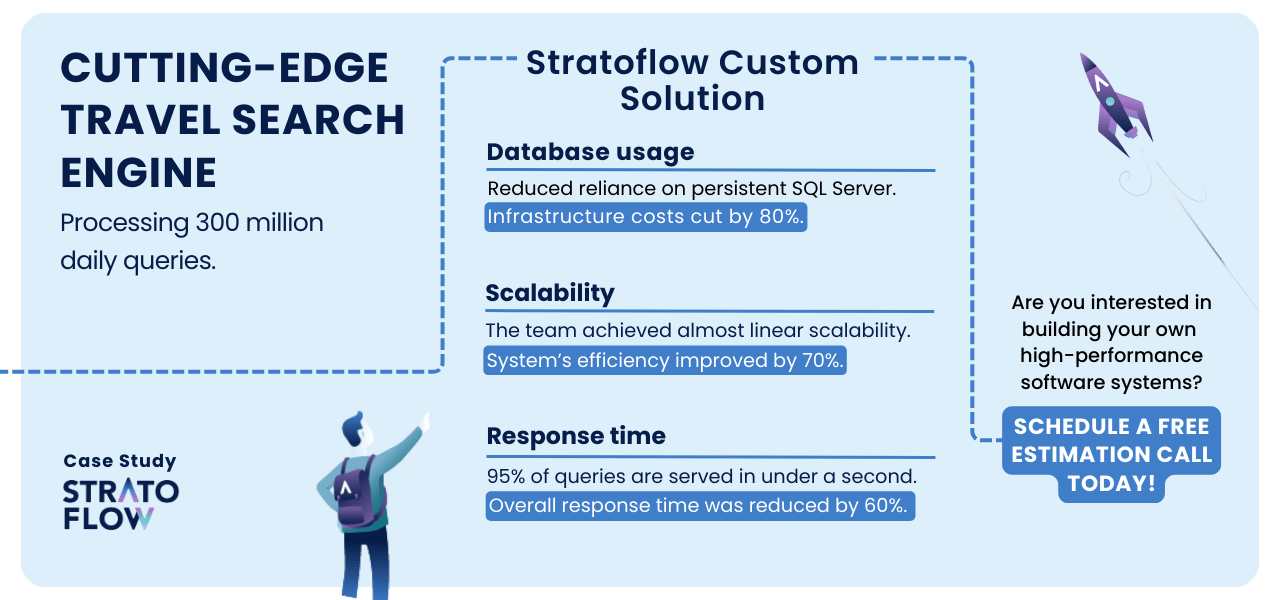 When it comes to regular search engines, one technical aspect is more important than others – software performance.
Poorly designed software architecture in search engines can lead to significant scalability problems down the line, where adding a new SQL Server machine only marginally improves throughput.
That's why when Stratoflow's developers were asked to redesign a travel search engine for a major UK-based client, they knew they had to think outside the box.
We decided to move from pure database processing to an in-memory data grid (IMDG) platform and introduce a fast data loading mechanism and message queue for intra-day data updates. This approach allowed us to achieve almost linear scalability and improve the efficiency of the system by almost 70%.
Building your own search engine software – step-by-step process
Building search engine software is a complex task that involves various technical and design considerations.
Here's a simplified five-step process to give you a basic understanding of how one might go about building their own search engine: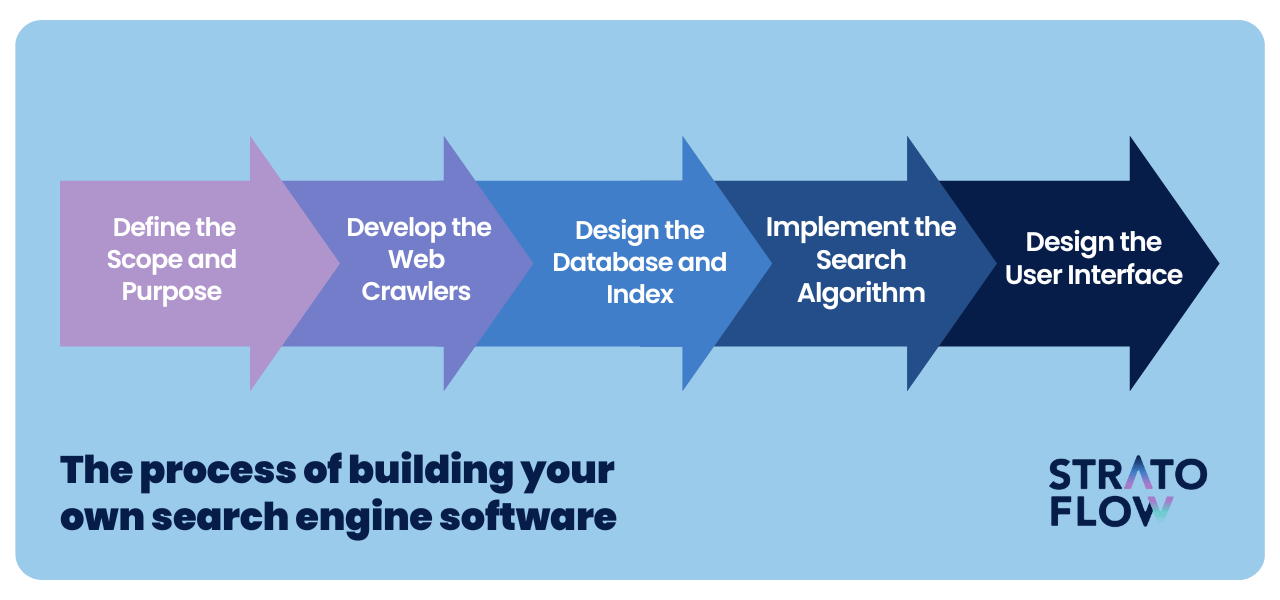 Step 1: Define the Scope and Purpose

As with any software development project, building your own search engine should begin with defining the scope of the project and its desired functionality.
This includes identifying the primary goals, such as whether the engine will serve general search purposes, like Google, or serve a specialized niche, such as online travel agencies or e-commerce.
Understanding and defining the target audience is paramount, as it influences not only the software design and user interface, but also the underlying functionality and algorithms. This fundamental step ensures that subsequent development is focused on the intended purpose and adequately serves the user base.
[Read also: SDLC Guide: Software Development Planning Stage Explained]
Step 2: Develop the Web Crawlers

Developing web crawlers, or spiders, is the next critical step in programming automated bots to navigate the web and collect relevant data.
Using programming languages such as Java and libraries and tools such as SpringBoot, Openkoda, Crawler4j, and Jsoup, developers create crawlers capable of collecting various types of data, including web page content, metadata, and links.
The crawling strategy must also be defined, determining the depth and breadth of crawling, such as whether to navigate only top-level pages or explore deeper into sub-pages to ensure comprehensive data collection.
Step 3: Design the Database and Index

The design and implementation of the database and index are critical to storing and efficiently retrieving the data collected by the crawlers.
Developers need to choose an appropriate database system. NoSQL database systems, such as Elasticsearch, may seem like the most obvious choice, but it should be based solely on the project's requirements analysis.
The data must be structured and organized in a way that facilitates fast and accurate retrieval, which requires the creation of an index that effectively sorts and structures the data. Strategies for regularly refreshing and updating this data ensure that the search engine delivers current and relevant results.
Step 4: Implement the Search Algorithm

Search algorithm implementation involves the development of computational rules and procedures to determine the relevance and ranking of pages in response to user queries.
This includes creating algorithms that evaluate page relevance based on various factors such as keyword matching and link analysis, and determining how results are ranked based on aspects such as keyword relevance, page quality, and user behavior.
In addition, developers can incorporate elements of personalization, tailoring search results based on user behavior, location, and other relevant factors to improve user experience and satisfaction.
Step 5: Design the User Interface

At last we come to the user interface design – an integral part of providing an intuitive and user-friendly experience.
This step involves creating a design that is not only visually appealing, but also easy to use, considering aspects such as how search results are displayed and how users enter queries. Ensuring that the design is responsive and accessible across devices and screen sizes is critical to serving a broad user base.
Implementing mechanisms for user feedback, problem reporting, and search refinement allows the search engine to continually evolve and adapt to user needs and preferences, ensuring ongoing usability and relevance.
How much does it cost to build a search engine?
Building a search engine can be a complex and resource-intensive task, and the cost can vary widely based on the scope, features, and scale of the project. Here are some factors that can influence the cost of building custom software like a search engine:
Scope and Scale
Small-scale Search Engine: A basic, small-scale search engine (e.g., for a website or a small database) might require less investment, potentially ranging from a few thousand to several tens of thousands of dollars.

Medium-scale Specialized Search Engine: A specialzed search engine (e.g. for a particular niche) may cost between hundreds and millions of dollars.

Large-scale Search Engine: Building a comprehensive, large-scale search engine similar to Google or Bing would require a massive investment, potentially running into billions of dollars over time due to the need for extensive infrastructure, data centers, and advanced technologies.
Technology and Infrastructure
Hardware: Investment in servers, data centers, and related hardware can be one of the major costs, especially for a large-scale search engine.

Software: Costs related to software development,

tech stack

, purchasing licenses, and utilizing cloud services.

Maintenance: Ongoing costs for maintaining and upgrading hardware and software.
Data Acquisition and Management
Data Crawling: Developing or utilizing web crawlers to index the web or specific databases.

Data Storage: Investing in storage solutions to handle the massive amounts of data collected.

Data Processing: Implementing data processing and analytics solutions to manage and utilize the data effectively.
Algorithm Development
Research and Development: Costs related to developing, testing, and refining search algorithms.

Machine Learning: Implementing and training machine learning models to improve search results and user experience.
User Interface and Experience
Design: Costs related to designing the user interface and user experience.

Front-end Development: Implementing the design and ensuring the search engine is user-friendly and accessible.
Legal and Compliance
Legal: Ensuring that the search engine complies with laws and regulations, including data protection laws.

Licensing: Costs related to obtaining licenses for various technologies, data, or content.
Ongoing Operations
Operational Costs: Day-to-day operational costs, including electricity, internet, and other utilities.

Support and Customer Service: Providing support to users and addressing their queries and issues.
If you're considering such a project, you can contact Stratoflow for a free estimation call.
Work with professionals
Let's face it – search engine development is no easy feat.
Unlike more straightforward programming projects, search engine development requires expertise in web crawling, data indexing, algorithm development, machine learning, and user interface design, among other areas.
Each of these areas presents its own set of challenges and complexities, making the overall task of building a search engine quite daunting.
The importance of developer experience cannot be overstated.
Developers with prior experience building search engines or similar technologies are likely to have encountered and overcome numerous challenges that can arise during the development process.
These include handling large amounts of data, ensuring efficient data retrieval, developing accurate and effective search algorithms, and creating a user-friendly interface. Specialized knowledge, particularly in areas such as natural language processing, machine learning, and data management, is also critical to developing a sophisticated and effective search engine. For example, implementing features such as semantic search, personalized results, or voice search requires a deep understanding of specific technologies and methodologies.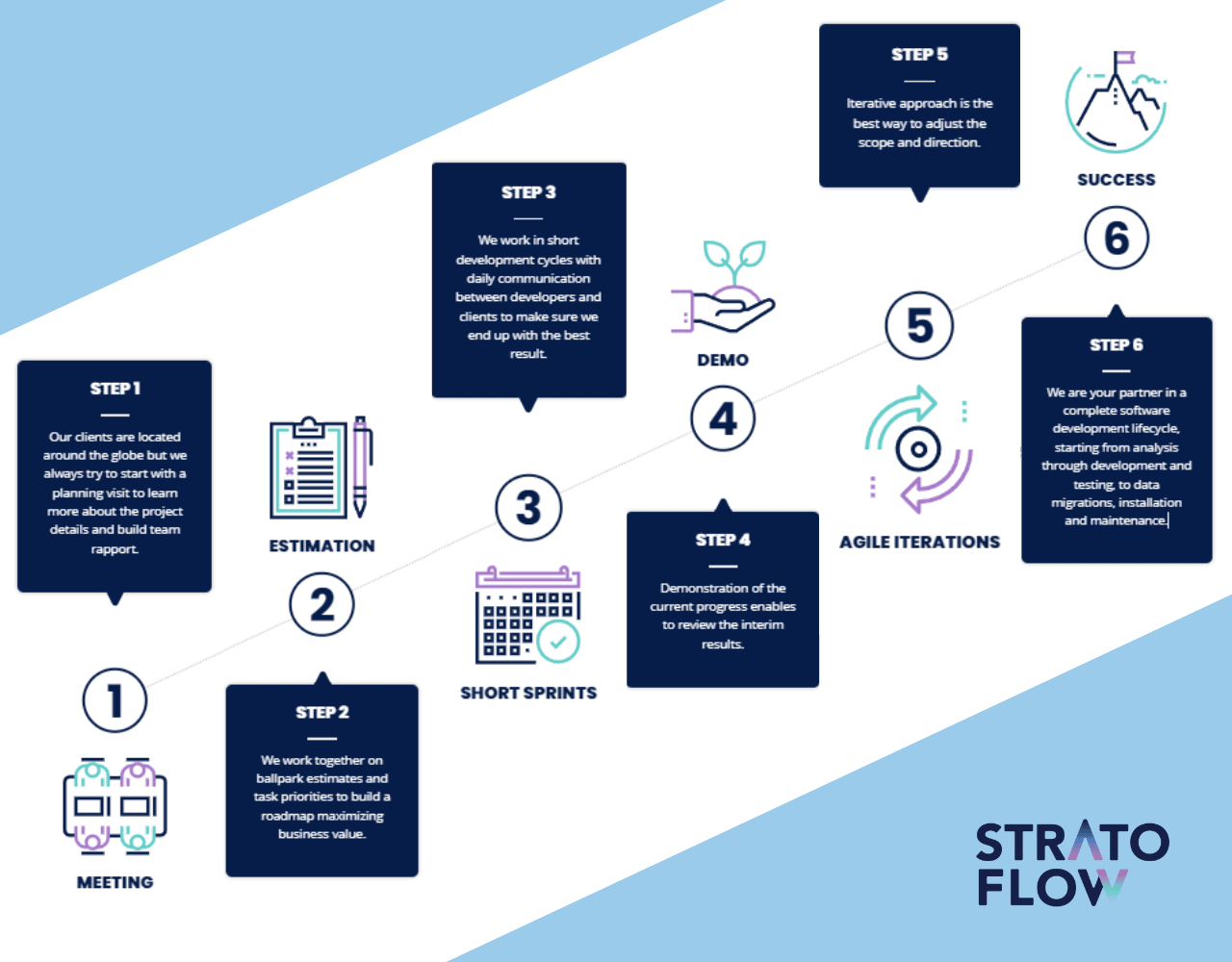 Only developers with specialized knowledge and sufficient experience in these areas can use their expertise to create more advanced and innovative features that differentiate the search engine from existing solutions.
If you are considering building your own custom search engine, contact us and schedule a quick introductory call! Our high-performance software experts would love to hear about your plans and would be happy to assist you with your custom software development project.
Conclusion
In summary, building a search engine is a meticulous amalgamation of sophisticated algorithms, data management, and user interface design, each of which plays a critical role in delivering accurate and relevant search results.
Hiring developers with the necessary experience and expertise is paramount to ensuring that the complexities of web crawling, data indexing, and algorithm development are handled with expertise and precision.
Ensuring continuous refinement and updates post-development will further enhance the search engine's effectiveness and user satisfaction, solidifying its utility and reliability in the digital space.
We are Stratoflow, a custom software development company. We firmly believe that software craftsmanship, collaboration and effective communication is key in delivering complex software projects. This allows us to build advanced high-performance Java applications capable of processing vast amounts of data in a short time. We also provide our clients with an option to outsource and hire Java developers to extend their teams with experienced professionals. As a result, our Java software development services contribute to our clients' business growth. We specialize in travel software, ecommerce software, and fintech software development. In addition, we are taking low-code to a new level with our Open-Source Low-Code Platform.