Blog
From the inside
StratoStory
If you know exactly what programs you want to write, it is probably best to choose Java. Interview with Grzegorz, Senior Java Developer
Another episode in the StratoStory series, in which we showcase profiles of our team members. In this conversation, you'll learn how the IT industry has changed over the past 14 years, what to consider when choosing your main programming language, how to master your programming skills, and much more! All this is told to us by Grzegorz Krystosek, Senior Java Developer, husband, father of three, fan of travelling (especially to warm countries) and tinkering at home.
What is your day at work like? What do you do?
I am a member of a large project for a UK client. I am the coordinator of the part of the team that deals with the core part of custom software development. We are responsible for maintaining and developing basic functionalities and for adding new features to existing solutions.
Apart from coding, which is the main part of my daily duties, I participate in the project from the organizational side. I take part in planning with the client, programming analysis and software design.
Read also: Working environment in Stratoflow: 12 questions to the CTO and cofounder Arkadiusz Drysch
How many years have you been a programmer, and how did your adventure with this profession begin?
I have been in the industry for 14 years. After college, I didn't have any programming experience. I graduated from the electronics department at the technical university, but I always wanted to develop in the field of programming. Immediately after graduation, I was hired by an outsourcing company and this is how I found myself in a large corporation as a tester. Less than a year later, the name of my position was changed to a Java developer. Back then, there were no such nomenclatures as Junior, Senior, but it was like that. I took my first steps there, and I am a Java developer to this day.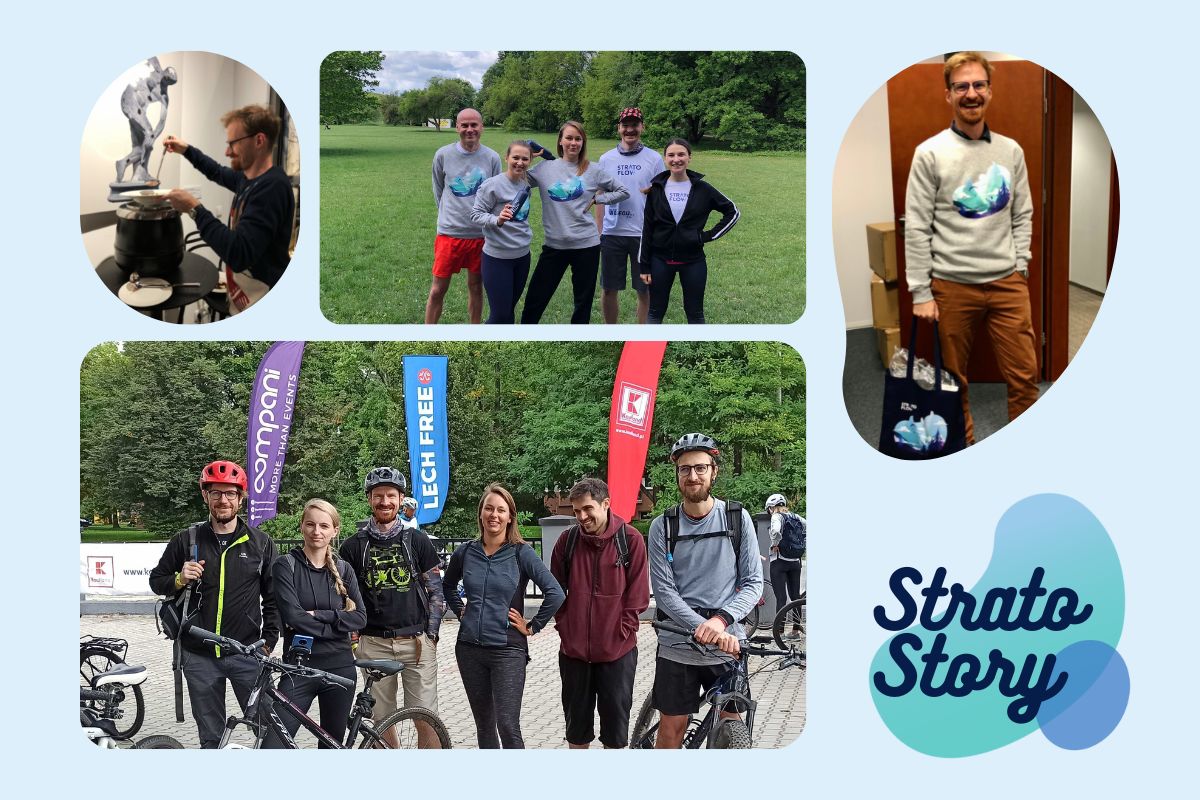 Why did you choose Java?
At the end of my studies, for my MA thesis, I needed to write an application to do some measurements. A colleague of mine who was more experienced gave me the idea to use Java. After that, I dreamed of developing in this direction, and I was looking for a job.
And what would you, after 14 years in the industry, recommend to someone who has to choose a programming language?
The language you choose depends on what you need it for. There is a lot of interest in Python right now. Before, there was a lot of hype on Ruby on Rails. But it lasts several years and then other solutions are replacing it. In my opinion, if you know exactly what programs you want to write and know that you want to go into business programming, it is probably best to choose Java. It seems to me that it is now a business and enterprise standard, because Java is considered a stable and efficient technology. The Java developers market is so large that there will always be a specialist who will be able to work on a given project. In addition, Java is a flexible tool that can be applied to many projects. There are also Java enterprise frameworks that can be used for a variety of requirements.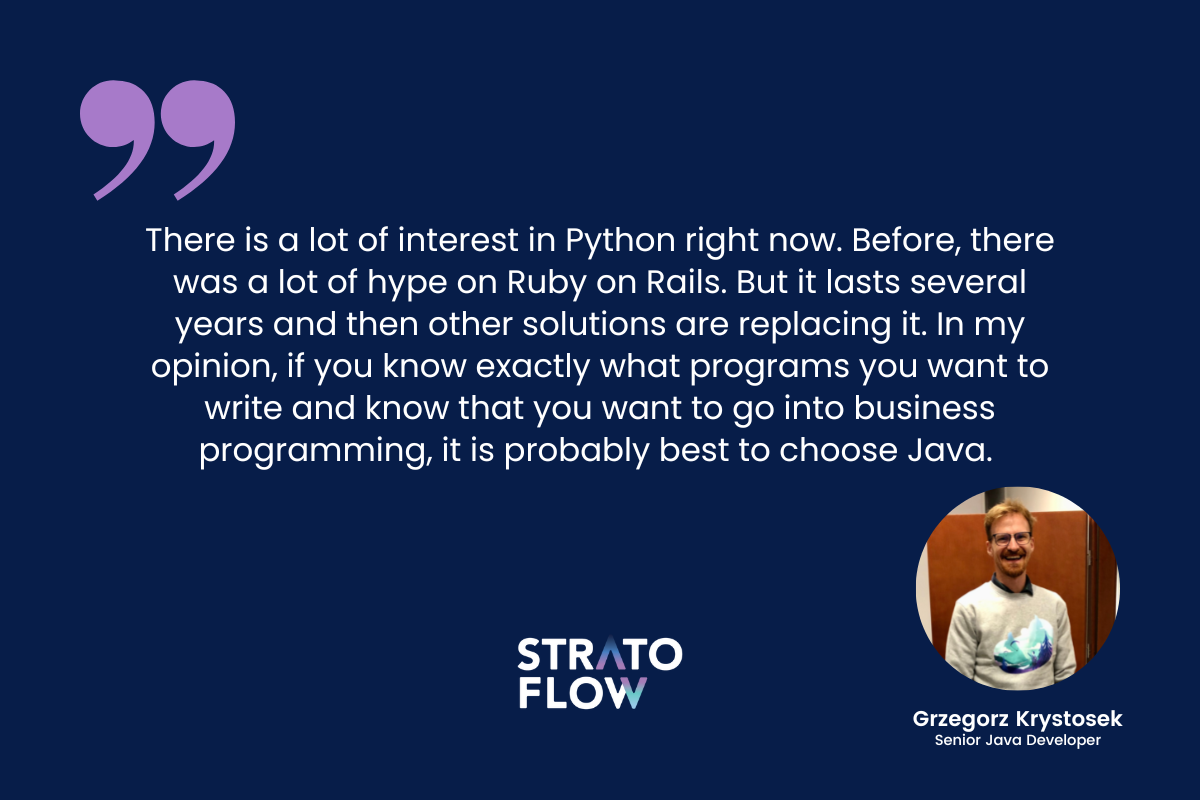 How do you think the industry and the job market for programmers are changing?
Certain changes in the industry have, of course, been caused by the pandemic. The biggest change is related to the transition to remote working. This opens up new employment opportunities, because you no longer have to live in large urban centers to find a nice job. Additionally, the IT sector was not affected by major restrictions. It is a stable industry and there have been no significant turbulences.
However, when it comes to changes in the labor market that I have observed over the years, around 2008, when I entered the market, most of the people who worked in the IT industry had technical diplomas. Today, people often change professions and look for employment in IT after completing other studies. In the past, there was a lot of uncertainty for non-technical people in terms of the employment prospects, and now our industry is very open and inclusive. Currently, you can get your first experience at training courses, bootcamps, and learn programming through online platforms, etc.
Read also: How to Be a Good Developer: 20 Practical Tips From Our Senior Programmers
What would you advise a person who has not graduated from computer science and would like to learn programming?
I am not very familiar with the tools that are currently popular for online learning. But sure, you can do an Internet course, there are plenty of them on the Internet. However, in my opinion, to gain experience without working yet, it is worth taking part in open- source projects. I would recommend going on Github and looking for a project that is developed with the use of the technology you are interested in. It's a very open community. It is worth talking to the authors of the project or other people who maintain the project and ask what can be done as a beginner. If the project is open, anyone can become a collaborator. This way, you can learn a lot working on a specific project and see the real effects of your work. Later, such experience will certainly be appreciated by a potential employer.
Which project in Stratoflow have you enjoyed working on the most and why?
I have been with Stratoflow for 5 years and I work on the same project all the time. But the most interesting moment in the project was the opportunity to work on a new solution for a specific client. It was cool because it was a different kind of work, a springboard. Back then, I was working closely with our business analyst, Michalina. I also liked that we were building a project from scratch within an existing project. It gave me a lot of satisfaction, as well as a chance to get to know another client's new industry.
Thank you!
We are hiring! Join us as a Senior Java Developer and code cool stuff with cool people.