Blog
From the inside

Zuzanna Pajorska
Mar 16, 2022
We are Stratoflow now. The rebranding story of our software development company
Codedose is reborn as Stratoflow.
We are a software development company with nearly 10 years of experience in providing high-performance software solutions and services. During this time we have evolved in various areas, that is why in 2021 we decided to continue our journey under the new name. This is our rebranding story.
In this article, we bring the whole process closer so that you can get to know us better. We would like to walk you through our rebranding story from the very first step of reconsidering our values and aims, through redesigning our brand identity completely, to the conclusions we reached 6 months after the successful launch.

Why have we rebranded?
We have grown up as a team, we have become stronger and gained a different perspective. So by changing the company name, we wanted to convey a clear message. Stratoflow refers to the stratosphere and symbolizes the desire to rise above the clouds and look from a higher vantage point. And that's the idea that reflects who we have become.
We asked Michał Głomba, the CEO of Stratoflow, to briefly describe the main reason of the rebranding:
The rebranding is only a visual representation of many fundamental changes that we consistently introduce in order to employ top class specialists to be able to implement the most inspirational and developing projects.
Our brand story — from Codedose to Stratoflow
Let's take advantage of this moment and look back to the very beginning. Codedose company was founded in 2013 by two friends from Wrocław, Arkadiusz Drysch and Michał Głomba. The main idea was to create the best working environment for top-notch Java developers who like working together.
The beginning was both a bit provisional and exciting.
The first year was about intensive networking and implementing the first projects — most of them ongoing and still productive.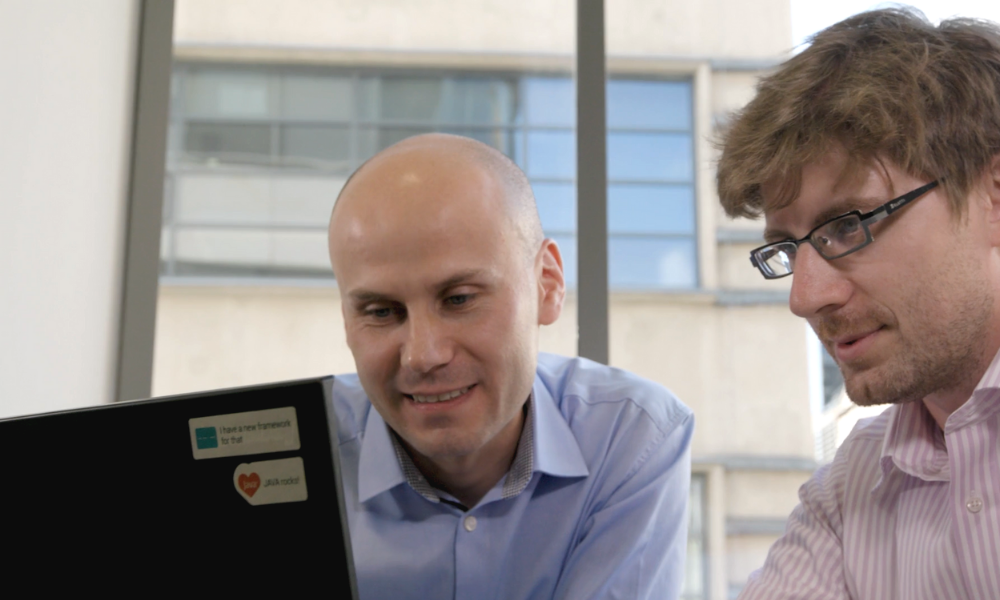 The first office was 45 sq m, and all the company's assets were several computers and the cheapest desks. We also had two large rack HP servers (running on the IKEA LACK table in accordance to best practices). They worked great, unfortunately they were very loud, especially when processing data on both machines at the same time.
The co-founder, Michał, summarizes the old times:
I am extremely grateful to the people who trusted us then - my and Arek's enthusiasm was probably our greatest asset. :)
We also asked Piotrek, who works in Stratoflow the longest, how he remembers the company over the time. He shared the following anecdote with us:
Over the years, the company has had three locations. In the first one, in summer, it was so hot that four large fans were constantly on. So it was hot and loud (additionally it was loud because there were major renovations in the nearby or rather a total demolition and the traffic noise from the street).

In the second location, it was so cold in winter that we had electric heaters under the table that warmed our feet. The third and current location was supposed to be luxury, because, as Michał said, there was very soft toilet paper there. And he was right. :) The spot is awesome!
Read also one of our StratoStory: How to Switch Career to Business Analyst – Interview with Michalina
Over time, the company has gained a unique experience building advanced pieces of high-performance software for numerous clients, mostly from Great Britain, United States and Western Europe.
Codedose has become a highly specialized software development company, recognized by Deloitte and Financial Times as a one of the Europe's fastest growing companies.
Piotrek shared the point of view of the longest working developer:
The company has changed significantly. From a small startup to a serious software development company. But there has always been a very friendly atmosphere here.
Apparently, the main goal is accomplished — our company is a team of great Java experts who enjoy working together and a stable workplace, full of challenges, inspirations and great collaborations. The fact that the retention rate is only 7% annually speaks for itself.
In 2021 came out with the concept of rebranding process since it is a natural part of company's evolution.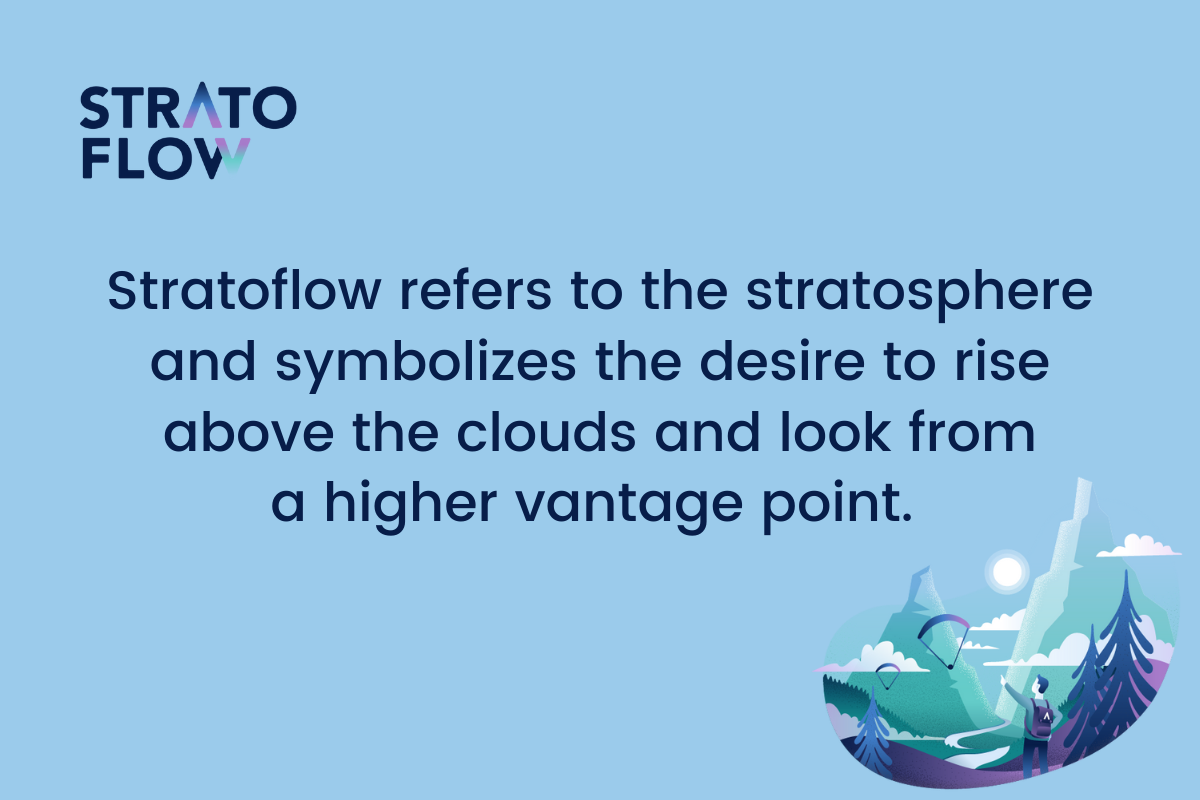 Who we are and what we do now
We are a team of Java experts who design high-performance systems so that our clients' businesses are always ahead of their competition! The software architecture we offer is fast, highly efficient, and reliable. By using our advanced solutions, customers gain plenty of precious time.
Our team consists of nearly 30 talented developers who have accumulated domain knowledge in many industries, such as finance, travel, e-commerce, healthcare, and Industry 4.0.
We have designed, developed, and implemented customized software solutions for international clients ranging from hyper-growth small businesses to global Fortune 500 corporations.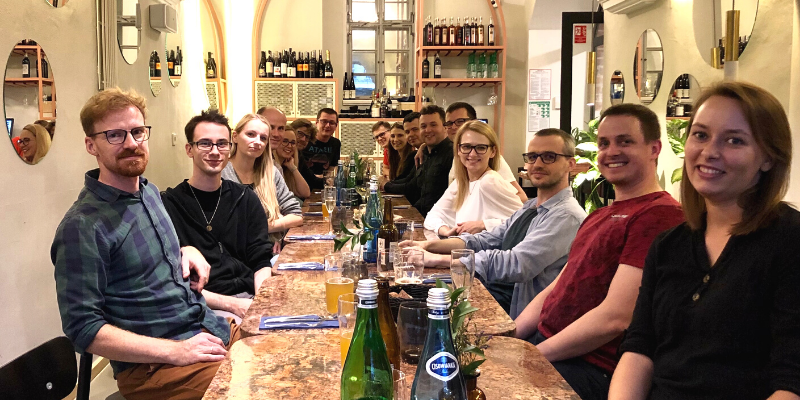 Read also: Working environment in Stratoflow: 12 questions to the CTO and cofounder Arkadiusz Drysch
Our Rebranding Process Step By Step
We started a rebranding process in spring 2021 with the approach of slowly and consciously implementing each rebranding phase. We went for a brand overhaul, and by that we mean a total brand makeover! Let us walk you through the whole process.
Step 1: Defining our values, mission, and vision
Values
As mentioned before, some things cannot be changed, and our company's core beliefs are one of those things. However, with the big rebranding, we challenged ourselves and decided to determine values we identify with and finally name it properly.
So we asked ourselves a question: what truly makes us like working together. And we dedicated plenty of time to answer it thoroughly.
As a result, we defined the values we all identify with:
Craftsmanship – making sure that the solutions we create satisfy both the client and our engineering spirit.
Collaboration – a spirit of cooperation and understanding the fact that only by working as a team we are able to create something worthwhile.
Transparency – sharing information, being open to giving and receiving constructive feedback.
Responsibility – a sense of responsibility for our work, a proactive approach.

Mission
We apply our strong technical experts' opinion in building high-performance integrations and scalable data processing systems. Our systems are able to process a million of queries every second!
We help companies to collect, process, share and learn actionable insights from their data, enabling them to make solid and justified business decisions.
Vision
We deliver well-tailored software solutions to create a measurable advantage for our clients.
The software we develop is fast, efficient, and scalable. The businesses using our custom solutions are never delayed. In fact, they always keep up with the times.
Read also: How to Choose a Software Development Company [CHECKLIST]
Step 2: Conducting an employee survey
Involvement of every team member in the rebranding process is fundamental. Couple of months before the official rebrand during the company quarter meeting online, the management took up the topic.
Let's be honest – conducting a rebranding remotely is quite a challenge, but fortunately the new branding idea met a warm welcome and curiosity.
After that, we run an anonymous survey to get to know the employees' opinion about the working environment. First, we asked what are the most important issues in the working place.
Top 5:
The team
The career development
Flexible working hours
The possibility to learn new things
Satisfaction
Then, we asked what they like Stratoflow from the most: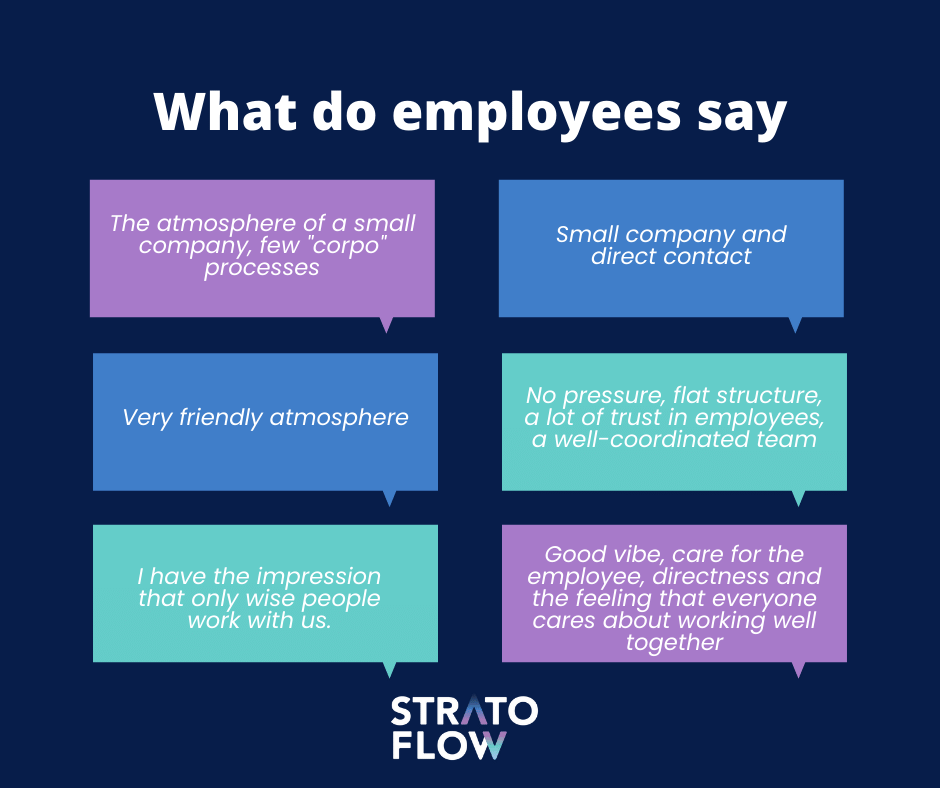 The overall result of the survey confirmed the thesis that the key assets of Stratoflow's work culture are a friendly environment and a great team. Employees value a lot the cozy and intimate atmosphere that is being created from the beginning. Even though the company has grown, the principles remain the same: we code cool stuff with cool people.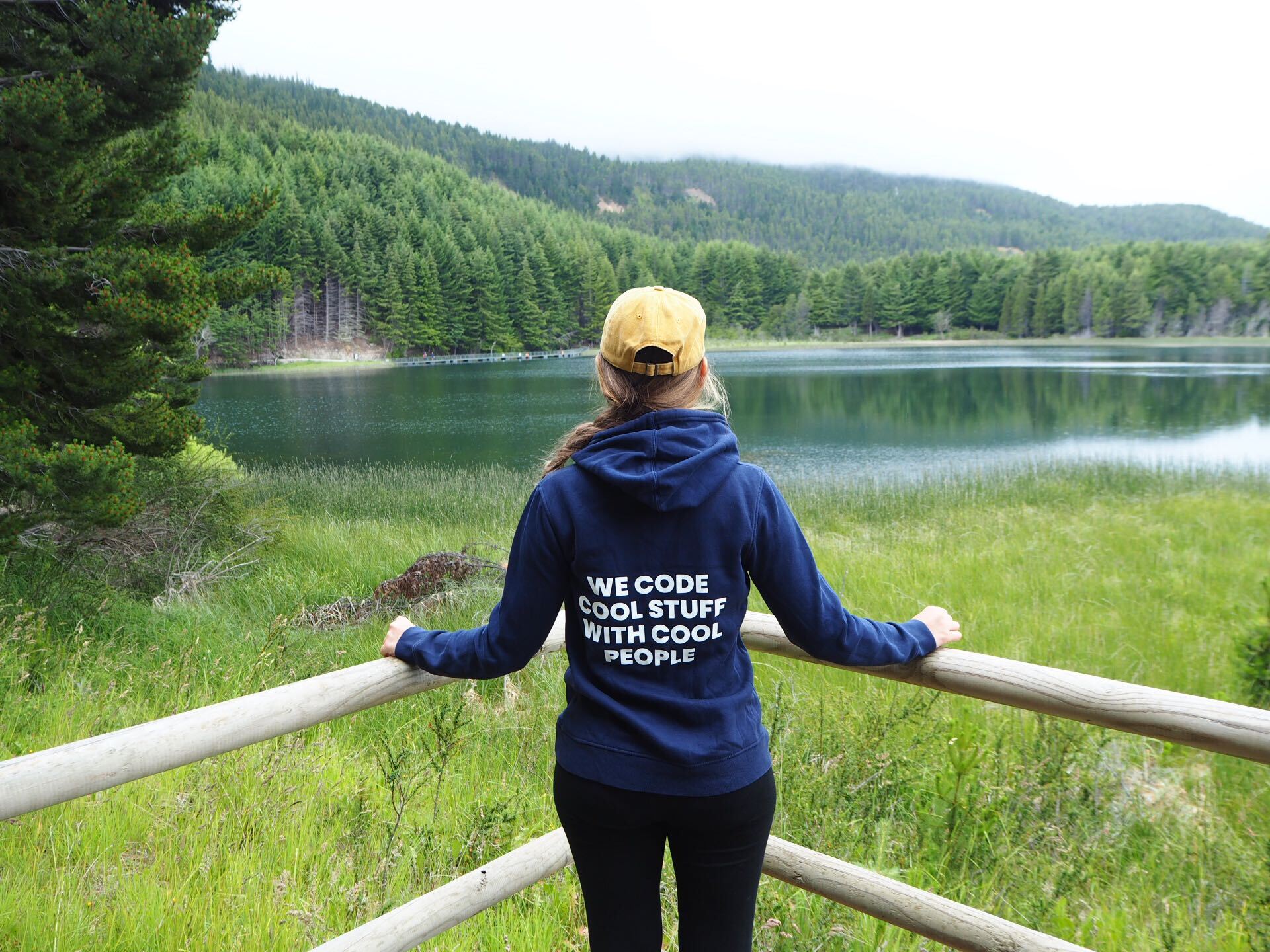 Step 3: Introducing a new visual identity
We wanted to express the company's evolution with a new visual identity. Therefore, we started a collaboration with a Wrocław-based creative agency, Mohi.to. We spend some time together on an intense brainstorming, so they could meet us better and be able to reflect the company character.
An extremely professional Mohi.to team was able to perfectly define our brand personality. The creation of new branding ideas, logo variations, and new website layout was far beyond our expectations. We had no doubt that the new brand assets reflect our value proposition.

New logo and brand guidelines
Our old logo was replaced with a new representation of the idea that stands behind Stratoflow brand. Mohi.to branding experts explain the concept:
The letters "A" and "W" are marked with arrows, symbolizing the flow of data, ideas and relations.

The letter "A" is higher than the others, which additionally suggests dynamics, growth, development and indicates the "upward" direction. The opposite direction of the arrows refers to the idea of expanding perspectives and possibilities.

The color palette is based on shades inspired by the sky and its layered structure.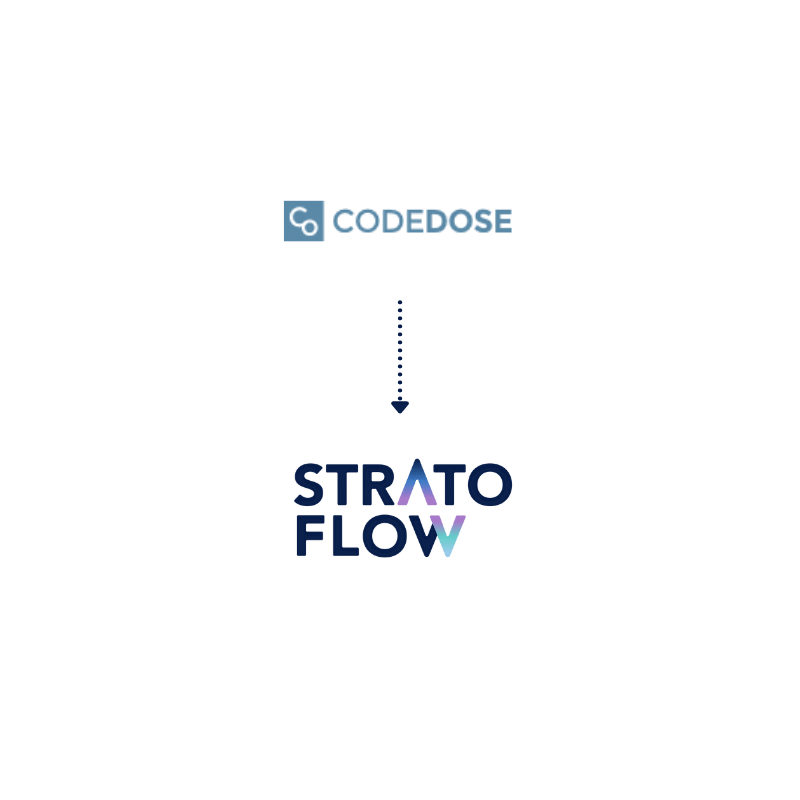 The fruit of our collaboration with Mohi.to was compiled in the form of a brand guideline. It allows our marketing team to maintain the brand integrity, consistent corporate image, and a new brand voice.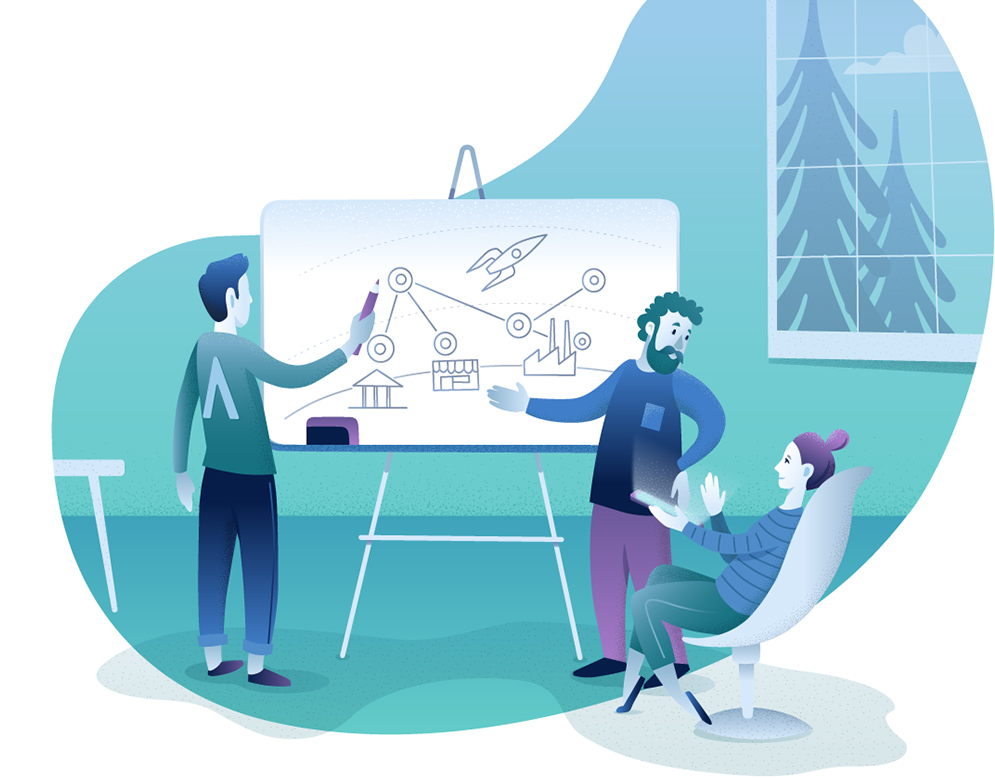 Step 4: Improving an internal communication
The next step in our the rebranding process was to facilitate communication between employees, and clients. Due to the pandemic, the whole company went remote, so there was an urgent need to rearrange existing way of work management.
Tools we use on daily basis
Meetings
In Stratoflow, as elsewhere in the world, we run our daily and weekly meetings online. Google Meet turned out to be the most handy and convenient tool for calls, all-hands meetings, and online integration events.
Projects and work management
All in one place. During our rebranding process, we migrated our internal projects from good old Jira to ClickUp. Some external projects naturally are still managed via other tools, depending on clients' expectations.
We use ClickUp for managing project, tasks, time tracking as well as for an internal documentation.
Communication
No surprise! Slack is the main tool for instant messaging in our company. It is undeniably the easiest way to quickly discuss smaller issues within the team or set up an appointment.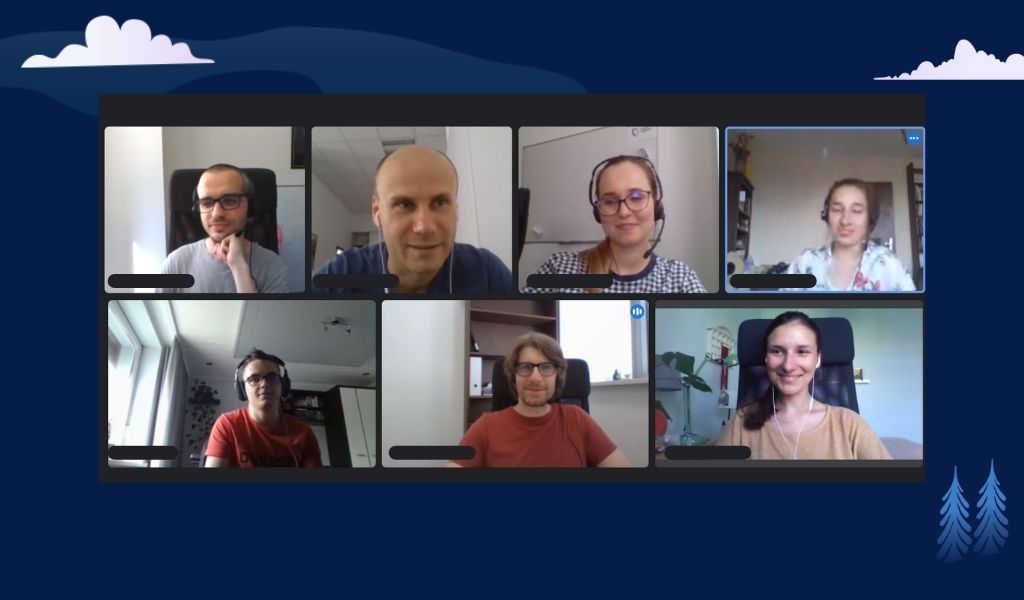 Step 5: Launching a blog run by high-performance software experts
Since the Stratoflow team is full of exceptional specialists, we decided to create a space where we all collectively can share the knowledge with IT freaks and new technology lovers. All talented developers who were willing to co-create this project were invited to propose a topic or share their experience.
That is how a new expert blog under the Stratoflow brand was launched.
Since then, we have published a couple of insightful articles that are more than worthy mentioning.
For instance, Michał Nowak, Java Developer, shared some insights from the project where he is helping a non-goverment organization Otwarte Klatki with a digital transformation process.
Tomasz Gawęda, Senior Designer/Developer, also shared his story. On our blog you can learn how has he become a Hazelcast Hero by contributing to an open-source software!
One of our most exciting project is a series of articles about multi-tenant architecture for SaaS applications. Our experts cover the topic based on their own experience in introducting a multitenancy to applications.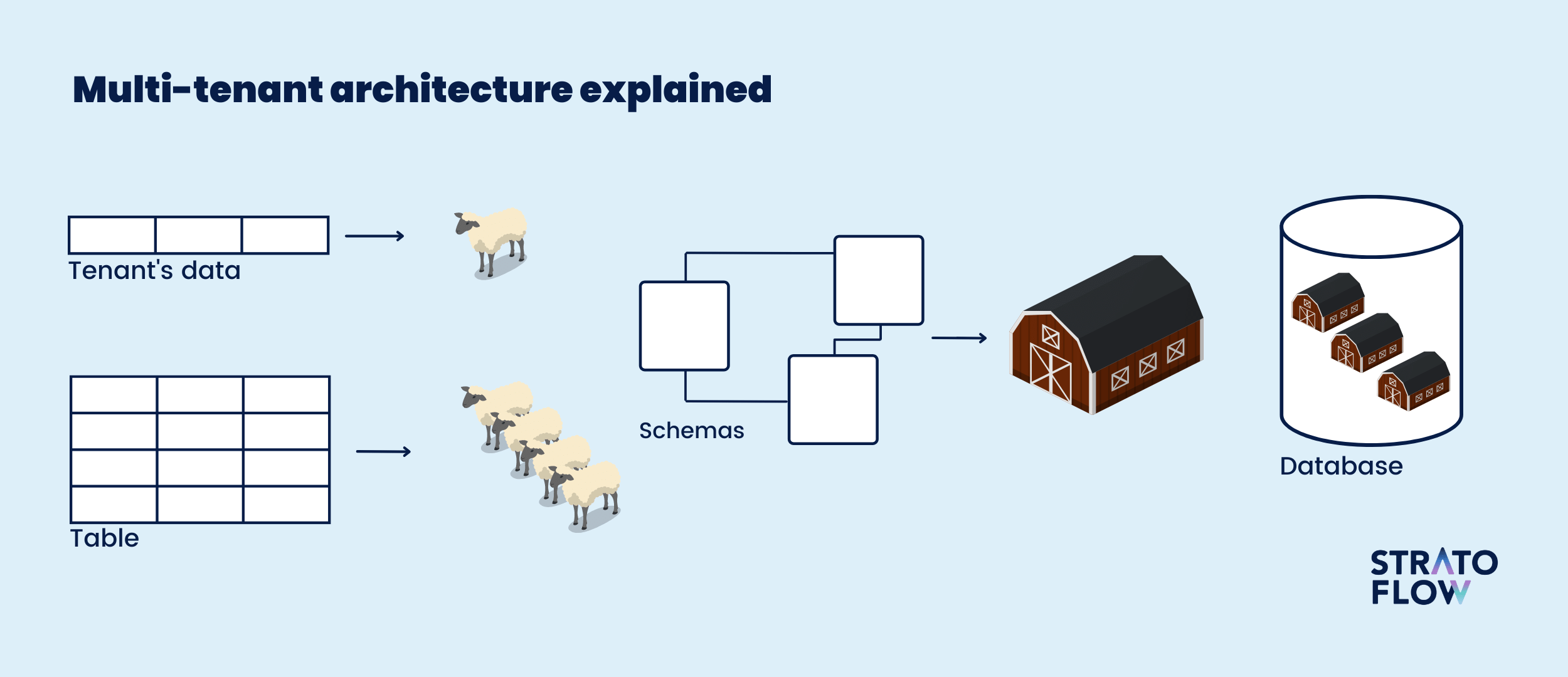 Step 7: New gadgets and welcome packs
We have reached the fun part!
Our marketing team did their best designing and ordering customized pieces of clothes and handy gadgets with our Stratoflow logo and new brand colors.
During one of our integration meeting, all employees received a package with a sweatshirt, laptop backpack, bag, and a thermos bottle! And now we welcome new employees with a brand-new gift pack!
It was like a cherry on the cake of the long rebranding process!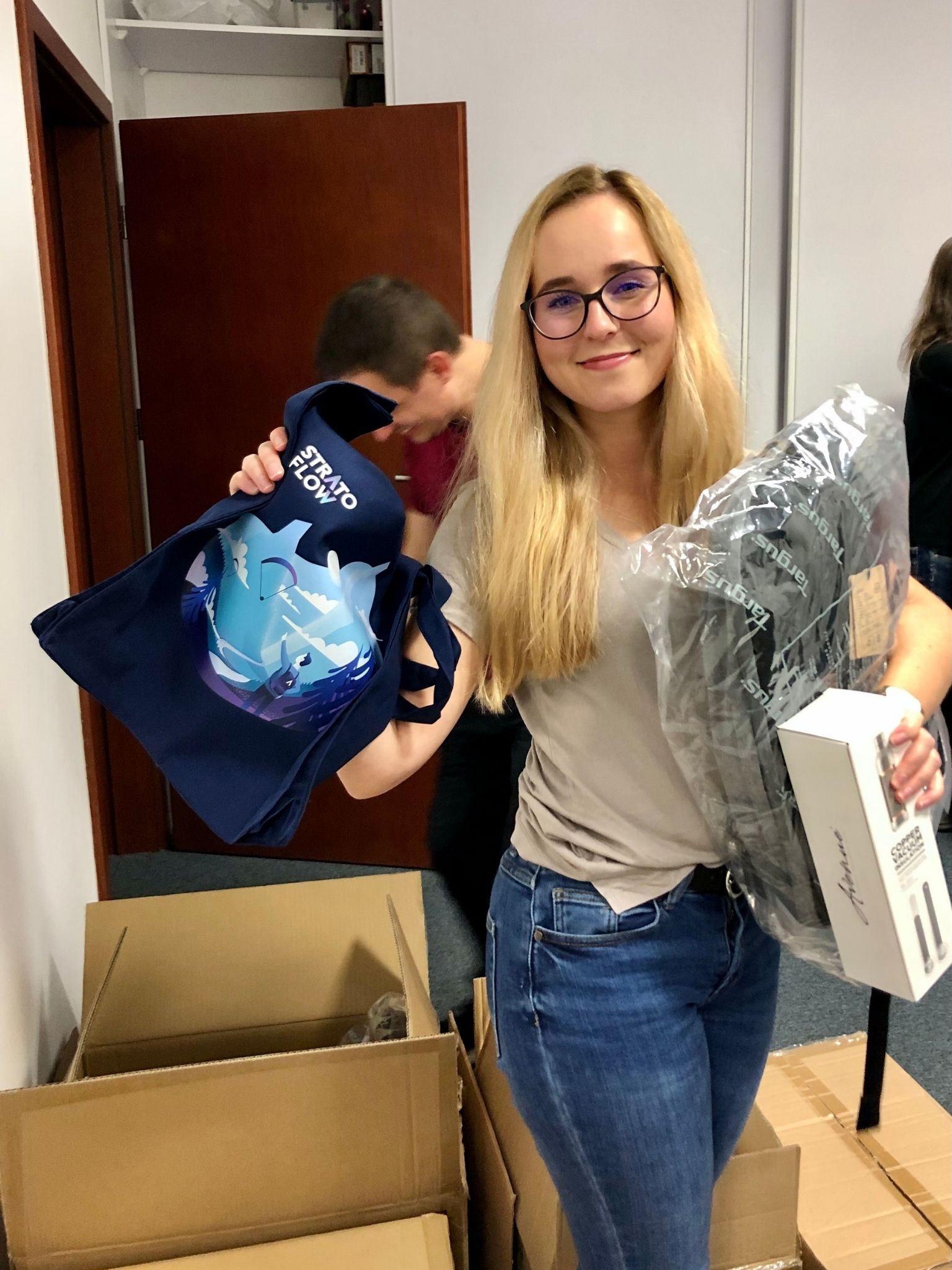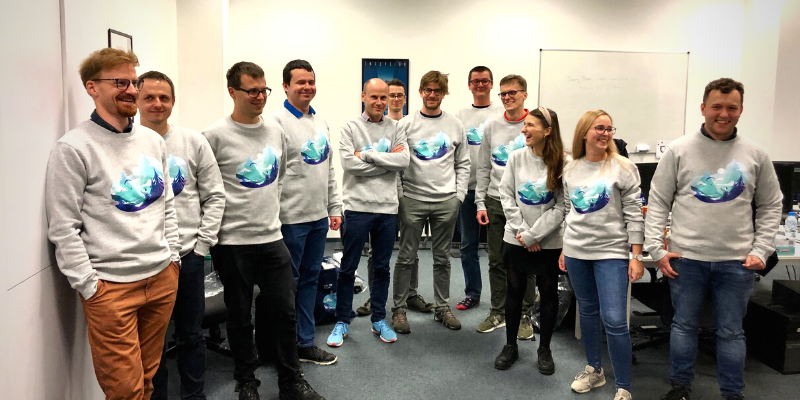 Step 8: Photoshoot
A couple of months after the rebranding, we organized the very first professional company's photoshoot! For more photos, check the career page and get to know us a bit better! 🙂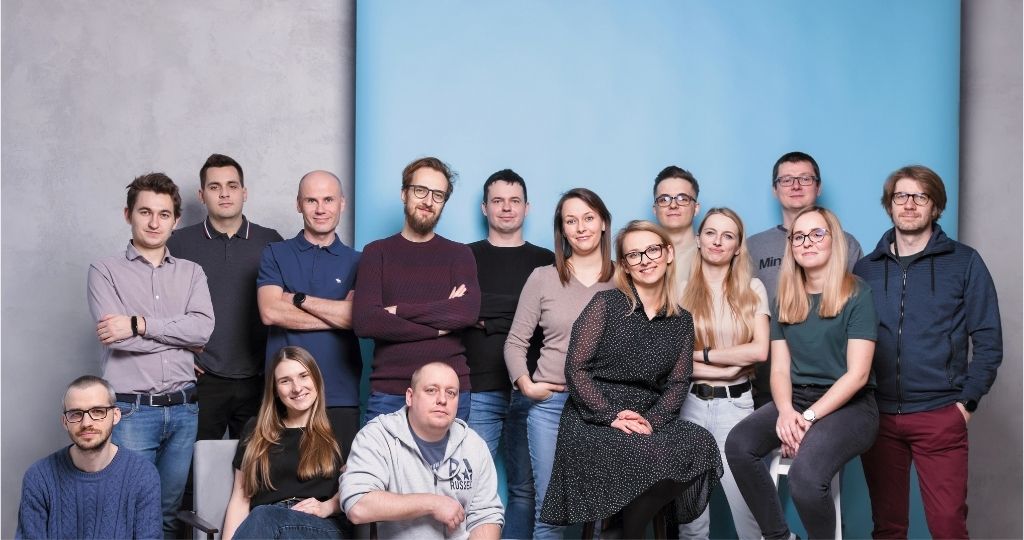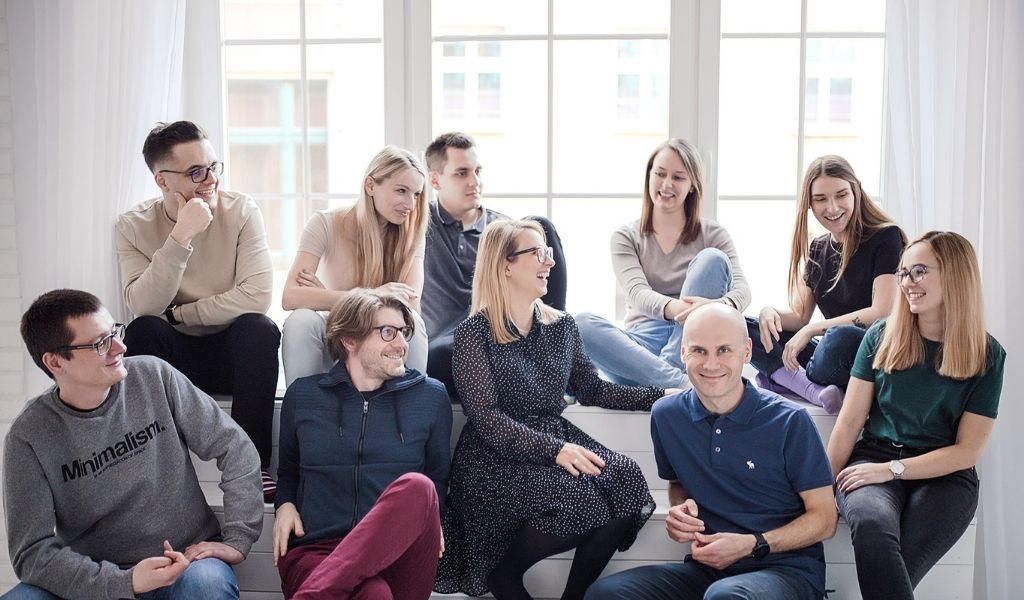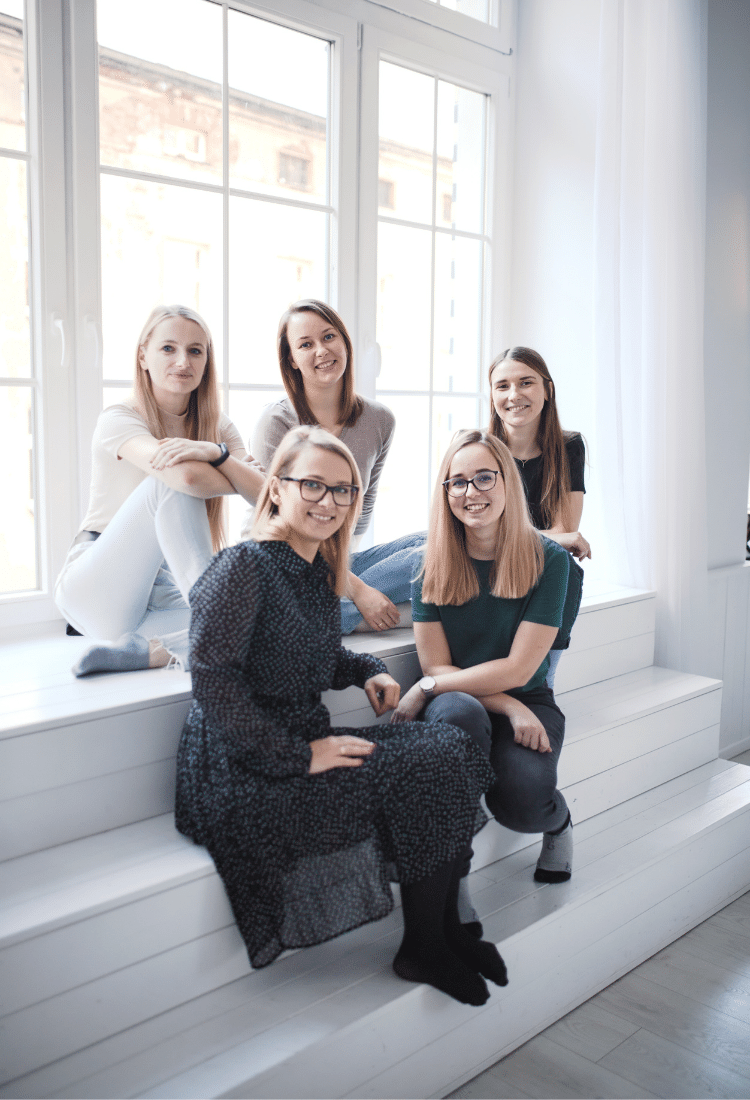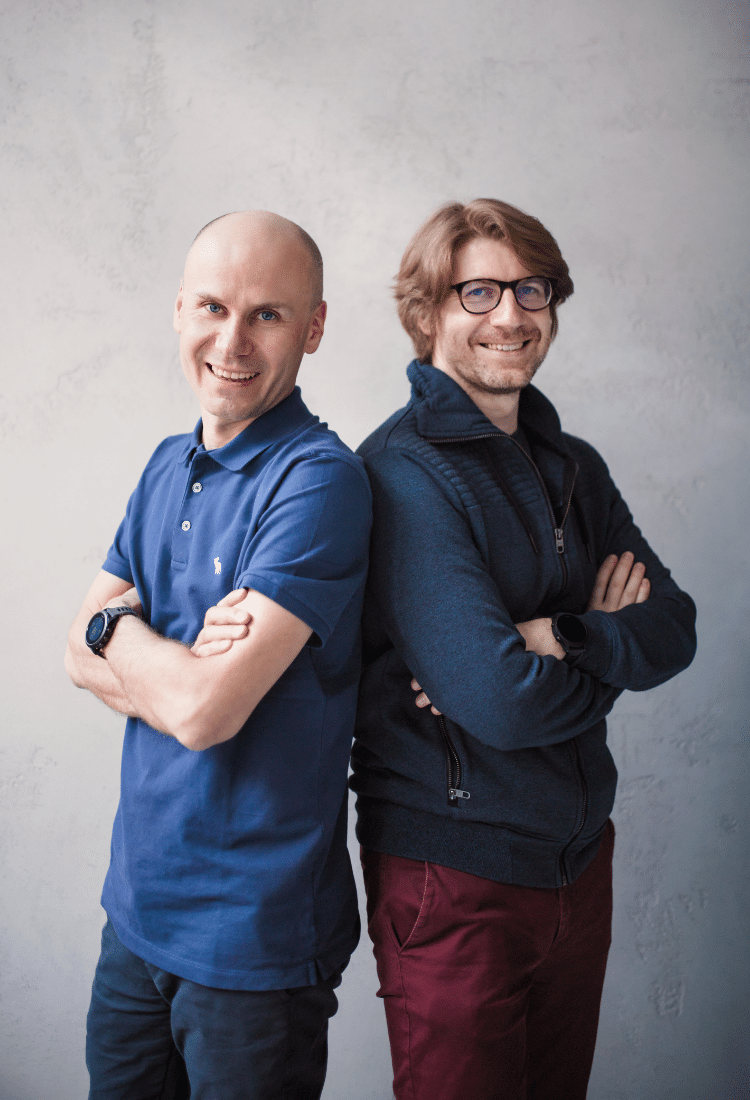 Summing up
The rebranding process was a long journey that taught us how to redefine who we are as a company. Along with an amazing team of experts, we were able to introduce significant changes in the company, and doing so mostly remotely was quite a challenge! And we are very happy with the outcome!
We are Stratoflow, a custom software development company. We firmly believe that software craftsmanship, collaboration and effective communication is key in delivering complex software projects. This allows us to build advanced high-performance Java applications capable of processing vast amounts of data in a short time. We also provide our clients with an option to outsource and hire Java developers to extend their teams with experienced professionals. As a result, the solutions designed for our customers contribute to their business development. We specialize in travel software, ecommerce software, and fintech software development. In addition, we are taking low-code to a new level with our Open-Source Low-Code Platform.